Hari itu terasa cukup menyenangkan, Jakarta yang masih pagi jadi tidak terasa (belum) panas dan perjalanan naik kereta dari Bandung juga terasa asik. Rencana yang saya hadapi hari itu adalah memenuhi undangan untuk mendengarkan dan menikmati, tidak satu tapi tiga headphone dari Sennheiser dengan format listening yang eksklusif, karena hanya akan ada saya sendiri ditemani perwakilan dari Sennheiser.
Adalah Sennheiser HD 600, HD 650 dan HD 800, headphone yang saya coba selama kurang lebih 3 jam secara intens. Selain headphone yang di atas kertas cukup mumpuni ini,  file flac serta satu hal yang tidak kalah penting, amplifier dari Sennheiser, Sennheiser HDV 800 menemani sesi listening tersebut.
Listening eksklusif memberikan ruang yang cukup luas untuk menikmati karakter headphone yang telah disediakan Sennheiser. Meski mencoba headphone secara maksimal tidak bisa dalam waktu singkat, namun dengan listening eksklusif, saya bisa menikmati lebih banyak lagu dengan waktu dengar yang juga lebih lama.
Metode yang dihadirkan oleh Sennheiser adalah mendengarkan lagu dari genre tertentu yang sama dengan ketiga headphone yang tersedia. Salah satu tujuannya adalah untuk mengetahui secara runut perbedaan pengalaman apa yang dirasakan dari ketiga headphone tersebut. Di sesi akhir, saya juga diberi kesempatan untuk mencoba headphone manapun dengan lagu pilihan saya sendiri.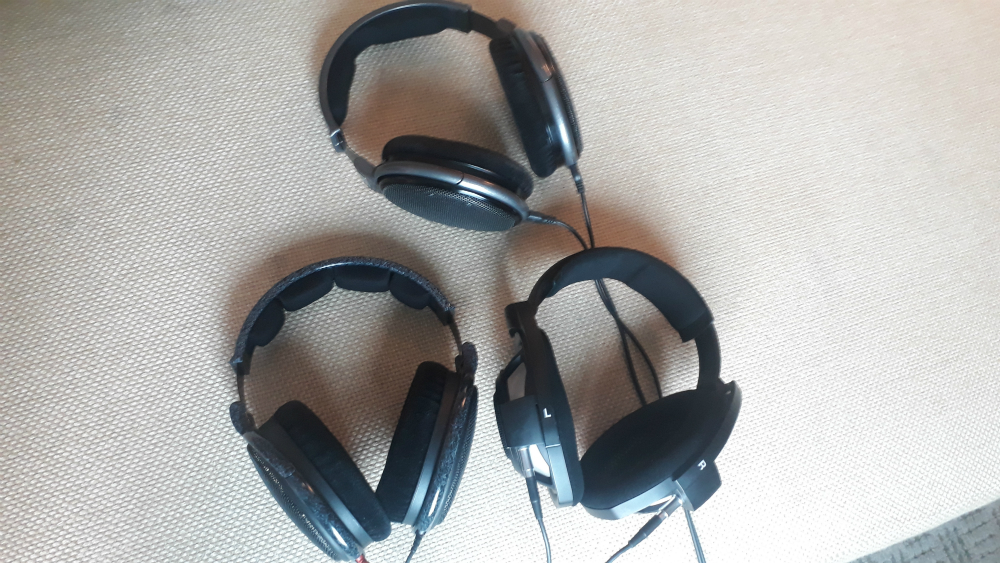 Pengalaman mendengarkan secara general
Secara general, karakter suara yang dihasilkan dari HD 600 cenderung lebih terasa raw, sesuai apa adanya saat rekaman dan terasa tanpa layer. Saya merasakan kombinasi audio yang lebih detail dari lagi yang didengarkan. Sedangkan HD 650 memberikan suara bass yang lebih terasa, keseluruhan suara lebih lembut dibandingkan HD 600 dan suara 3 dimensi lebih terasa, dengan perbedaan lain yang cukup tipis dibanding HD 600.
Sedangkan HD 800 memberikan pengalaman yang cukup berbeda dari kedua headphone lainnya. Power yang pertama kali saya rasakan berbeda dari headphone yang lain, terasa lebih kuat. Saat mendengarkan lagu, saya merasa bahwa HD 800 ini seperti gabungan pengalaman dari HD 600 dan HD 650. Sound stage terasa lebih realistis dan suara yang dihasilkan juga lebih luas, bass, detail lagu, terasa lebih baik. Suara rendah pun tetap terasa nyaman.
Desain
Sennheiser HD 600 dan HD 650 memiliki desain serupa dengan pad yang tidak bulat tetapi oval. Bentuk seperti ini bagi saya lebih baik karena bisa menutupi bentuk kuping secara keseluruhan, karena bentuk kuping pun tidak bulat. Keduanya hadir dengan tipe over the ear dengan bahan pad yang empuk dan nyaman, baik yang ditelinga atau bantalan kepala.
Bagian desain lainnya sebenarnya tidak istimewa, ada elemen plastik dan ada elemen logam untuk bagian luar pad. Headphone HD 600 dan HD 650 memang bukan headphone dengan desain yang menakjubkan, namun tetap memberi ciri tersendiri.
Sedangkan HD 800 memiliki cukup banyak perbedaan dari sisi tampilan. Tipe over the ear dan open headphone ini tetap menghadirkan bentuk pad yang oval namun agak melebar ke samping, Jadi ruang untuk menempatkan telinga lebih luas sehingga memberikan kenyamanan tersendiri. Untuk bahan busa pad sendiri hadir dengan elemen cukup premium dan bahan headphone gabungan antara metal dan plastik.
Desain tampak luar HD 800 memang agak terkesan tidak biasa, mungkin bisa dibilang terlalu tampilannya terlalu geeky. Namun ketika Anda mulai menyentuh dan menggunakan headphone ini maka imaji itu akan berubah. Beberapa detail kombinasi antara bahan dalam dan luar serta tentu saja bagian padheadphone terasa modern dan nyaman untuk digunakan. HD 800 memiliki pad lebih lebar, dan bagi saya ini terasa lebih nyaman untuk digunakan.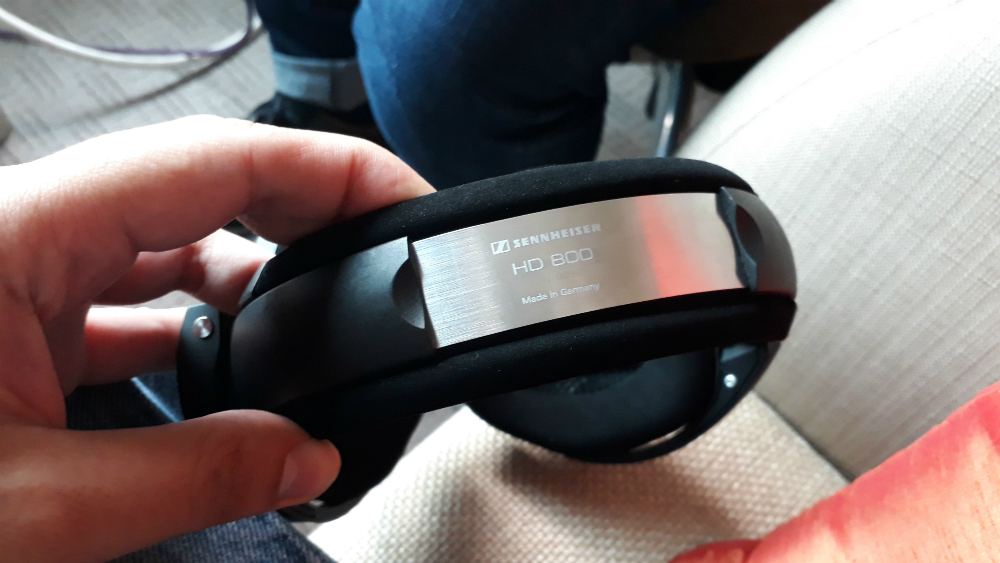 Mendengarkan secara berurutan dengan lagu tertentu
Seperti yang saya tuliskan sebelumnya. sesi mendengarkan secara intens kali ini menggunakan metode satu lagu untuk ketiga headphone sebelum beralih ke lagu berikutnya. Nah, kini saya akan mencoba menuliskan pengalaman mendengarkan masing-masing lagu dan masing-masing headphone secara sederhana.
Meski tidak terlalu detail, tetapi semoga tetap bisa memberikan gambaran, seperti apa pengalaman mendengarkan yang saya nikmati.
Adele – Skyfall
Sennheiser HD 600
Lagu yang terjasi terasa 'kasar' (raw) tapi detail dari vokal dan musik cukup terasa. Karakter vokal Adele sangat terasa, gabungan bermacam instrumen agak terasa campur tanpa pemisahan tapi bisa mengetahui masing-masing instrumen itu seperti apa aslinya.
Mendengarkan Adele dengan headphone ini memberikan pengalaman baru bagi saya karena suara Adele yang keluar dari HD 600 tidak seperti suara Adele yang saya kenal. Karakter headphone-nya yang raw seperti menghadirkan karakter suara Adele yang lain (atau yang sebenarnya, seperti saat rekaman).
Sennheiser HD 650
Karakter suara yang terasa oleh saya adalah lebih soft dari yang HD 600. Bisa jadi ini masalah selera namun bagi saya, karakter HD 650 terasa lebih nyaman terutama jika membayangkan untuk penggunaan sehari-hari. Selain itu, bass lebih terasa, dan seperti ada layer tambahan yg membuat suara yang keluar jadi terasa lebih halus, minimal dari HD 600.
Untuk karakter lain, detail dari lagi cukup terasa tidak sedetail HD 600. Suara juga terasa lebih bulat untuk bulet vokalnya, dan high agak kurang.
Sennheiser HD 800
Vokal dari lagu yang didengarkan terasa lebih luas, gabungan suaranya terasa lebh nyaman karena ada cukup banyak campuran bunyi. Bass yang dihasilkan terasa cukup dalam. Dan yang paling saya suka adalah, deepness vokal Adele terasa. Layer tambahan yang saya rasakan di HD 650 seperti dilepas, jadi hasilnya terasa lebih jernih dan lebih baik. Meski demikian lagu yang terdengar tidak se-raw HD 600. Untuk detail lagi juga terasa, high, mid, dan low kombinasinya pas.
Queen – Bohemian Rhapsody
Sennheiser HD 600
Vokal Freddie Mercury terasa sekali dengan headphone ini. Semacam mendengarkan versi asli pas rekamannya. Agak terkesan flat meski detail tetap bisa dinikmati. Gabungan musik juga terasa flat namun bagian-bagian dari lagunya tetap bisa dinikmati.
Sennheiser HD 650
Jika mendengarkan dengan HD 600 seperti mendapatkan karakter lain dari vokal lagu yang saya dengar, beda dengan HD 650. Pengalaman lagu yang saya dengar vokalnya seperti yang biasa dikenal dan sering saya dengarkan. Pemisahan suaranya agak lebih terasa jadi seperti tidak menyatu. Bass lebih terasa dan surround-nya juga, jadi secara keseluruhan terasa lebih lembut.
Dengan karakter yang ada, HD 650 rasanya akan lebih nyaman untuk digunakan sehari-hari. Meski demikian, saya merasakan pengalaman yang sangat menyenangkan ketika mendengarkan karakter vokal Freddie dengan HD 600 alih-alih HD 650.
Sennheiser HD 800
Seperti pengalaman dua headphone sebelumnya, suara yang terasa dengan headphone ini leih luas. Vokalnya mirip dengan apa yang dihadirkan oleh HD 600, jadi terasa karakter lagunya tanpa ada semacam masking.
Kenyamanan saat mendengarkan lagu yang dihadirkan lebih tinggi dari HD 600 da HD 650. Detail juga lebih terasa, termasuk bisa mendengarkan detail gitar yang lebih jelas di beberapa bagian lagi dibandingkan dengan dua headphone yang lain.
Lainnya
Saya juga mencoba headphone Sennheiser HD 800 untuk beberapa lagu selain yang disebutkan di atas. Semua lagu yang ada di daftar ini saya dengarkan menggunakan headphone HD 800. Berikut pengalamannya.
Adele – Hello
Mendengarkan lagu Hello dengan headphone ini terasa nyaman banget untuk bagian vokalnya, cocok sama jenis lagu yang memang untuk menonjolkan vokal. High di vokalnya cukup terasa tetapi tidak menusuk.
RATM – Killing in The Name
Ternyata cukup enak juga menggunakan headphone ini dalam mendengarkan lagu rock, vokal kerasa, bass juga, serta detail juga terasa. Hanya saja lagu rock di headphone ini terasa agak soft, namun masih cukup nyaman.
Norah Jones – Come Away With Me
Lagu tipe swing jazz seperti ini menghadirkan detail vokalnya yang terasa, bass, detail suara lain pun cukup terasa. Kombinasi atau perpaduan alunan musik menjadi nyaman ketika mendengarkan dengan HD 800.
Ray Charles/Natalie Cole – Fever
Pengalaman yang menyenangkan menggunakan HD 800 untuk mendengarkan lagu klasik seperti ini, sangat nyaman, detail masing-masing instrumen juga terasa, vokal juga menyenangkan untuk didengar.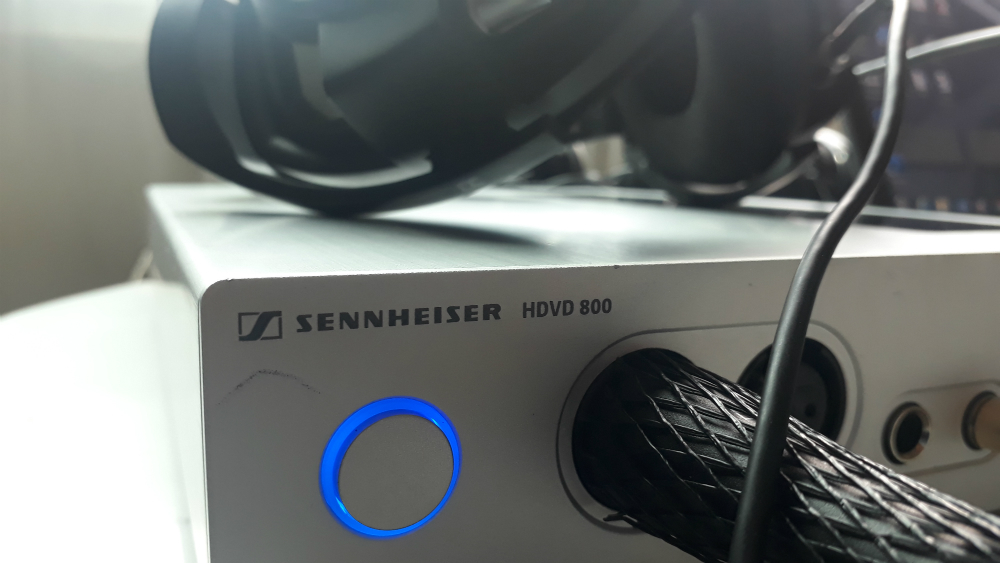 Untuk mendapatkan pengalamanan yang penuh dari sebuah headphone memang diperlukan beberapa faktor. Waktu yang singkat memang terkadang hanya memberikan kesan atau impresi singkat, kita bisa mendapatkan pengalaman penuh dengan mendengarkan secara intens. Selain itu jenis file lagu dan amplifier juga akan berpengaruh.
Meski waktu yang saya dapatkan cukup singkat, hanya beberapa jam, namun pengalaman mendengarkan secara intens memberikan kesan tersendiri, bisa menikmati satu lagu dengan beberapa karakter headphone. Amplifier yang digunakan juga tentunya membantu menghadirkan kualitas audio yang baik.
Dari ketika model yang saya coba, dari sisi desain HD 600 dan HD 650 memang terkesan polos dan biasa-biasa saja namun dari segi kenyamanan dan kualitas audio memberikan beberapa pengelaman unik tersendiri. Sedangkan HD 800, dari sisi desain, memang agak tidak biasa, namun pemilihan bahan serta model pad memberikan kenyamanan tersendiri.
Meski bukan ditujukan sebagai review lengkap, semoga pengalaman yang saya ceritakan di atas bisa memberikan gambaran singkat tentang karakter suara yang dihasilkan ketiga headphone dari Sennheiser: Sennheiser HD 600, HD 650 dan HD 800.
*) Koreksi: Mohon maaf ada beberapa kesalahan penulisan nama penyanyi dan judul lagu. Telah diperbaiki.
DailySocial.id adalah portal berita startup dan inovasi teknologi. Kamu bisa menjadi member komunitas startup dan inovasi DailySocial.id, mengunduh laporan riset dan statistik seputar teknologi secara cuma-cuma, dan mengikuti berita startup Indonesia dan gadget terbaru.