Mengenal Sertiva, Layanan Penerbitan Sertifikat Digital
Sediakan platform untuk penerbit, penerima, dan validator keabsahan sertifikat digital
Prayogo Ryza - 18 September 2020
Berkantor di Yogyakarta, Sertiva hadir menawarkan solusi penerbitan sertifikat digital (e-sertifikat). Solusinya dinilai cukup relevan dengan kondisi saat ini, di saat banyak pihak menyelenggarakan kegiatan secara online.
Co-founder Sertiva Saga Iqranegara menjelaskan, sejak 2015 ia cukup aktif di ADITIF, sebuah asosiasi wadah pelaku industri kreatif. Di sana ia menemukan fakta bahwa ada ketimpangan talenta berkompeten dengan kebutuhan. Dari sanalah Sertiva lahir untuk menghubungkan pencari kerja dan talenta melalui platform penerbitan sertiikat digital.
"Saya melihat bahwa isu link and match di dunia ketenagakerjaan lebih dikarenakan tidak ada satu data yang menghubungkan antara tenaga kerja dengan dunia industri. Kemudian muncul ide untuk membuat Sertiva ini, sebuah platform untuk menerbitkan sertifikat atau ijazah digital, sehingga kita bisa melihat kompetensi seseorang yang pada akhirnya nanti bisa membantu link and match dengan dunia kerja," terang Saga.
Platform Sertiva didesain untuk tiga jenis pengguna. Pertama untuk Issuer atau penerbit sertifikat, kedua untuk Holder atau penerima sertifikat, dan ketiga Verifier atau pihak yang melakukan verifikasi terhadap keaslian sertifikat elektronik.
"Kami menerapkan sistem berlangganan tahunan untuk menggunakan layanan Sertiva. Klien Sertiva datang dari berbagai jenis organisasi, mulai dari komunitas, sekolah vokasi, startup, bahkan BUMN," terang Saga.
Momentum di tengah pandemi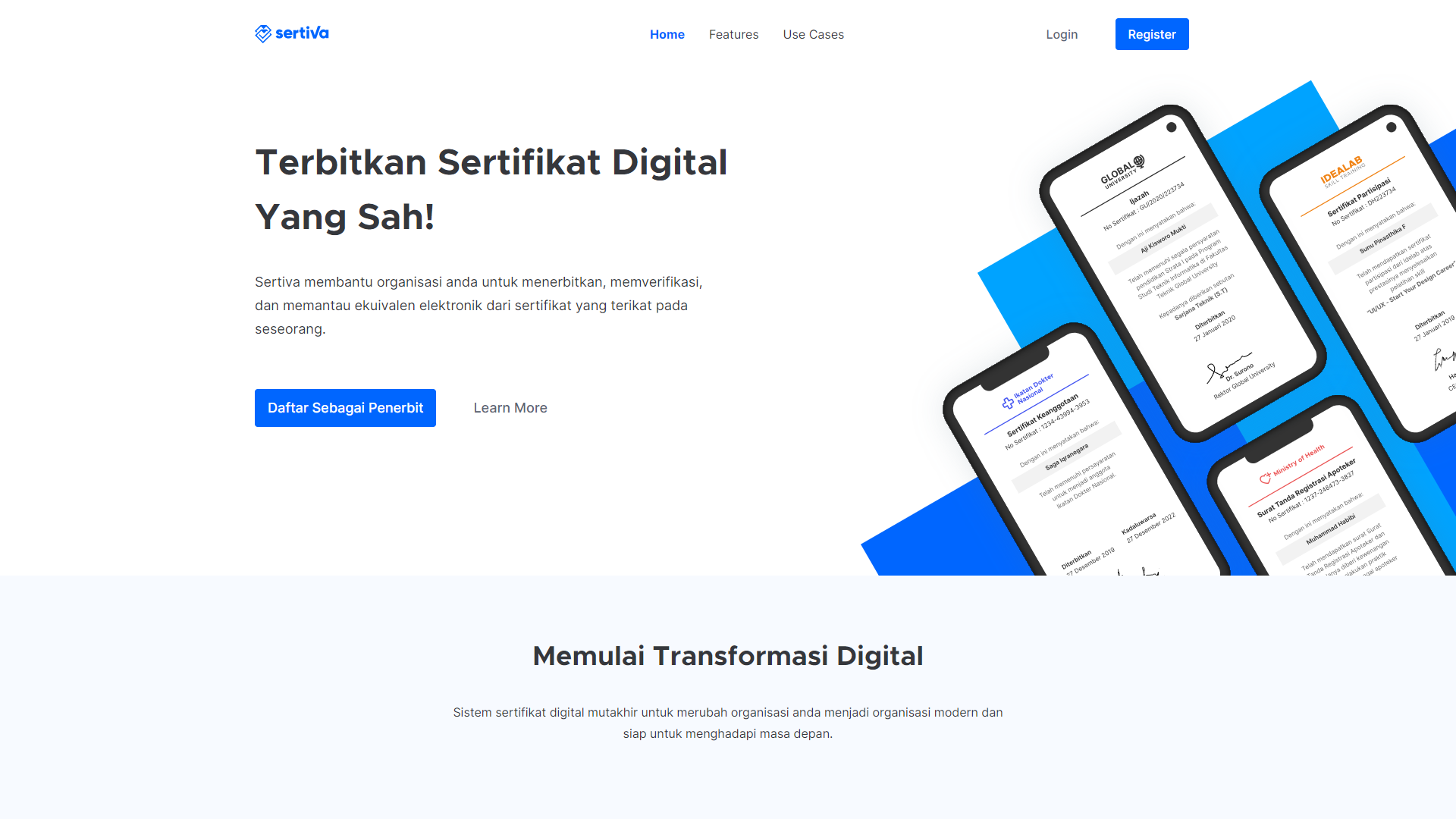 Telah memulai operasional selama satu tahun lebih, saat ini mereka sudah dipercaya 50 penerbit yang terdiri dari perusahaan dan institusi dengan 2500 lebih pemegang sertifikat digital.
Saga bercerita, di awal mereka sempat pesimis solusi mereka bisa diterima. Hal ini tak terlepas dari teknologi dan solusinya tergolong baru. Namun semenjak pandemi, di mana banyak kegiatan dilakukan secara virtual, Sertiva seperti mendapat momentum dan membuktikan bahwa solusi yang mereka tawarkan ternyata banyak yang membutuhkan.
"Terbukti dengan beberapa klien yang datang karena mereka harus mengubah total bentuk kegiatannya ke online. Sejak pertengahan tahun 2020 ini kami semakin yakin momentum buat Sertiva telah datang, dan target marketing kami dengan sendirinya teredukasi oleh keadaan yang membuat mereka shifting ke teknologi e-sertifikat," lanjut Saga.
Kini Saga, bersama dua co-founder lainnya, Aji Kisworo Mukti dan Donni Prabowo tengah berusaha untuk menyempurnakan produk. Termasuk di dalamnya edukasi mengenai sertifikat digital.
"Rencana kami ke depan adalah meluaskan adopsi teknologi e-sertifikat dari Sertiva. Karena masih banyak yang salah kaprah dengan sertifikat digital. Sertifikat dalam format berkas JPEG atau PDF yang selama ini mereka terbitkan bukanlah e-sertifikat yang sebenarnya. Untuk itu kami di Sertiva merasa perlu melakukan edukasi seluas-luasnya kepada masyarakat," tutup Saga.
Sertiva juga tergabung pada program inkubator milik Telkom Group, yakni Indigo Creative Nation, dan telah mendapatkan pendanaan awal melalui program tersebut. Sebelumnya mereka juga menjadi peserta program inkubator virtual DSLaunchpad yang diadakan DailySocial.