Mengharapkan "Unicorn" dari Startup Budidaya Indonesia
Tahun 2021 menjadi pembuktian bagi startup agrikultur dan akuakultur, kuantitas pendanaan terus meningkat dibanding tahun-tahun sebelumnya
Sempat dipandang sebelah mata, sektor pertanian dalam ekosistem startup digital kini mulai tunjukkan potensi luar biasa. Bahkan saat pandemi, beberapa layanan terkait bisnis budidaya mendapati traksi yang luar biasa.
Menurut laporan bertajuk "Driving the Growth of Agritech Ecosystem in Indonesia" yang disusun DSInnovate bersama Crowde, diungkapkan sejumlah potensi dan tantangan dalam industri pertanian di Indonesia. Pertama dari sisi hulu, yakni sistem produksi oleh petani, per tahun 2018 tercatat ada sekitar 33,4 juta petani di seluruh Indonesia. Kedua, dari total tersebut 4,5 juta di antaranya telah memiliki akses ke internet.
Temuan ini menjadi menarik, artinya dengan pengembangan infrastruktur pita lebar yang terus dikebut oleh pemerintah dan aksesibilitas ke perangkat akses internet yang semakin terjangkau, dapat menjadi medium yang baik bagi sektor produksi ke sisi hulu untuk terhubung ke pasar. Startup agritech pun dapat berperan penting dalam memberikan edukasi  -- beberapa telah melakukan, dengan implikasi dibukanya kanal distribusi produk pertanian yang lebih efisien.
Masih dari laporan yang sama, terungkap beberapa permasalahan mendasar yang dialami oleh industri pertanian tanah air. Meliputi peningkatan produktivitas, akses ke permodalan, regenerasi, dan akses pasar. Soal produktivitas termasuk distribusi pupuk dan langkah preventif yang dapat dilakukan untuk memaksimalkan potensi lahan didasarkan kondisi cuaca.
Berjalan di arah yang sama
Dimulai dari akar permasalahan tersebut, founder mencoba menghadirkan solusi yang efisien untuk memberikan efisiensi pada proses bisnis pertanian. Dari model bisnis yang sudah ada sejauh ini, kami mencoba memetakan ke dalam peta solusi di bawah ini.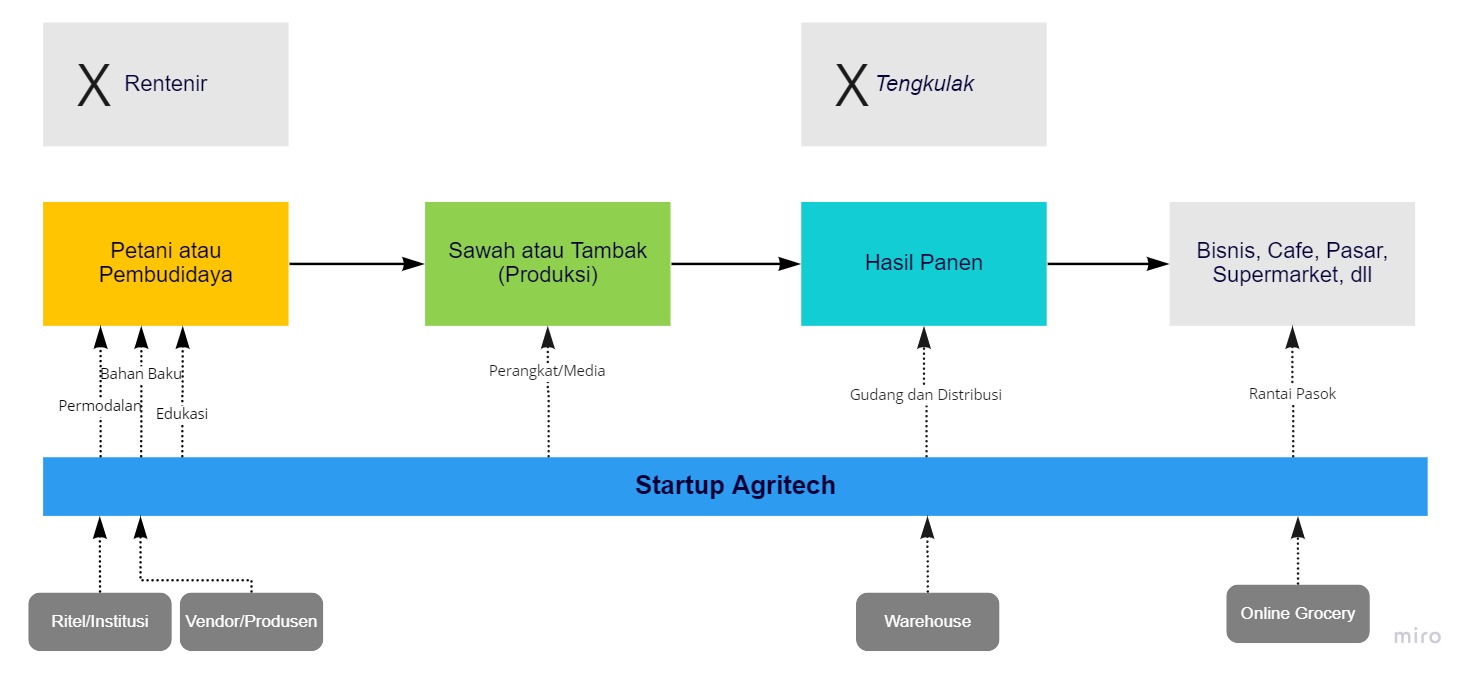 Welcome to Premium Content
Become a DailySocial.id Subscription, you can get unlimited access to discover the best minds of innovation and to perceive the finest tech journalism products in Indonesia. Learn more
Single Article

Access anytime, only this article.

Starting at

Rp 7,000 /article

Subscription

Unlimited access premium content.

Starting at

Rp 150,000 /month
Login or create account to access premium content
Are you sure to continue this transaction?
processing your transaction....