Mengorbit Bumi, Konsep Space Solar Power System Pancarkan Energi Lewat Gelombang Mikro
Glenn Kaonang - 15 May 2015
Kita semua tahu bahwa kelemahan utama panel surya adalah sistem ini tidak berfungsi di malam hari. Berbeda dari pembangkit listrik tenaga air, angin atau lainnya, efektivitas panel surya mau tak mau harus dibatasi oleh waktu.
Solusinya sebenarnya sudah ada: tempatkan panel surya di luar Bumi, maka tidak ada lagi alasan matahari terbenam. Pada prakteknya, tidak semudah itu. Menyerap energi matahari dengan panel surya yang berada di luar angkasa mungkin sudah bisa dilakukan, namun yang kerap menjadi tantangan terbesar adalah bagaimana cara meneruskan energi tersebut menuju Bumi.
Para peneliti di Japan Aerospace Exploration Agency (JAXA) dan Japan Space Systems tampaknya punya solusi, meski belum bisa direalisasikan dalam waktu dekat. Idenya sama, yakni menempatkan berbagai unit Space Solar Power System (SSPS) di orbit, lalu dihadapkan ke matahari secara konstan.
Secara teori, SSPS diperkirakan bisa menciptakan energi 10 kali lipat lebih besar dari sistem panel surya tradisional yang berlokasi di Bumi. Menurut penjelasan seorang anggota tim riset JAXA, Daisuke Goto, kepada The Telegraph, satu unit SSPS bisa menyaingi satu reaktor nuklir dalam hal menghasilkan energi.
Info menarik: SolaRoad Adalah Sistem Pembangkit Listrik Tenaga Surya yang Menyamar Sebagai Jalanan
Konsep penyerapan energi sudah matang, maka saatnya tim peneliti ini memikirkan bagaimana cara meneruskan energi tersebut kembali ke Bumi. Untuk itu, mereka memanfaatkan gelombang mikro atau microwave, seperti yang dipakai oleh teknologi radar.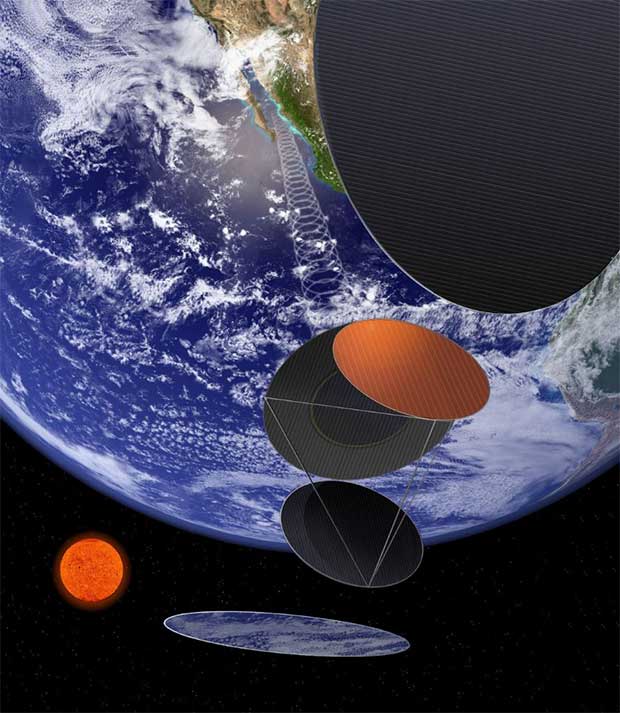 Keputusan menggunakan microwave didasari oleh sejumlah kelebihannya. Gelombang mikro bergerak dalam satu garis lurus, dan dapat menembus awan tebal sekalipun. Pada dasarnya, energi matahari yang diserap akan diubah menjadi gelombang mikro, lalu diteruskan dan ditangkap oleh unit receiver di Bumi. Jika semuanya berjalan sesuai rencana, unit receiver berdiameter ± 1,6 km ini akan diapungkan di atas laut dan menyambung ke jaringan listrik setempat.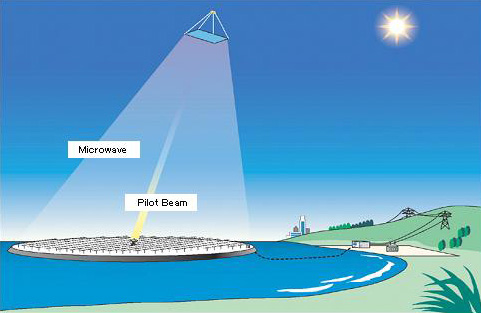 Pengujian metode ini sudah dilangsungkan pada bulan Maret kemarin oleh tim Japan Space Systems. Mereka berhasil mengonversikan 1,8 kilowatt energi listrik menjadi gelombang mikro, lalu dipancarkan dan ditangkap oleh sebuah antena yang berjarak sekitar 55 meter, sebelum akhirnya diubah kembali menjadi energi listrik.
Seperti yang saya katakan di awal, proyek ini masih memerlukan banyak waktu sebelum bisa beroperasi, paling tidak sekitar 30 tahun lagi menurut para ahli. Salah satu tantangan terbesarnya adalah membawa komponen-komponen yang diperlukan ke orbit, lalu merakitnya menjadi unit SSPS yang diharapkan bisa beroperasi hingga 40 tahun lamanya.
Sumber: The Telegraph. Sumber gambar: JAXA dan Japan Space Systems.
Are you sure to continue this transaction?
processing your transaction....