Ini Mentor-Mentor Luar Biasa di Program DSLaunchpad 2.0
Akan membantu peserta mengakselerasi idea validation, business model, prototyping, dan strategi marketing
Pertumbuhan skala bisnis merupakan salah satu hal penting yang harus diperhatikan startup dalam perjalanan bisnisnya. Dengan memiliki pertumbuhan bisnis yang baik, startup tidak hanya dapat terus mempertahankan operasional bisnisnya, tetapi juga terus mengembangkan inovasi bisnis di berbagai aspek. Mulai dari produk dan layanan yang dimiliki hingga model bisnis dan upaya pemasaran kepada konsumennya.
Untuk membantu startup menyiapkan strategi yang tepat dalam mengembangkan bisnisnya, DailySocial.id bersama Amazon Web Services (AWS) kini mengadakan program akselerasi DSLaunchpad 2.0. Melalui program akselerasi ini, peserta akan dibantu oleh para mentor untuk melakukan pengembangan bisnis serta produk dan layanan startupnya. Selain itu, para peserta juga akan mendapatkan kesempatan untuk mendapatkan kredit dari AWS dan memperebutkan hadiah total Rp100 Juta!.
Rangkaian DSLaunchpad 2.0 ini akan diselenggarakan mulai dari 5 Oktober hingga 9 Desember 2020. Dalam perjalanannya, akan ada 100 peserta terpilih yang mendapatkan kesempatan untuk mengikuti program akselerasinya secara intensif selama kurang lebih empat pekan.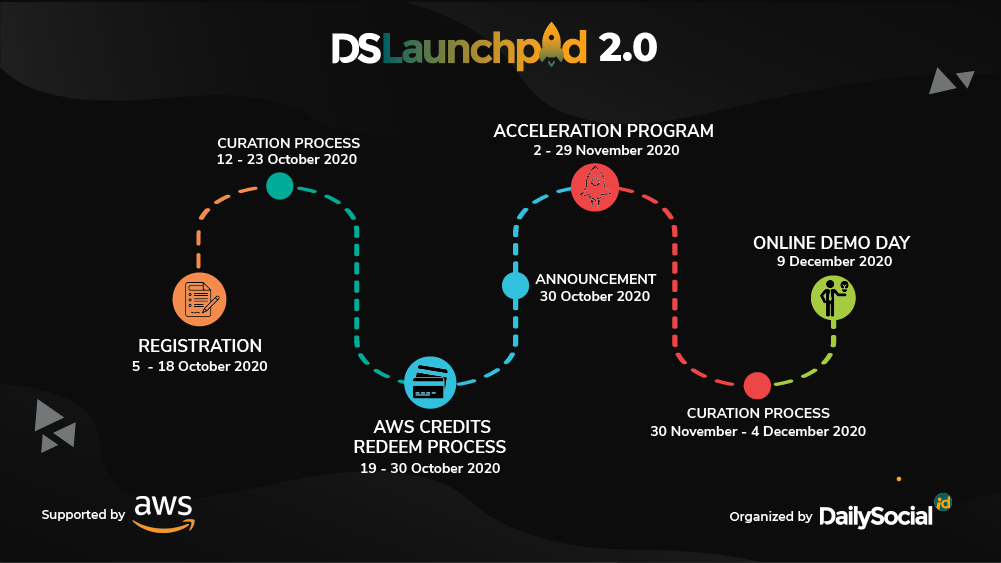 Raih Kesempatan Berkembang Bersama para Expert
Para peserta program akselerasi akan mendapatkan kesempatan untuk melakukan mentoring bersama para expert. Sesi mentoring ini akan diselenggarakan selama delapan kali dalam bentuk webinar. Pada setiap sesi, akan ada tujuh startup terpilih yang memiliki kesempatan untuk melakukan sesi one-on-one dengan mentor. Mentor-mentor yang akan membantu para peserta untuk mengakselerasi inovasi startupnya dalam DSLaunchpad 2.0 ini adalah Pandu Sjahrir (Managing Partner of Indies Capital Partners), Willson Cuaca (Co-Founder of East Ventures), Edy Sulistyo (CEO of Go-Play), Markus Liman Rahardja (VP of Investor Relation & Strategy BRI Ventures), Shinta Nurfauzia (Co-CEO dan Co-Founder of Lemonilo), Johnny Widodo (CEO OLX Autos Indonesia), Ivan Arie (Co-Founder & CEO, TaniHub), dan Agung Bezharie (Co-Founder & CEO, Warung Pintar).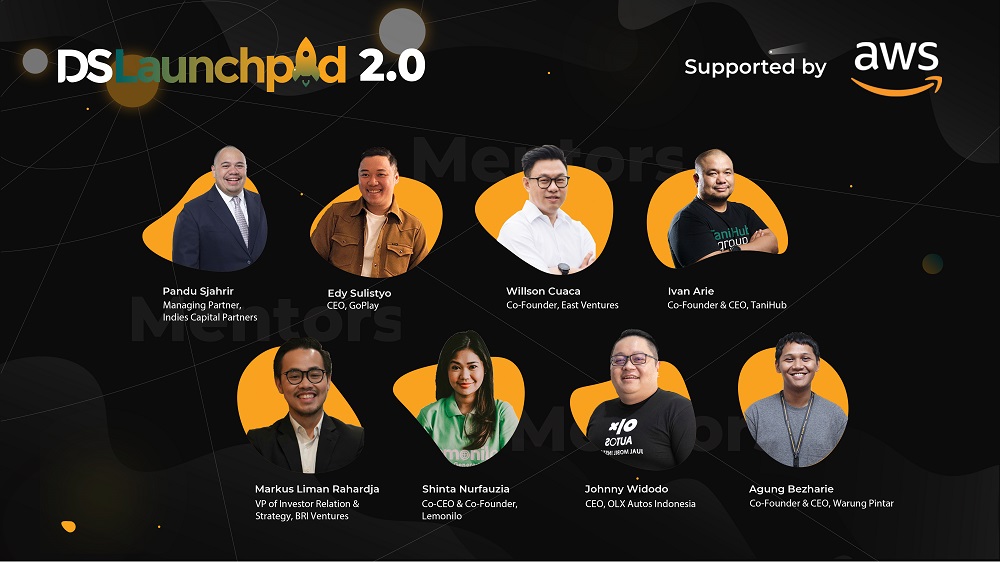 Akan ada empat topik yang dibahas dalam kegiatan mentoring yaitu idea validation, business model, prototyping, dan marketing. Pada topik idea validation, peserta akan dibantu untuk mengidentifikasi masalah dan pain points serta solusi apa yang bisa dihadirkan untuk menjawab tantangan tersebut. Peserta juga akan dibantu membuat perencanaan model bisnis serta implementasinya dalam kegiatan bisnis mulai dari desirability, feasibility, hingga viability.
Pada topik prototyping, peserta akan belajar step by step dalam membuat produk termasuk fitur dan aspek produk lainnya. Selain itu, dalam topik marketing peserta juga akan belajar bagaimana merencanakan strategi pemasaran secara end-to-end, mulai dari objektif, menentukan KPI, hingga target market yang tepat untuk startupnya. Sesi mentoring ini nantinya juga dilengkapi modul artikel dan video untuk membantu pemahaman peserta akselerasi dalam melakukan pengembangan produk dan layanannya.
Setelah melalui berbagai rangkaian mentoring, para peserta akan dikurasi kembali menjadi sepuluh startup terpilih yang akan mendapatkan kesempatan untuk melakukan pitching pada sesi online demo day. Dari sepuluh startup tersebut, akan ada 3 startup terbaik yang berhak mendapatkan total hadiah senilai Rp100 Juta.
Tunggu apalagi, jangan lewatkan kesempatan untuk mengembangkan startupmu melalui berbagai kegiatan mentoring, serta kesempatan mendapatkan total hadiah Rp100 Juta dengan mengikuti program akselerasi DSLaunchpad 2.0. Registrasi hanya dibuka sampai tanggal 18 Oktober 2020, segera daftarkan startupmu melalui form pada link berikut.
Are you sure to continue this transaction?
processing your transaction....