Metroxgroup Kuatkan Strategi O2O Melalui Layanan E-commerce Onmezzo
Manjakan pengguna dengan fitur chatbot, tag-up, dan dress-up mix match
Randi Eka - 11 October 2018
Mezzo, lifestyle concept store yang berada di bawah naungan Metroxgroup, pada akhir September 2018 lalu meresmikan platform e-commerce Onmezzo. Gerai yang menjajakan produk fesyen lokal dan internasional tersebut mengatakan digitalisasi adalah bagian upaya going hybrid, mengusung konsep online-to-offline (O2O).
"Onmezzo.com tak hanya menawarkan berbagai macam produk fesyen yang ada di gerai Mezzo, tetapi juga produk-produk lainnya yang melengkapi gaya hidup masyarakat Indonesia," ujar Head of E-commerce Metroxgroup Ihsan Wahab.
Ihsan turut menjelaskan, visi pengembangan produk ke depan akan fokus terhadap gaya hidup. Beberapa fitur yang tengah dioptimalkan adalah chatbot, tag-up, dan dress-up mix match. Ia turut memaparkan nilai plus yang coba diangkat Onmezzo, yakni menyajikan solusi menyeluruh untuk para partner, seperti fulfillment center dan tim inventaris.
Dengan tersedianya fulfillment center dan tim yang menangani, partner tidak perlu khawatir soal penyimpanan, pengiriman, hingga pelaporan penjualan barang. Mereka dapat fokus pada penyediaan dan pengiriman produk terkait.
"Terdapat juga fitur mezzoDaily. Di sana pelanggan bisa melihat berbagai referensi gaya dan outfit yang bisa dipakai untuk kegiatan sehari-hari," tambah Ihsan.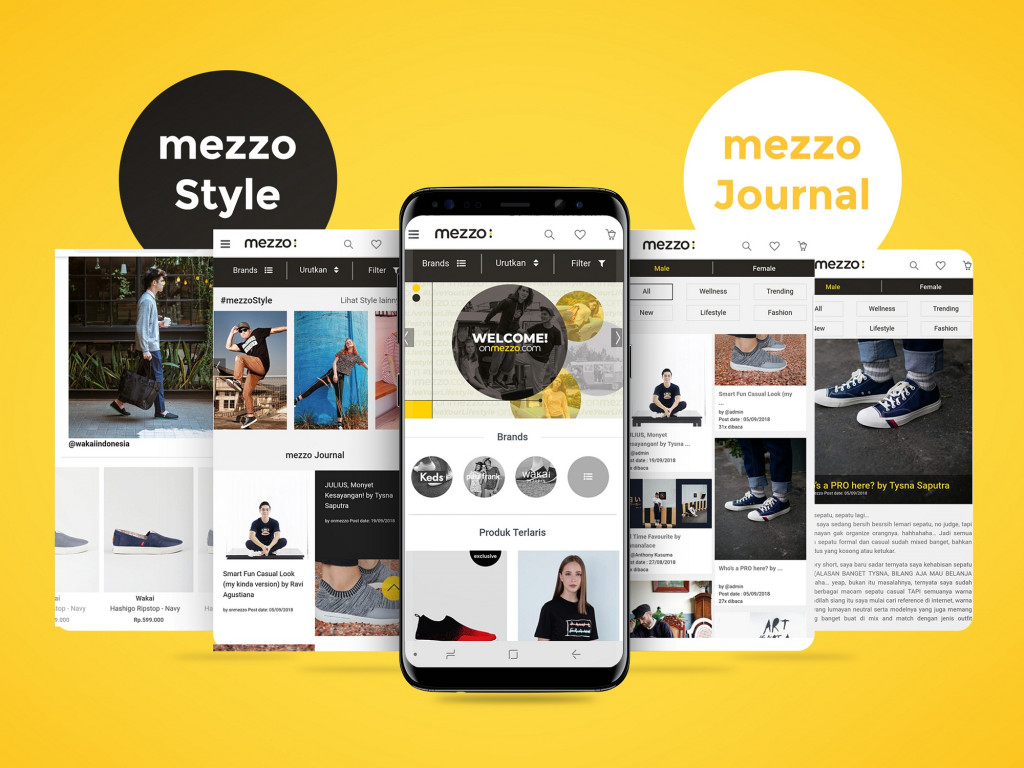 Transformasi ritel melalui O2O
Konsep O2O semakin relevan di Indonesia. Hal ini dibuktikan strategi pemain ritel dan e-commerce yang mengarah ke sana. Selain Metroxgroup, MAP juga melakukan hal yang sama dengan meluncurkan MAPeMall.
Di sisi lain, layanan e-commerce melakukan hal sebaliknya dengan membangun toko-toko fisik dengan dalih memberikan pengalaman yang lebih baik kepada pelanggan.
Sebut saja HIJUP yang beberapa waktu lalu mengumumkan rencananya meluncurkan offline store. Sebelumnya juga ada Berrybenka yang terlebih dulu menghadirkan pop-up store di berbagai pusat perbelanjaan. Trennya akan terus diikuti oleh platform e-commerce lainnya, khususnya yang menyajikan produk gaya hidup.
"Dengan bekal beberapa line-up brand terkemuka dan juga tentunya toko offline yang tersebar di Indonesia, kami yakin bisa bersaing di tengah maraknya persaingan e-commerce. Ke depannya kami akan terus bekerja sama dengan brand ternama lainnya untuk menambah varian opsi bagi pelanggan," terang Ihsan.
Ia memaparkan bahwa O2O berkaitan erat dengan pengalaman pelanggan yang coba dihadirkan.
"Kami terus melakukan alignment antara offline dan online. Misal pelanggan bisa membeli barang secara online dan mengambil barang di toko, atau sebaliknya pergi ke toko untuk mencoba dan dilanjutkan pembelian secara online. Begitu juga dengan beberapa barang eksklusif yang akan di-display di toko namun hanya bisa didapatkan melalui pembelian secara online," tutup Ihsan.
Are you sure to continue this transaction?
processing your transaction....