Microsoft: Aplikasi Android dan iOS Dapat Diboyong ke Windows 10 Tanpa Ribet
Bambang Winarso - 30 April 2015
Di hari pertama gelaran Build Developer Conference 2015, kemarin Rabu (29/4/2015), Microsoft mengumumkan sejumlah informasi menarik yang dijamin membuat para pengembang tersenyum sumringah.
Salah satunya yap, pengumuman Microsoft Edge sebagai nama Browser baru dari Project Spartan yang akan jadi pengganti Internet Explorer di Windows 10 nanti.
Selain itu ada dua kabar yang tak kalah segar. Pertama, Microsoft memastikan bahwa Windows 10 nantinya dapat mendukung aplikasi berbasis Android.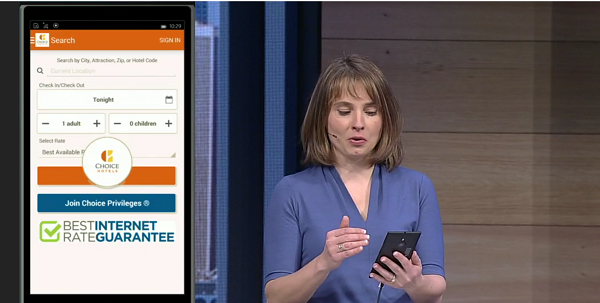 Raksasa Redmond nantinya akan memberikan kemudahan bagi pengembang yang ingin menghadirkan aplikasi yang tadinya berbasis Android ke perangkat Windows 10. Berkat dukungan ini pengembang tidak perlu melakukan modifikasi besar-besaran kode Java and C++ untuk mewujudkan keinginan itu.
Hebatnya, dukungan ini tidak hanya untuk perangkat desktop. Microsoft memastikan perangkat smartphone pun akan dibekali dukungan ke subsystem Android, memungkinkan perangkat mengoperasikan sebagian besar kode sistem operasi buatan Google itu.
Info Menarik: GoPro Siap Ramaikan Ranah Virtual Reality
Kejutan kedua, Microsoft juga siap memberikan dukungan ke platform seteru Android, apalagi kalau bukan iOS yang dibangun dari bahasa pemograman Objective C.
Guna memungkinkan hal itu, Microsoft sedang mempersiapkan sebuah tool yang memungkinkan pengembang untuk mengkonversi kode program tersebut dengan upaya yang minimal sehingga dapat sepenuhnya bekerja di perangkat berbasis Windows 10.
Bahkan menurut perusahaan yang bermarkas di Redmond, Washington itu, pengembang Candy Crush sudah mengimplementasikan metode di atas untuk memboyong aplikasi iOS mereka ke Windows 10.
Belum ada keterangan resmi apakah tool ini akan dirilis serentak dengan peluncuran Windows 10 atau Microsoft punya rencana lain untuknya. Mengingat ini baru hari pertama, sangat mungkin Microsoft masih menyimpan banyak informasi lain termasuk soal ketersediaan tool.
Are you sure to continue this transaction?
processing your transaction....