Folder Documents, Pictures dan Desktop di PC Kini Dapat Di-backup Secara Otomatis oleh OneDrive
Sangat berguna bagi yang punya kebiasaan meletakkan file-file penting di desktop begitu saja
Glenn Kaonang - 16 August 2018
Kalau ditanya layanan cloud storage apa yang paling cocok untuk banyak orang, saya mungkin akan menjawab OneDrive, meskipun saya merupakan pengguna Dropbox akut. Alasannya sederhana: OneDrive tersedia secara default di seluruh perangkat yang menjalankan OS Windows 10, sehingga konsumen tak perlu repot-repot mengunduh dan meng-install untuk mulai menggunakannya.
Microsoft sadar akan kelebihan OneDrive yang tak dimiliki kompetitornya ini, dan mereka ingin memaksimalkannya lebih lagi. Salah satunya lewat fitur baru bernama Folder Protection, di mana pengguna bisa memilih agar folder Documents, Pictures dan Desktop di laptop atau PC-nya dapat ter-backup secara otomatis.
Fitur ini bakal sangat berguna buat mereka yang menggunakan komputer yang berbeda di rumah dan di tempat kerjanya, sebab semua folder tersebut akan selalu tersinkronisasi via satu akun OneDrive yang sama. Kemudahan ini bakal semakin terasa apabila pengguna ternyata punya kebiasaan menyimpan file atau dokumen penting di Desktop.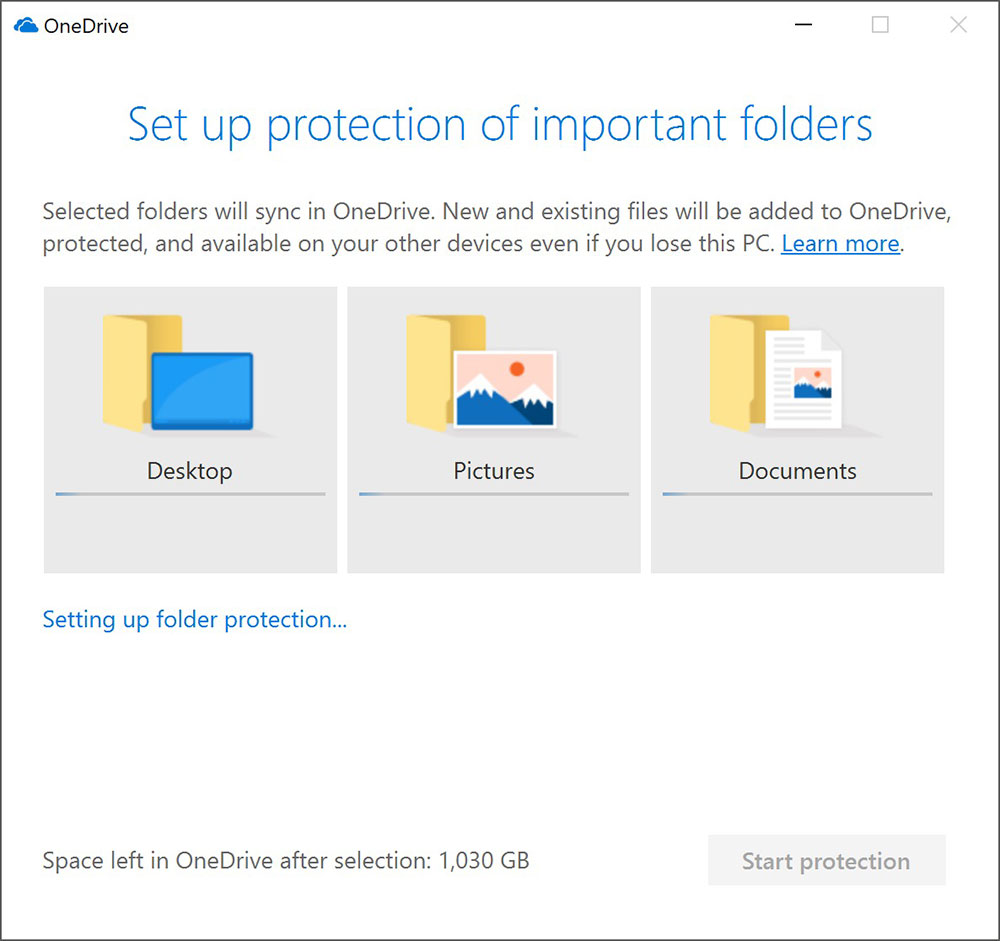 Sebelumnya, fitur ini sebenarnya sudah tersedia untuk pengguna akun bisnis OneDrive, namun sekarang Microsoft memutuskan untuk menghadirkannya ke semua pengguna OneDrive tanpa terkecuali. Fitur ini sifatnya opsional, yang berarti pengguna harus mengaktifkannya terlebih dulu lewat menu pengaturan.
Setelah diaktifkan, proses sinkronisasi akan berjalan secara otomatis pada ketiga folder tersebut (atau Anda bisa memilih folder tertentu saja jika mau). Perlu dicatat, ada beberapa jenis file yang tidak bisa 'diproteksi' oleh fitur ini, yaitu file database Outlook (.pst) dan semua file OneNote.
Sumber: The Verge.
Are you sure to continue this transaction?
processing your transaction....