Microsoft Perkenalkan Versi Baru Bing Maps yang Lebih Sempurna
Glenn Kaonang - 8 July 2015
Meski Google Maps terus mendominasi, layanan lain tetap tidak akan menyerah begitu saja, termasuk halnya Bing Maps. Belum lama ini, Microsoft memperkenalkan versi baru Bing Maps yang telah dirancang ulang dengan mempertimbangkan input dari para penggunanya.
Versi baru Bing Maps ini memang masih dalam tahap preview, akan tetapi kita sudah bisa melihat bahwa Microsoft benar-benar serius dalam mendengarkan feedback para penggunanya. Selain perombakan visual, Bing Maps Preview juga menghadirkan sejumlah detail kecil yang akan menyempurnakan pengalaman penggunanya secara menyeluruh.
Info menarik: Dengan Program Baru Microsoft, Minecraft Berubah Jadi Medium Edukasi
Yang pertama, dari segi visual, Bing Maps Preview kini akan menampilkan hasil pencarian Anda dalam wujud "kartu" di sisi kiri. Kartu ini tidak cuma menampilkan satu hasil pencarian saja, tetapi bisa beberapa sekaligus, lengkap dengan informasi yang relevan, seperti misalnya alamat, nomor telepon dan review pengunjung.
Interface Bing Maps Preview kini diklaim juga lebih intuitif dan mudah dinavigasikan di layar sentuh. Di sisi kanan, terdapat tombol untuk berganti mode tampilan antara Aerial atau Road. Saat mengakses di browser komputer, klik kanan mouse akan menampilkan berbagai opsi seperti "save as favorite", "add to route" dan "view streetside".
Dalam menyajikan petunjuk arah, Bing Maps Preview akan memberikan opsi dimana Anda bisa menginput waktu Anda hendak berangkat. Dari situ, memanfaatkan fungsi predictive, Bing Maps Preview akan memberikan rekomendasi rute perjalanan yang paling ideal, plus estimasi waktu perjalanannya.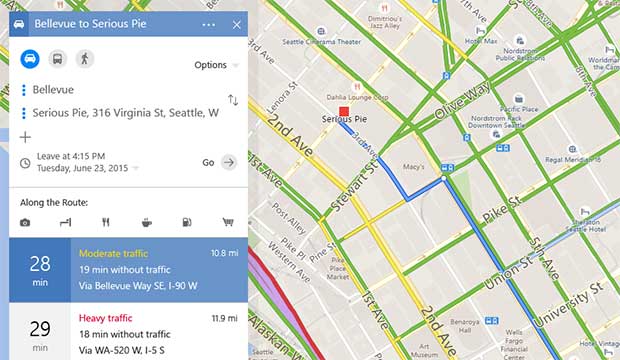 Selagi dalam perjalanan, Bing Maps Preview kini dapat menampilkan informasi berbagai lokasi yang ada pada rute Anda. Fitur ini dinamai "Along the Route", dan diharapkan bisa membantu Anda mencari lokasi tertentu yang ingin dihampiri selagi dalam perjalanan ke suatu tempat.
Fitur Streetside dalam Bing Maps Preview kini ditampilkan dalam bentuk split screen. Dengan demikian, Anda tetap bisa melihat lokasinya di peta, lalu di bawahnya Anda bisa mengamati foto 360 derajat dari kondisi jalanan di lokasi tersebut.
Info menarik: Microsoft Resmi Akuisisi Wunderlist Beserta Tim Pengembangnya
Personalisasi adalah aspek lain yang turut menjadi fokus Microsoft dalam menggarap Bing Maps Preview. Pengguna kini bisa menyimpan lokasi-lokasi yang sering dikunjungi dalam My Places. Menariknya, My Places ini akan tersinkronisasi dengan Cortana dan aplikasi Windows Maps. Dengan demikian, Anda bisa langsung menginstruksikan Cortana untuk menampilkan petunjuk arah ke sebuah restoran yang lokasinya tersimpan dalam My Places.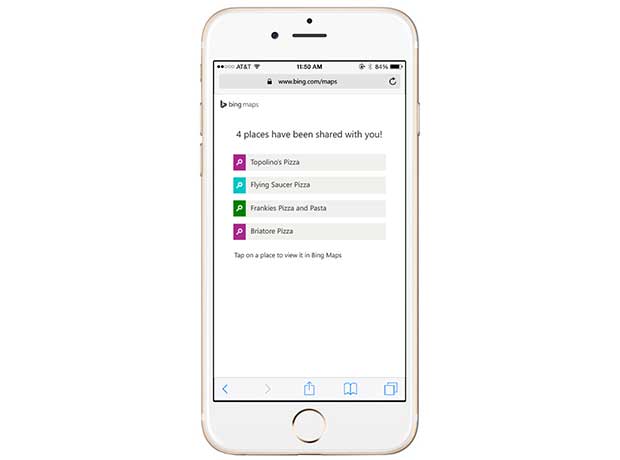 Bing Maps kini juga mengemas fungsi sharing. Anda bisa membagikan informasi lokasi atau rute perjalanan via email, lalu sang penerima bisa langsung memantaunya melalui komputer atau perangkat mobile.
Bing Maps Preview saat ini hanya tersedia di beberapa negara saja, namun Indonesia termasuk. Silakan kunjungi www.bing.com/mapspreview untuk mendaftar dan mendapatkan akses.