MNC Group Kini Pakai Brand "Motion" untuk Seluruh Layanan Keuangan Digital
Rebrand ini dilakukan seiring peluncurkan Motion Technology (MotionTech) sebagai payung utama dari seluruh produk di bawah naungan MNC Kapital
Marsya Nabila - 5 November 2021
Langkah MNC Kapital (BCAP), anak usaha khusus layanan keuangan di bawah MNC Group, untuk menyatukan seluruh talenta fintech di bawah naungan Motion Technology (MotionTech) menjadi pembuktian dari stakeholder untuk bersaing dengan serius di ranah keuangan digital. Keputusan tersebut berdampak pada perubahan seluruh brand di bawah BACP menjadi Motion.
Peneliti INDEF Nailul Huda berpendapat strategi ini dimaksudkan untuk mengajak konsumen baru mengenal lebih dekat dengan brand Motion yang terkesan segar, menghilangkan kesan MNC Group yang selama melekat lewat brand lama. "Kalau MNC punya branding kuat di perusahaan TV-nya. Saya rasa ini tepat untuk bersaing," kata Huda kepada DailySocial.id.
Kesempatan itu juga didorong oleh masih luasnya kesempatan BCAP untuk menggarap penetrasi produk keuangan yang masih terfragmentasi di Indonesia. Di antaranya, sub pangsa pasar yang belum digarap, tingginya jumlah masyarakat unbanked dan underbanked. "Jadi persaingan tampaknya akan sangat seru."
Pernyataan Huda ini sesuai dengan fakta yang ada di lapangan. Produk keuangan digital yang beredar saat ini masih terpusat di kota besar dan masih butuh waktu untuk memperkenalkan ke pelosok daerah. Masing-masing dari vertikal fintech ini belum ada yang menjadi pemain dominan di pasar.
Ambil contoh terdekat adalah kehadiran bank digital yang ramai-ramai digarap oleh banyak pihak untuk menyasar segmen baru. Dengan kemudahan proses pengajuan, tanpa harus datang ke kantor cabang, jadi kemudahan awal yang diberikan agar dapat lebih mudah on boarding nasabah baru.
Akan tetapi, menurut pantauan DailySocial.id, semua fitur yang hadir saat ini di banyak aplikasi bank digital ini tingkat urgensi untuk menggunakannya masih ada di tahap "nice to have", alias belum mendesak untuk menggantikan dari layanan yang dipakai sebelumnya.
Meski begitu, kesempatan bank digital lebih memiliki untuk hadir di tengah masyarakat sangat memungkinkan berkat keberadaan teknologi embeded finance/Banking-as-a-Service yang disematkan di berbagai aplikasi konsumer populer. Langkah tersebut sudah diujicobakan, salah satunya oleh Cermati yang bekerja sama dengan blu by BCA Digital yang sudah hadir di aplikasi Blibli.
Mimpi besar yang disampaikan lewat teknologi tersebut adalah di masa depan masyarakat tidak lagi melihat di mana uangnya disimpan, di mana kantor cabang, jumlah ATM, dan lainnya, sama halnya saat menggunakan aplikasi e-money GoPay atau OVO. "Dengan fenomena adopsi internet dan smartphone selama satu dekade ini, bisnis bank akan tetap sama, tetapi delivery-nya saja yang kini mulai berbeda," ucap Direktur Riset CORE Indonesia Piter Abdullah.
MotionTech
Lebih lanjut, dalam keterangan resmi disampaikan bahwa MotionTech akan mengawasi semua inisiatif BCAP sebagai penyedia layanan keuangan digital terdepan, terlengkap, dan terintegrasi. BCAP memiliki berbagai lini produk keuangan, mulai dari perbankan digital, pembiayaan, perdagangan saham, asuransi, manajemen aset, e-money, dan lainnya.
Pertama, MotionBanking merupakan aplikasi perbankan digital yang akan menjadi lokomotif penggerak keseluruhan brand Motion. Di dalam MotionBanking terdapat kartu debit dan kredit virtual MotionVisa dan MotionMasterCard. Kedua, MotionPay, platform e-money, e-wallet, dan transfer digital. Ketiga, MotionTrade untuk aplikasi online trading saham yang sebelumnya bernama MNC Trade New sudah dirilis sejak 2016. Terakhir, MotionInsure, aplikasi insurtech.
Dalam rencana pengembangan, segera hadir MotionCredit sebagai aplikasi lending termasuk menghadirkan BNPL; MotionFunds sebagai platform reksa dana online; dan MotionSeeds sebagai aplikasi securities crowdfunding.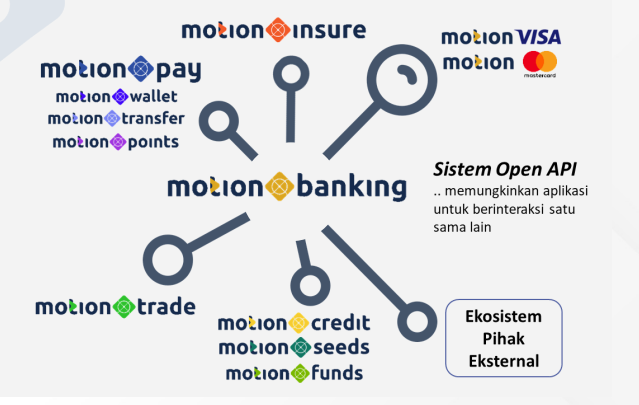 Executive Chairman MNC Group Hary Tanoesoedibjo menjelaskan langkah ini memperlihatkan komitmen BCAP untuk menempatkan inovasi digital sebagai poros binsis perbankan dan jasa keuangan memasuki babak baru dengan pembentukan talent pool ahli fintech yang berdedikasi untuk membangun Motion Technology, ekosistem fintech end-to-end milik MNC Financial Services.
"Setiap aplikasi fintech dalam ekosistem MotionTech memiliki peran strategis untuk saling menunjang satu sama lain. Di samping itu, dengan ekosistem Open API, BCAP juga akan terus berkolaborasi dengan pihak ketiga untuk saling melengkapi dan menguatkan ekosistem MotionTech secara seamless," ungkap Hary dalam keterangan resmi.
Are you sure to continue this transaction?
processing your transaction....