Mobil F1 Konsep McLaren MP4-X Bisa Baca Pikiran dan Ditenagai Sinar Matahari?
McLaren MP4-X mempunyai desain mirip Batmobile, dengan bagian roda tertutup, serta tubuh yang bisa berubah bentuk.
Yoga Wisesa - 4 December 2015
Formula One ialah kelas tertinggi olahraga otomotif yang diakui oleh FIA, menjadi tempat bertandingnya kendaraan-kendaraan tercepat di Bumi. Tapi F1 bukanlah sekedar balapan, ia dianggap sebagai ajang bergensi bagi produsen buat unjuk kebolehan meramu teknologi tercanggih. Dan McLaren bilang, pengembangan teknologi mereka didorong oleh semangat membangun masa depan.
Awal Desember ini tampaknya menjadi momen penting bagi tim asal Surrey, Inggris tersebut. Mereka meluncurkan mobil 675LT Spider untuk 'konsumen biasa', sembari memamerkan konsep kendaraan F1 bernama MP4-X. Dengannya, McLaren mencoba mengajukan sebuah gagasan visi motorsport di masa yang akan datang, serta membayangkan dan mengeksplorasi bermacam-macam kemungkinan.
Ada sedikit kesamaan antara MP4-X dengan rancangan konsep McLaren-Honda karya desainer Andries van Overbeeke dalam proyek Echoes of A Nearby Future. Keduanya mengusung kokpit tertutup. Namun ketika van Overbeeke masih berpedoman pada wujud klasik mobil F1, McLaren MP4-X lebih menyerupai versi besar mainan Mini 4WD atau mungkin mengingatkan Anda pada Batmobile.
Bentuknya lebih streamline/lurus dibanding kendaraan Formula One, dengan bagian roda tertutup, kemudian McLaren turut mengurangi pernak-pernik aerodinamis sehingga MP4-X terlihat lebih simpel. Kehadiran kokpit tertutup dimaksudkan buat meningkatkan keamanan pengendara. Produsen menjelaskan, MP4-X memadukan tiga unsur utama dalam F1, yaitu kecepatan, kegembiraan serta performa.
Tema futuristis tak hanya diimplementasikan pada penampilan saja, mobil anggun tersebut turut ditopang teknologi mutakhir. MP4-X didesain supaya bisa memanfaatkan sumber tenaga alternatif, contohnya cahaya matahari atau unit penghubung induktif yang diletakkan di sirkuit. Untuk pembangkit tenaga, ia dibekali versi ekstrem dari energy-recovery systems (ERS). Tubuh kendaraan dapat berubah, beradaptasi dengan keadaan demi menyajikan gaya cengkeram maksimal saat menikung, dan meminimalisir gaya gesek ketika melaju lurus.
Jika sering menyaksikan pertandingan F1, Anda pasti tahu panel dashboard kendaraan dipenuhi switch dan tombol. McLaren berupaya menyederhanakannya, bukan dengan sistem gesture, melainkan melalui teknologi pembaca sinyal otak. Sederhananya, MP4-X dibuat agar dapat membaca pikiran pembalap. Selain itu, mobil dilengkapi sensor untuk memonitor level kesehatan komponen, misalnya memberi tahu kita jika ban mulai menipis.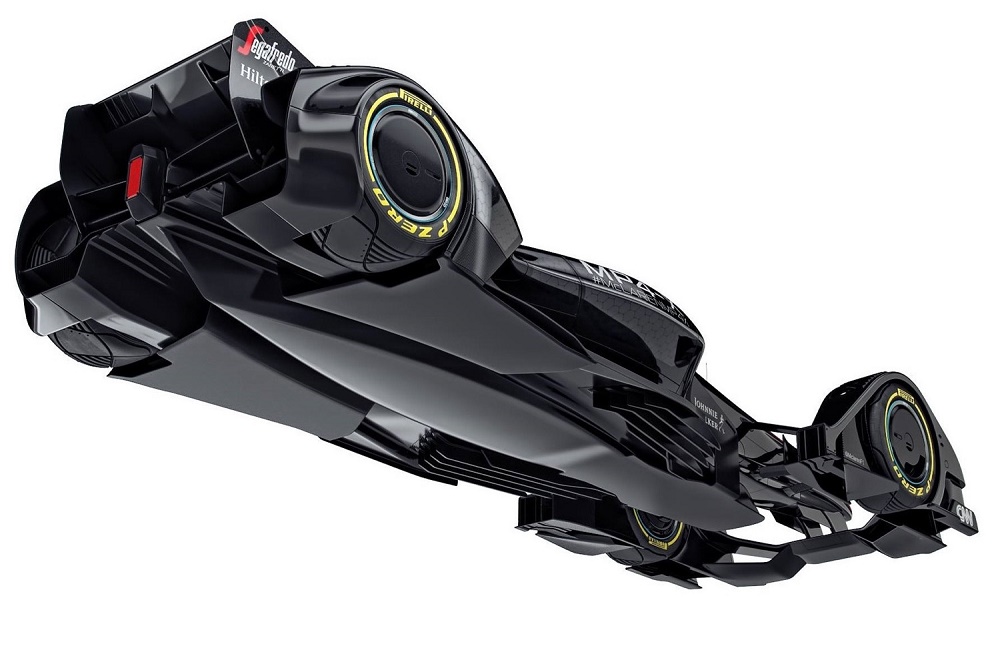 Meskipun hanya konsep, McLaren mengklaim bahwa semua teknologi yang terdapat di MP4-X benar-benar ada walau pengembangannya belum matang...
Via Wired. Sumber: McLaren.com.
Are you sure to continue this transaction?
processing your transaction....