Mobil Konsep Baru Mercedes-Benz Terinsprasi dari Produk Otomotif Pertama Mereka
Di area kokpit, Mercedes-Benz sengaja menerapkan display informasi secara minimal.
Yoga Wisesa - 17 September 2019
Secara legal, Mercedes-Benz berdiri di tahun 1926, namun salah satu pencetus brand ini - Karl Benz - sudah berkarya sejak 1886 dengan kendaraan berbahan bakar bensin pertama di dunia. Akhirnya, mobil Mercedes mulai dipasarkan pada tahun 1901 oleh Daimler Motors Corporation. Kata Mercedes sendiri diambil dari nama putri wirasusahawan otomotif Emil Jellinek yang mematenkan merek tersebut di 1902.
Kini hampir 120 tahun berlalu, perusahaan otomotif spesialis kendaraan mewah asal Jerman itu mencoba menghidupkan lagi produk pertamanya, 'Mercedes 35 PS' tapi tentu dengan sentuhan futuristis. Di acara Frankfurt Motor Show 2019, Mercedes-Benz memperkenalkan mobil konsep Vision Mercedes Simplex baru yang wujudnya terinspirasi dari 35 PS. Bedanya, ia mengusung berbagai macam elemen kendaraan masa depan.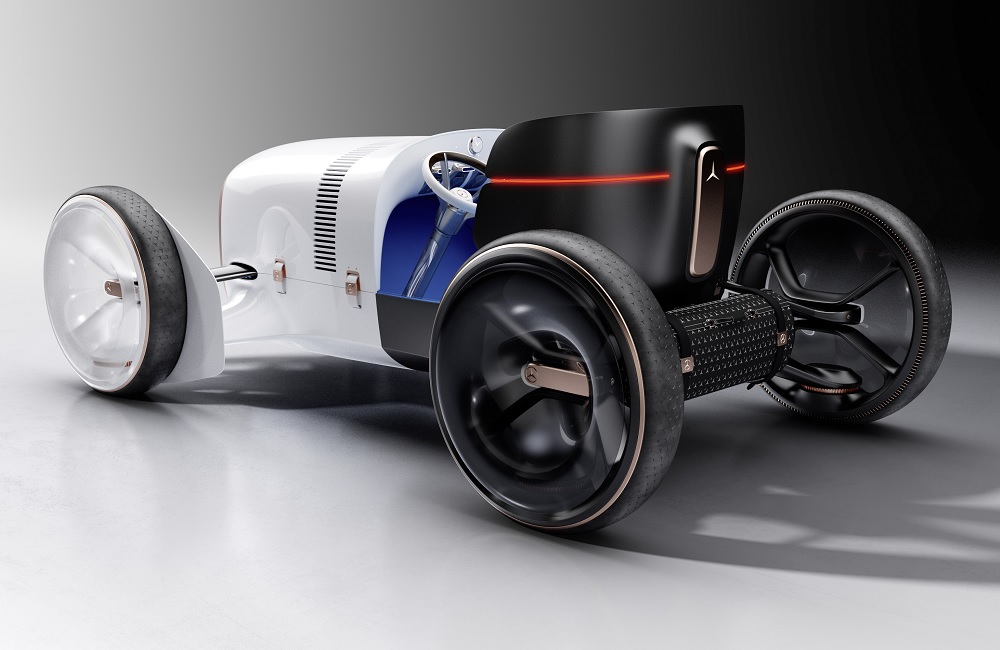 Seperti pendahulunya itu, Vision Mercedes Simplex 35 PS ialah mobil dua penumpang dengan roda berukuran besar di bagian luar yang mengelilingi tubuh utama. Mesin dan segala macam komponen penggerak berada di depan, dimasukkan dalam chassis berwujud boks berdesain aerodinamis. Mercedes-Benz memilihkan kombinasi warna unik buat Simplex, yaitu putih di area depan dan peleknya, biru di zona pengemudi, serta hitam di belakang.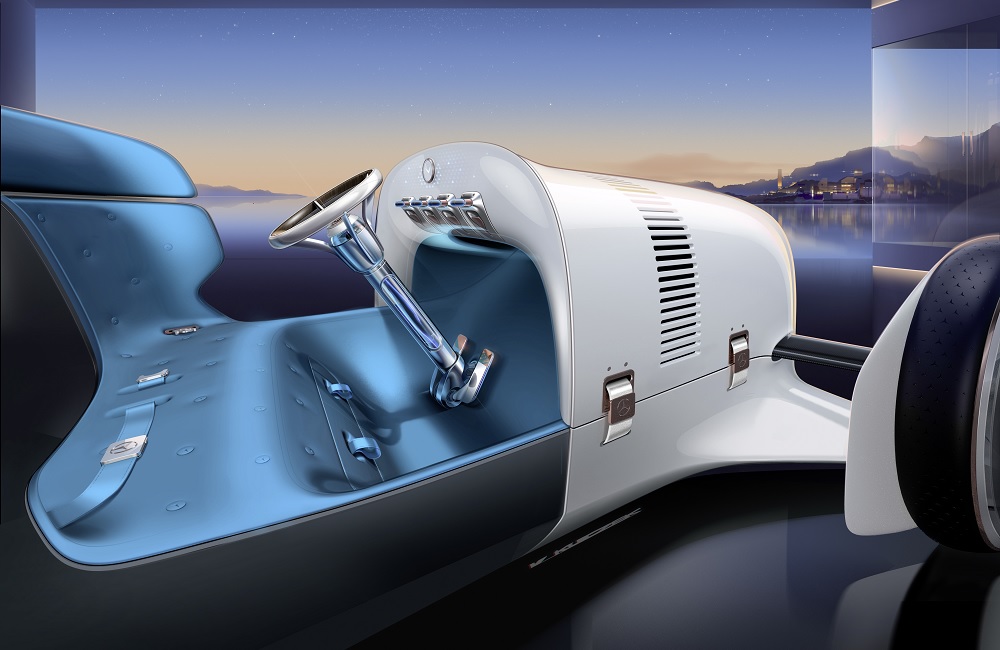 Selanjutnya, Mercedes-Benz membubuhkan warna emas di bagian depan Simplex, mengelilingi radiator. Uniknya lagi, grille di sisi depan yang dahulu ada di Mercedes 35 PS kini digantikan oleh layar lebar. Panel tersebut disiapkan untuk menampilkan animasi-animasi yang memperlihatkan status kendaraan. Menurut perusahaan, pemakaian layar ini mewakilkan transformasi brand Mercedes dari ranah otomotif tradisional ke era digital.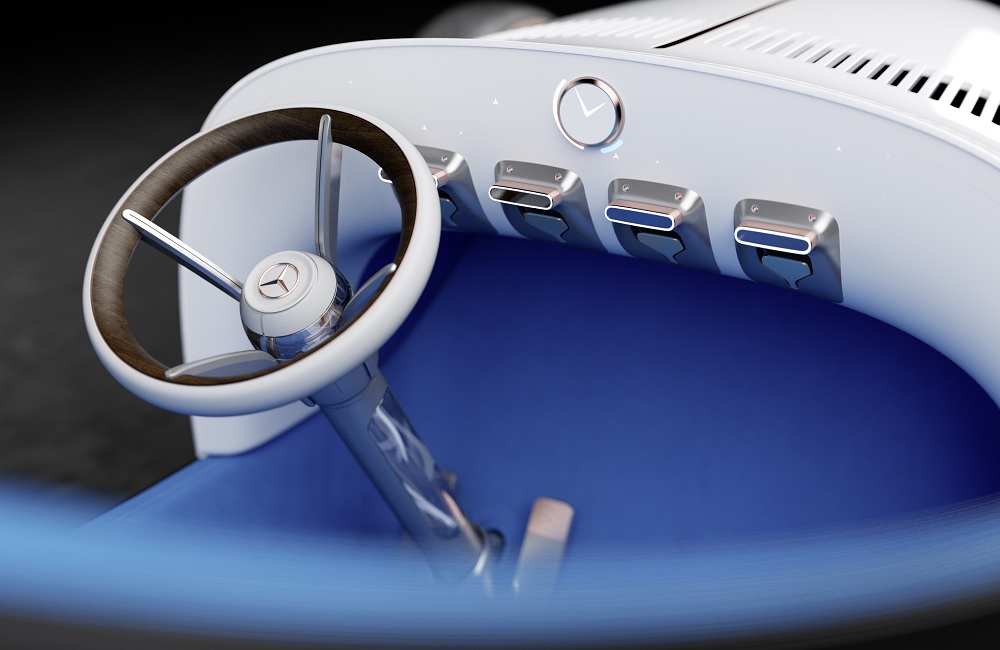 Area kokpit Simplex 35 PS boleh dibilang merupakan impian bagi mereka yang gemar mengemudi. Mercedes-Benz sengaja menerapkan display informasi secara minimal, difokuskan pada elemen-elemen krusial pendukung pengalaman berkendara. Sistem akan menampilkan info secara spesifik di waktu yang tepat - misalnya kecepatan, instruksi navigasi atau notifikasi penting terkait mesin. Tim desainer menyebut konsep ini sebagai 'hyper analogue'.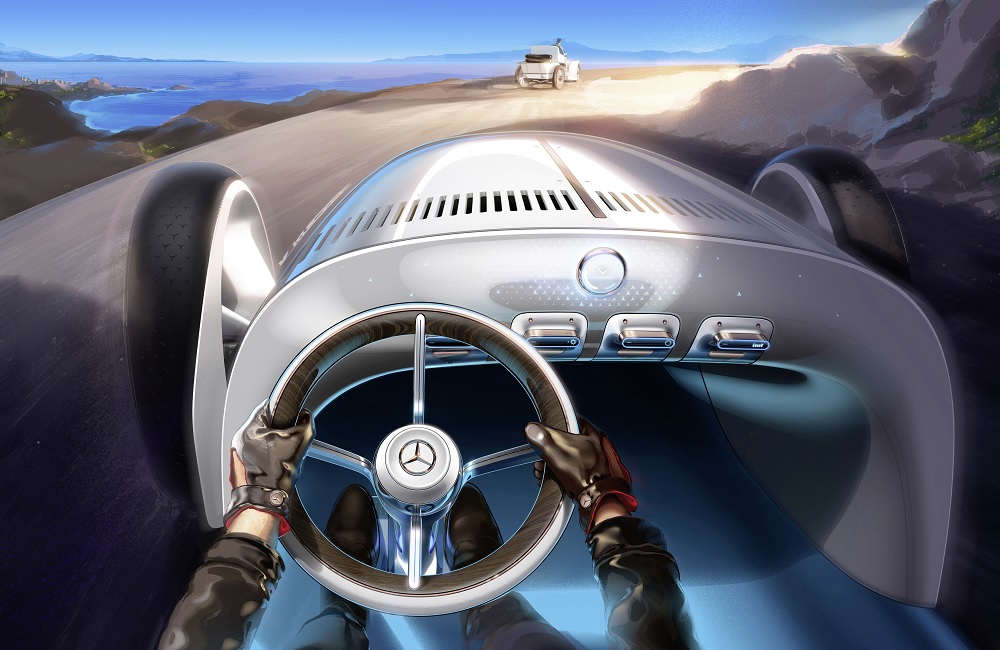 Vision Mercedes Simplex 35 PS punya wujud lebih mungil padat dibanding mobil modern, dan menilai dari wujudnya, ia juga memiliki tingkat center of gravity lebih rendah dari kendaraan di era lampau. Itu artinya, Simplex 35 PS akan sangat nyaman buat dikendarai. Produsen memang belum mengonfirmasi jenis mesin yang digunakan oleh kendaraan konsep ini, tapi saya menduga ia dibekali motor elektrik.
Karena statusnya sebagai mobil konsep, tentu saja belum dapat dipastikan apakah Vision Mercedes Simplex 35 PS akan diangkat menjadi produk komersial atau tidak. Bagi saya, langkah yang diambil Mercedes-Benz ini sangat unik, karena untuk membuat terobosan, kadang kita harus kembali ke awal.
Via The Verge.