MobiScribe Adalah Buku Catatan Unik Berbasis E-paper
Tablet memanfaatkan layar buatan WACOM yang mampu mendeteksi 4096 tingkat tekanan (degree of pressure).
Yoga Wisesa - 8 August 2019
Instrumen tulis berupa pena sudah digunakan sejak zaman Mesir kuno, dan meski kita telah masuk ke era digital, metode tersebut tidak akan ditinggalkan begitu saja. Sebaliknya, teknologi malah dimanfaatkan agar interaksi antara manusia dan konten jadi lebih intuitif, misalnya lewat layar sentuh hingga implementasi stylus dengan karakteristik yang dibuat agar menyerupai alat tulis sesunguhnya.
Yakin bahwa masih ada banyak orang lebih memilih kertas daripada layar, Team UC mencoba menggabungkan kesederhanaan baca-tulis di buku dengan kemudahan akses konten digital lewat perangkat bernama MobiScribe. Sejatinya, MobiScribe adalah buku catatan elektronik yang memungkinkan Anda menuliskan atau menggambarkan segala ide tanpa perlu mengorbankan pepohonan (berkayu lunak yang digunakan dalam pembuatan kertas).
MobiScribe punya penampilan seperti tablet e-reader, menyajikan layar e-ink (electronic paper display) 265DPI monokromatis seluas 6,8-inci - tidak kecil tapi tak juga terlampau lebar sehingga mudah dibawa-bawa. Perangkat ditopang oleh RAM sebesar 1GB dan memori internal 8GB yang dapat ditambah lagi dengan microSD card 32GB. Itu berarti ia siap menyimpan ribuan e-book.
Penampilannya tidak se-stylish Galaxy Tab terbaru dengan bezel tipisnya, namun MobiScribe memang lebih mengedepankan fungsi ketimbang rupa. Buku digital ini turut dibekali cover penyerap benturan yang berperan pula sebagai tempat menaruh stylus.
Walaupun terlihat sederhana, MobiScribe dibekali rangkaian teknologi krusial pendukung aktivitas baca-tulis. Tablet memanfaatkan layar buatan WACOM yang mampu mendeteksi 4096 tingkat tekanan (degree of pressure). Sensitivitas tinggi itu dijanjikan sanggup memenuhi kebutuhan para seniman yang paling sulit dipuaskan sekalipun. Panel tersebut punya karakter kapasitif, memperkenankan kita menavigasi menu berbekal jari, kemudian segera 'menolak' sentuhan telapak tangan ketika stylus sedang digunakan.
Mungkin Anda sudah tahu, layar e-paper punya sifat menyerupai kertas dan pada dasarnya tidak mengeluarkan cahaya. Permukaannya juga tidak glossy sehingga Anda tidak terganggu bayangan dan pantulan sinar. Meski begitu, Team UC paham ada kalanya kita harus menulis/mencatat di kondisi temaram. Untuk mendukungnya, mereka mencantumkan pencahayaan 'frontlight' dengan tingkat keterangan, temperatur warna dan kontras yang bisa disesuaikan.
Bagian stylus-nya juga tidak kalah unik. Selain punya profil ala pensil dan mempersilakan kita membuat garis berbeda berdasarkan keras atau lembutnya tekanan, bagian belakangnya berfungsi sebagai penghapus. Kombinasi hal-hal kecil tersebut memastikan pengalaman penggunaa MobiScribe jadi lebih natural.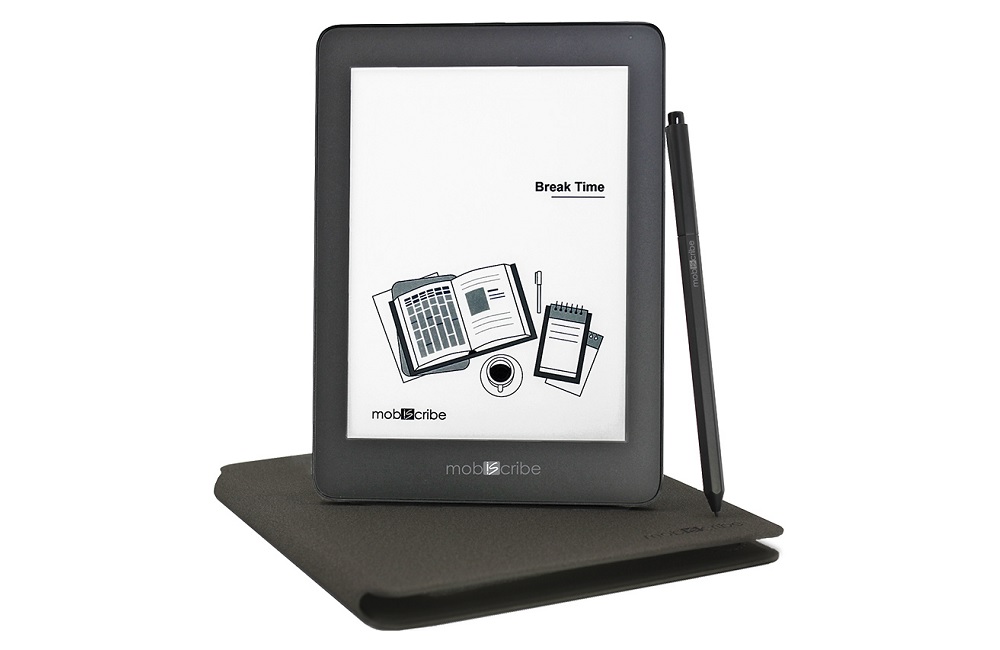 'Buku catatan e-ink' MobiScribe sudah bisa dipesan lewat situs resminya. Di sana, bundel tablet dan stylus dijajakan seharga US$ 264. Aksesori cover, pensil digital dan beberapa opsi ujung stylus juga dijual terpisah, ditawarkan masing-masing di harga US$ 15, US$ 20, dan US$ 7.
Via IndieGogo.
Are you sure to continue this transaction?
processing your transaction....