Modalku Is Now Available for Online Business in Social Media and Chat Messaging
Maximum loan of 250 million Rupiah with 12 month tenor and 2% interest per month
Marsya Nabila - 30 July 2020
Modalku developed a specific financing product targeting online entrepreneurs. Not only businesses on e-commerce platforms, but also social media and chat messaging. Previously, Modalku collaborated with e-commerce platforms such as Tokopedia, Bukalapak, Shopee, and Zilingom in channeling loans to online entrepreneurs.
As quoted from the Central Statistics Agency report "Statistics E-Commerce (2019)" last year, there are 15.08% of the total number of entrepreneurs in Indonesia were online entrepreneurs, the rest were offline entrepreneurs at 84.92%. However, during this pandemic, also stated in other reports by the Coordinating Ministry for Economic Affairs, there was an increase of over 300 thousand.
Modalku's Co-Founder and COO Iwan Kurniawan said, in the time of pandemic more people are doing their activities through digital platforms, including buying and selling goods. The increase rate should be balanced with on-demand funding accessibility and the characteristics of online entrepreneurs.
"During this pandemic, we continue to grow [channeling financing] at more selective steps. The most commonly used digital services during Covid-19 are e-commerce, digital wallet, health, education, and transportation. We want to serve those segments that need financing," Iwan said in an online press conference on Wednesday (29/7).
Ensuring Modalku's strategy before introducing it to the public, the company has surveyed 200 online sellers as respondents last month. These respondents involved are 40% women and 60% men, dominated by people at the age 30-35 years (32%) and 26-29 years (27%). They are located in Jakarta, West Java, East Java and Banten.
The result shows that the online digital platform mostly used by the respondents is dominated by Shopee (77.5%) and Tokopedia (70.5%). However, in the third position is chat messaging applications such as WhatsApp and Line (62%). It is followed by Bukalapak, Facebook, Instagram, Lazada, Blibli, personal sites, JD.id, and others.
The survey also showed 70% of respondents attracted to online loans. The reason is to increase the stock of goods, try new business opportunities, do online marketing, business expansion, maintain cash flow, and other reasons.
"The result shows that every entrepreneur is at least uses three platforms for online business. It is quite difficult for this segment to get access to funding without collateral, even though they are part of the sector that drives the digital economy," Modalku's Digital Marketing Director, Alexander Christian said.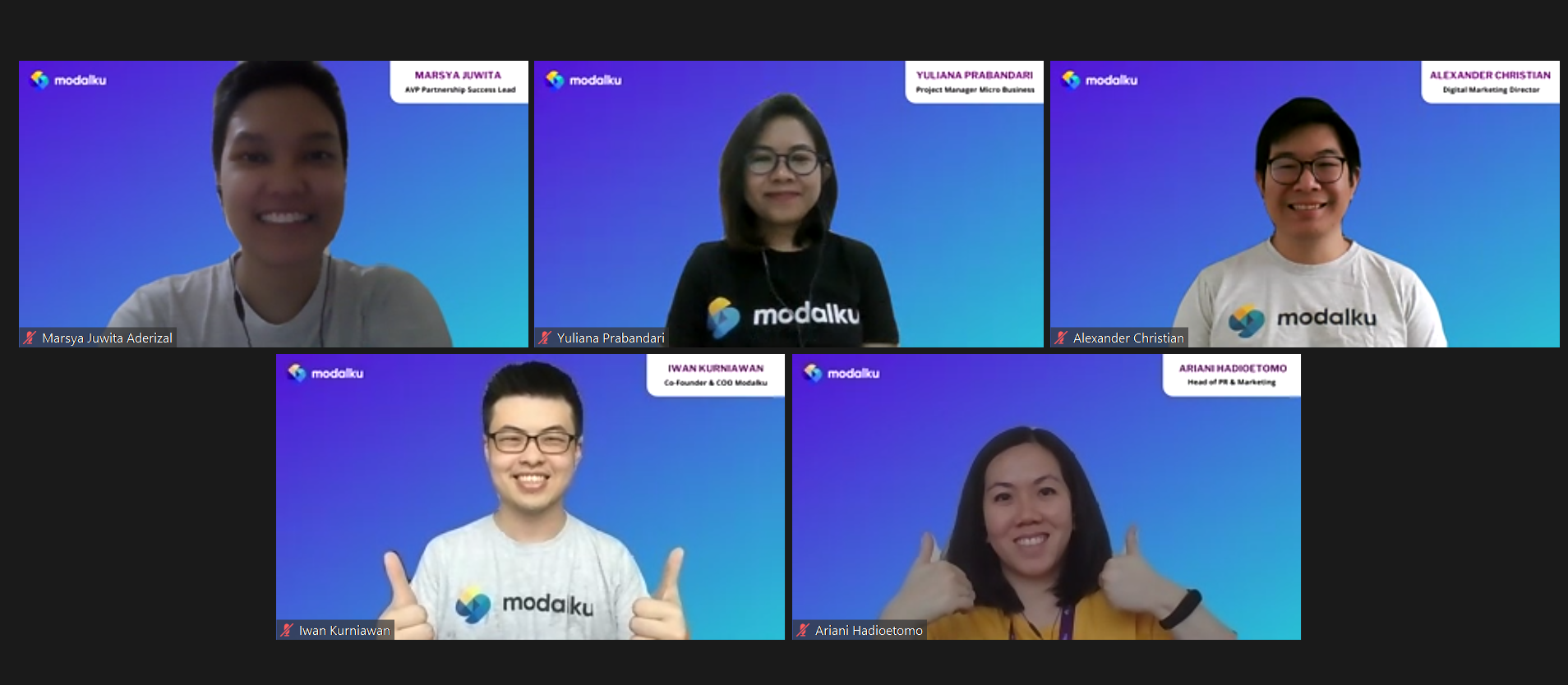 Loan products
In the latest product, Modalku is targeting all online entrepreneurs selling online in any channel. They can get loans without collateral up to 250 million Rupiah with a maximum tenor of 12 months. Interest charged, starting from 2% per month or 24% per year, depending on the risk profile of each seller.
In terms of submission, prospective borrowers only need a checking account for the past three months and a business owner's ID. In addition, they are required to have been operating at least more than six months and have a business and are domiciled in Greater Jakarta, Bandung, and Surabaya.
According to Modalku's Micro Business Project Manager Yuliana Prabandari, this method is quite effective for Modalku in ensuring all online transactions. When you join an e-commerce platform, credit scoring will be far more practical because the company can get all transaction and revenue data in the seller's account.
"We find that even though this online seller already has a bank account, their businesses are yet to be eligible for credit from banks because they are required to have collateral. In addition, by selling stuff on many platforms, we can picture it as credit scoring," said Yuliana.
Since three to four years ago working on online entrepreneurs, Modalku claimed to have distributed millions of loan transactions worth hundreds of billions of Rupiah. These borrowers come from various cities in Java, and outside Java, such as Medan, Batam and Makassar. This achievement is a strong foundation for the company to develop widely.
In total, from the beginning up until the first semester Modalku has disbursed loans worth more than 15 trillion Rupiah in Indonesia, Malaysia, and Singapore. The number of transactions reaches more than 2.5 million loans. The increase is quite significant compared to last December at 11 trillion Rupiah.
"We are financing a lot of sectors that grew green during the pandemic, such as health, ICT, e-commerce, and FMCG. This form of financing is divided into supply chain financing, BPJS invoice financing, and employee capital," Iwan concluded.
–
Original article is in Indonesian, translated by Kristin Siagian
Application Information Will Show Up Here