MSI Sediakan Mini PC Mungil Terpintar Bernama Cubi
Yoga Wisesa - 27 May 2015
Reputasi tinggi pada sebuah brand menyebabkan ekspektasi konsumen yang tinggi pula. Begitu nama MSI disebut, impresi tema gaming langsung terbayang. Tapi agar tetap unggul dari kompetitor, sudah tentu eksperimen harus selalu dilakukan untuk menghasilkan terobosan. Dan MSI belum lama mengungkap iterasi mereka terhadap konsep rancangan PC Intel NUC.
"Jika mempunyai tubuh kecil, Anda harus pintar," begitu tulis sang produsen komputer serta hardware asal Taiwan itu dalam memperkenalkan Cubi. MSI Cubi ialah mini PC, diklaim memiliki ukuran terkecil di pasar saat ini, dan sanggup menjawab permintaan terhadap perangkat komputasi modern serbaguna. Rancangan uniknya memungkinkan Cubi untuk dikonfigurasi sesuai kebutuhan, formula tersebut berbeda dari pendekatan mini PC standard - biasanya terganjal penampilannya sendiri.
MSI Cubi mengambil bentuk balok dengan sudut membulat. Dimensinya 115x111x35 milimeter dan terdapat sisi miring di ujung tempat tombol power berada. Tubuhnya mulus, dan Anda bisa menemukan pernak-pernik konektivitas yang diperlukan: empat port USB SuperSpeed di depan dan belakang, port LAN, serta kombinasi HDMI dan Mini Display Port untuk mendukung dual display di resolusi 4K UHD. Lalu lubang ventilasi menyatu mulus dalam rancangannya.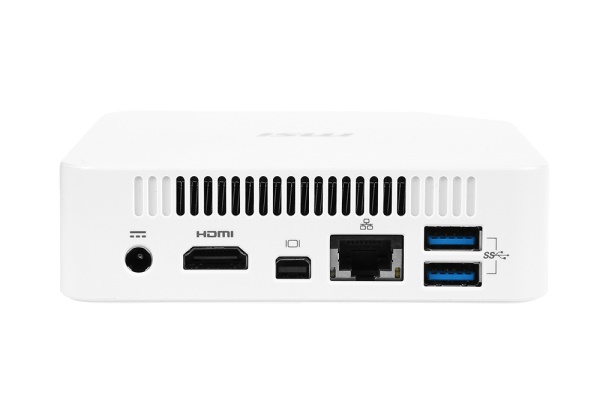 Namun kecanggihan desain MSI Cubi tidak berhenti di sana. Mini PC tersebut mengusung prinsip modular, disajikan secara barebone. Kebanyakan produk sekelas Cubi terpentok pada faktor penyimpanan. Komputer kecil MSI ini memang masih memanfaatkan storage mSATA 64GB, tapi Anda diperkenankan memperluasnya via hard drive 2,5-inci tanpa mengorbankan penampilan. Cubi hanya akan bertambah tebal jadi 46 milimeter.
Info menarik: CuBox-i, Mini PC Multi OS
Kecil bukan berarti tidak bertenaga. MSI menawarkan beberapa tipe prosesor di keluarga chipset Intel: Celeron 3205U, Pentium 3805U, Core i3-5005U atau Core i5-5200U. SoC itu dibantu komponen olah visual Intel HD Graphics, dan RAM 2GB sampai 16GB DDR3L 1600. Berkat arsitektur Broadwell 14nm, performa GPU naik hingga 40 persen dan konsumsi daya turun 30 persen dibanding model sebelumnya, cuma menuntut 65 Watt.
Kapabilitas hardware Cubi memastikannya bisa digunakan sebagai pusat hiburan multimedia di ruang keluarga, menjadi client streaming, buat bekerja, atau bahkan menangani permainan-permainan 3D ringan (saya rasa spesifikasi di atas tidak kesulitan menjalankan Dota 2 atau League of Legends). Desain minimalisnya juga serasi dengan furnitur rumah. Alternatifnya, Cubi dapat 'disembunyikan' di belakang TV atau monitor.
Belum ada kabar mengenai ketersediaan MSI Cubi di Indonesia. Harganya beragam, tergantung dari komposisi hardware, berkisar antara US$ 150 sampai US$ 280.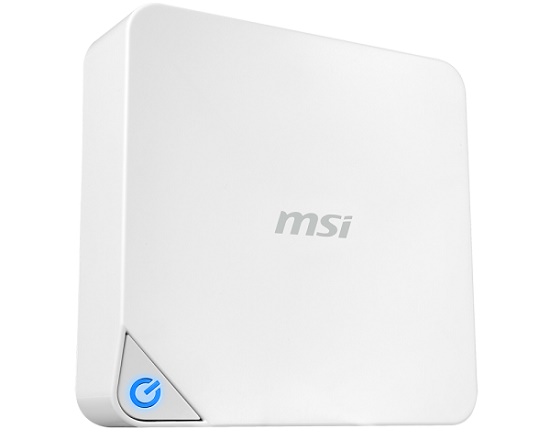 Sumber: MSI.com.
EDIT: Sebelumnya ada kesalahan tulis jumlah RAM, sudah diperbaiki. Terimakasih zazakhuna.
Are you sure to continue this transaction?
processing your transaction....