Dewasa ini kita sudah sangat terbiasa berlangganan konten digital. Contoh yang paling gampang adalah Netflix dan Spotify; ketimbang bingung memilih film atau album musik baru apa yang hendak dibeli, jauh lebih mudah membayar tarif tetap setiap bulannya untuk mendapatkan akses tak terbatas ke semua koleksi yang tersedia.
Model bisnis seperti ini terbukti bisa menguntungkan kedua belah pihak – meski sampai sekarang Spotify masih mengalami kerugian besar, tapi itu lebih dikarenakan ongkos royalti yang harus mereka bayar ke berbagai label musik begitu mahal. Terlepas dari itu, metode berlangganan (subscription) setidaknya bisa menumbuhkan rasa aman bagi penyedia layanan bahwa mereka bakal mendapatkan pemasukan yang pasti setiap bulannya.
Berkaca pada anggapan tersebut, wajar apabila kemudian banyak bermunculan platform distribusi konten digital baru yang mengandalkan metode subscription, contohnya seperti yang dilakukan oleh produsen hardware dan software musik, Native Instruments, baru-baru ini. Mereka memperkenalkan Sounds.com, layanan berlangganan yang ditujukan secara spesifik untuk para musisi.
Sounds.com menawarkan cara yang mudah bagi para musisi untuk mengakses koleksi sample, loop dan sound pack untuk dimanfaatkan dalam karyanya masing-masing, tanpa harus membayar royalti ekstra. Idenya tidak benar-benar baru; sebelumnya sudah ada Splice yang menawarkan layanan serupa, tapi yang berbeda dari Sounds.com adalah pelanggan diberikan akses tidak terbatas dengan tarif tetap setiap bulannya.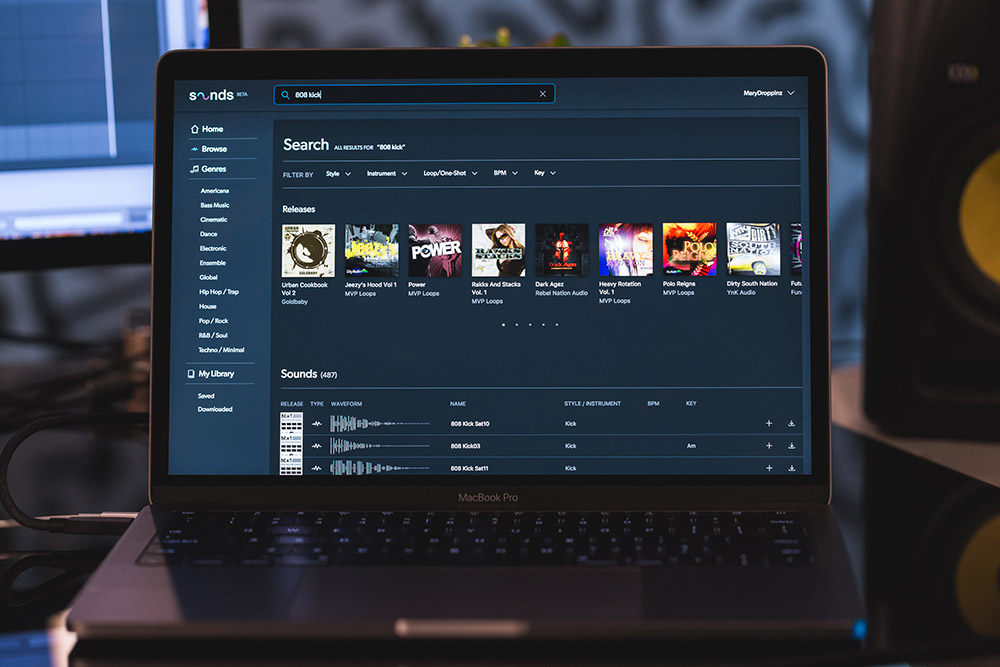 Menurut informasi yang didapat The Verge, Sounds.com setidaknya sudah menyimpan lebih dari 500 ribu sample, loop dan sound pack. Genre-nya juga amat bervariasi, mulai dari orkestra sampai EDM (electronic dance music). Pelanggan dapat melakukan pencarian yang cukup spesifik, atau menyortir berdasarkan genre, BPM, kunci atau jenis instrumen yang digunakan.
Untuk sekarang Sounds.com masih berstatus beta, dan baru tersedia di Amerika Serikat saja, akan tetapi Native Instruments berharap bisa merilisnya ke pasar internasional sesegera mungkin. Tarif berlangganan yang dipatok adalah $10 per bulan, namun konsumen dipersilakan mencoba lebih dulu secara cuma-cuma sebelum mulai membayar.
Tampilan situsnya terbilang modern. Pelanggan dapat terus mengeksplorasi konten yang tersedia selagi mendengarkan suatu sample atau loop. Ke depannya, Native Instruments berencana menyiapkan plugin untuk digital audio workstation (DAW) supaya katalog Sounds.com bisa langsung diakses dari perangkat tersebut.
Sumber: The Verge dan Native Instruments.
DailySocial.id adalah portal berita startup dan inovasi teknologi. Kamu bisa menjadi member komunitas startup dan inovasi DailySocial.id, mengunduh laporan riset dan statistik seputar teknologi secara cuma-cuma, dan mengikuti berita startup Indonesia dan gadget terbaru.