Meski saya sudah berkenalan dengan PC gaming sejak umur empat tahun, saya cukup beruntung karena semasa kecil masih sempat merasakan asyiknya berkunjung ke game center yang dipenuhi mesin-mesin arcade. Saya juga paham bahwa bermain di mesin arcade jauh lebih seru ketika ada seseorang di sebelah ketimbang hanya sendirian.
Itulah mengapa saya menilai perangkat seperti Neo Geo Mini – terlepas dari konsep portable-nya yang begitu menarik – masih kurang bisa menyuguhkan pengalaman arcade gaming yang autentik, sebab ukurannya terlampau kecil untuk bisa mengakomodasi dua pemain sekaligus. Kabar baiknya, SNK sedang bersiap untuk meluncurkan mesin arcade dengan ukuran yang proper.
Dinamai Neo Geo Multi Video System, atau bisa juga disingkat MVSX, perangkat ini sebenarnya merupakan mesin arcade full-size sekaligus replika dari Neo Geo MVS orisinal. SNK memberikan dua opsi pembelian buat konsumen: bagian atasnya saja seharga $450, atau satu set penuh bersama bagian dasarnya seharga $500 sehingga pengguna bisa memainkannya sambil berdiri.
Layarnya menggunakan panel LCD dengan bentang diagonal 17 inci dan resolusi 1280 x 1024 pixel. Supaya lebih autentik lagi, ada mode scan line supaya layarnya bisa mengemulasikan tampilan ala monitor CRT. Tepat di depan layarnya, ada satu pasang set joystick beserta tombol untuk dimainkan oleh dua orang secara bersamaan.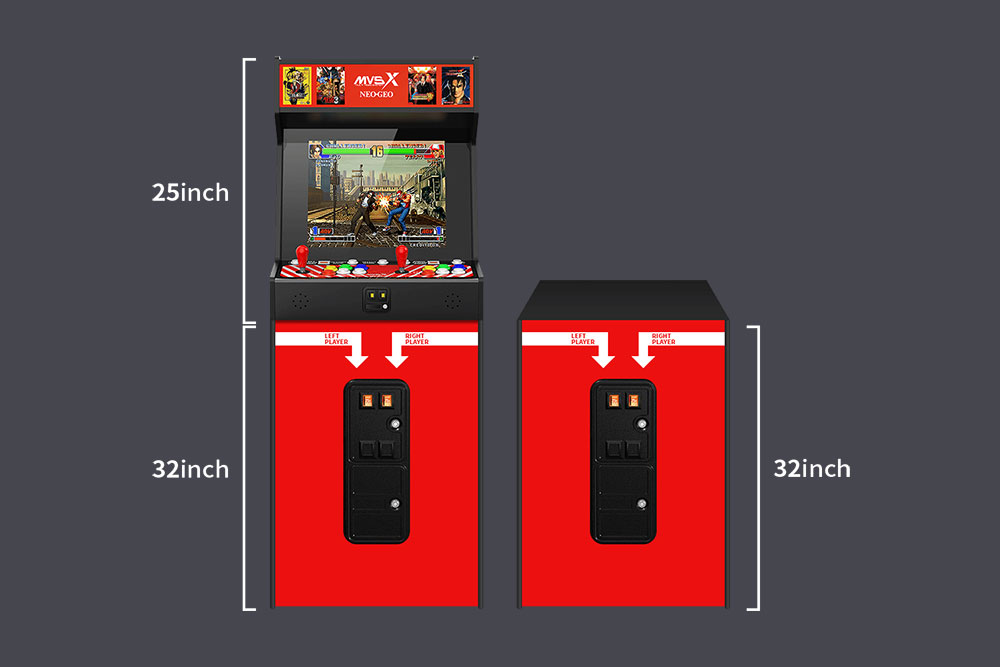 Total ada 50 mahakarya klasik bikinan SNK yang terdapat pada MVSX. Judul-judul legendaris macam King of Fighters '94, Fatal Fury, Samurai Shodown, Metal Slug, maupun World Heroes semuanya tersedia. Daftar lengkapnya bisa langsung Anda lihat di situs resmi MVSX.
$500 untuk sebuah perangkat yang hanya bisa memainkan game-game lawas memang kedengaran sangat mahal, tapi yang namanya barang kolektor ya begitu. Yang mungkin agak disayangkan adalah, jumlah game-nya itu fixed alias tidak bisa ditambah lagi. Padahal, SNK semestinya bisa saja menyelipkan cartridge reader supaya konsumen bisa menancapkan kaset orisinal Neo Geo MVS yang masih dipeliharanya dengan baik.
Entah kenapa juga Asia merupakan satu-satunya benua yang tidak kebagian jatah penjualan Neo Geo MVSX. Padahal, saya yakin ada konsumen di sini yang mungkin mengincar perangkat ini hanya untuk mendapatkan action figure Terry Bogard dan Iori Yagami, yang keduanya termasuk dalam paket pembelian MVSX.
Sumber: The Verge.
Are you sure to continue this transaction?
processing your transaction....