Nikmati Video Game Secara 'Fisik' Dengan ePawn Arena
Yoga Wisesa - 14 July 2015
Saat permainan-permainan video blockbuster semakin kompleks dan ambisius, lini casual juga berevolusi. Developer mulai bereksperimen dengan memadukan konsep game serta mainan. Dari ide itu terlahirlah Anki serta mainan sejenis. Lewat semangat serupa, tim asal Perancis memperkenalkan gagasan bernama connected gaming board melalui ePawn Arena.
Sederhananya, ePawn Arena adalah sebuah platform unik yang mampu menghubungkan video game dan mainan fisik interaktif, hadir berupa papan pintar serta unit robot. Visi developer ialah mengembalikan sensasi sederhana namun tidak tergantikan, sewaktu Anda menyentuhkan jari ke action figure, pesawat-pesawat terbang miniatur, ataupun bidak catur. Hebatnya lagi, ePawn Arena tidak cuma mendukung satu jenis permainan saja.
ePawn Arena didesain supaya orang yang ingin berpartisipasi dapat turut mengembangkan kontennya. Sebagai contoh awal, developer menyiapkan game-game berjenis action semisal Battle Bot dan Bot Race. Kedua permainan tersebut sangat mudah dinikmati, dimaksudkan untuk mendemonstrasikan cara kerja sistem serta metode navigasi via smartphone. Disuguhkan lewat aplikasi bersama alas khusus.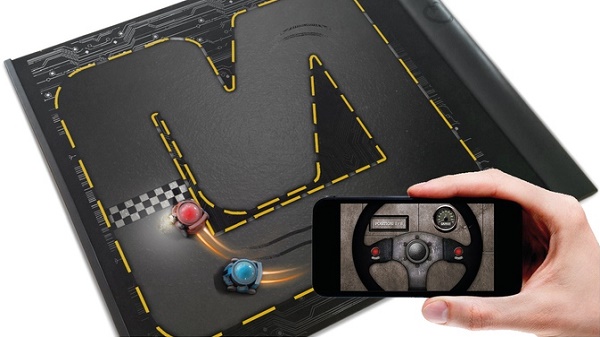 Buat penggemar genre strategi, Ares Games bersama ePawn telah meramu Wings of Glory WWII. Gameplay-nya mirip Sid Meier's Acer Patrol, hanya saja miniatur-miniatur pesawat tempur itu benar-benar bergerak dan saling menembak di atas peta. Wings of Glory WWII merupakan port dari permainan board berjudul sama, di mana pemain bisa memprogram pesawat dari handset.
Info menarik: Anki Overdrive Janjikan Kombinasi Game dan Mobil Balap Yang Lebih Canggih
Beberapa game lain meliputi catur online yang dapat bergerak sendiri, permainan role-playing Dungeon Master versi digital, hingga Fleet Commander - game pertempuran ruang angkasa, mengadu kemahiran dua pemain dalam memimpin armada luar angkasa. SDK disajikan secara gratis, memberikan keleluasaan bagi siapapun untuk menggarap karya berbasis platform ePawn.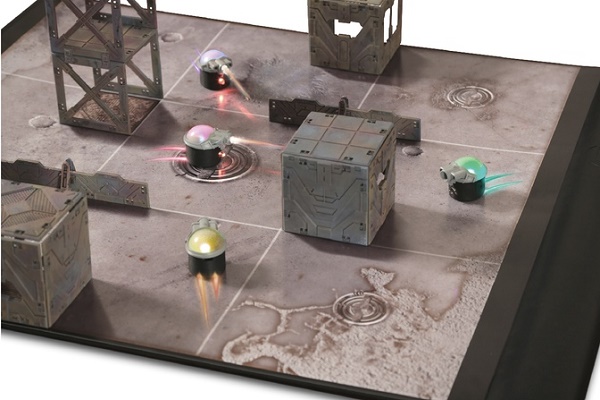 Untuk menyambungkan aplikasi digital dan objek sungguhan, developer menciptakan teknologi lokalisasi terobosan baru. Permukaan alas dibekali sirkuit elektronik fleksibel, guna membaca dan mengidentifikasi objek. Ia sanggup melacak hingga 32 benda berbeda secara bersamaan, akurat hingga hitungan milimeter, 60 kali selama 1 detik. Tak hanya posisi, ia mampu mengenal arah, serta bisa mengirim perintah ke objek yang memiliki roda, lampu LED, atau mesin.
ePawn Arena bisa dipesan di situs crowdfundingKickstarter. Harganya dibanderol mulai dari € 160 atau kisaran US$ 175; sudah termasuk Battle Bot, Bot Race dan Wings of Glory WWII.
Are you sure to continue this transaction?
processing your transaction....