Nintendo Umumkan Jadwal Rilis Game Baru Untuk Switch dan 3DS
Mayoritas game yang akan hadir di 'musim gugur' sampai 'musim liburan 2017' nanti sudah memiliki tanggal peluncuran pasti.
Yoga Wisesa - 23 October 2017
Switch baru berumur tujuh bulan, tapi console game berkonsep hybrid garapan Nintendo itu sudah mencetak rekor yang membanggakan. Di bulan Juli kemarin, sang produsen mengumumkan keberhasilan mereka memasarkan lebih dari 4,7 juta unit Switch secara global, dengan penjualan software melampaui 13,6 juta kopi.
Salah satu faktor pendorong kesuksesan Switch di tahun perilisannya ini adalah keputusan Nintendo untuk merangkul lebih banyak publisher serta developerthird-party. Di platform game baru itu, produsen menghidangkan banyak sekali judul-judul multi-platform menarik. Dan lewat page Facebook resminya, Nintendo mengungkap agenda pelepasan game-game baru di Switch dan 3DS via infografis, terhitung mulai bulan Agustus hingga tahun 2018.
Saat ini, gamer Nintendo mungkin sedang sibuk menikmat NBA 2K18, FIFA 18 atau Mario + Rabbids: Kingdom Battle, namun Anda juga tak boleh melewatkan Fire Emblem Warriors dan Etrian Odyssey V yang turut dilepas bulan ini. Pada tanggal 24 Oktober besok, Ubisoft akan meluncurkan permainan rhythm terbaru, Just Dance 2018. Lalu Jumat besok, Nintendo rencananya siap merilis satu judul yang paling ditunggu, Super Mario Odyssey.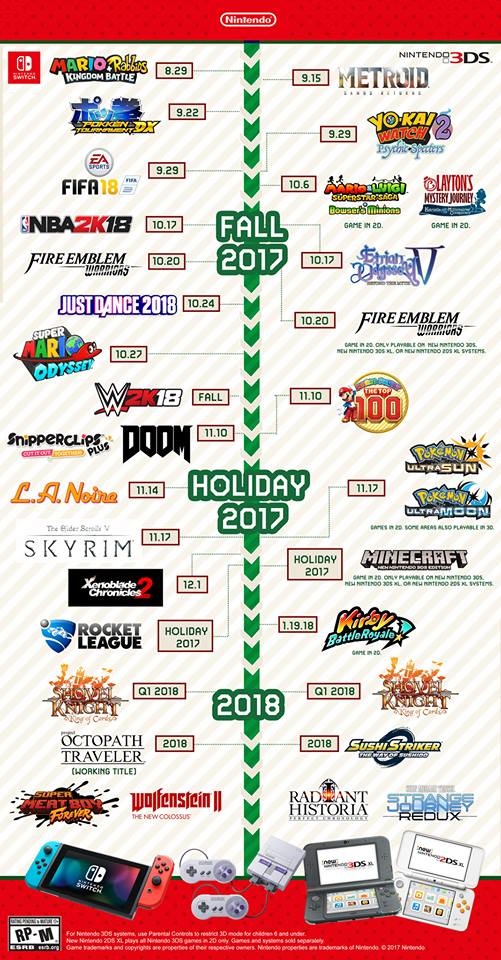 Mayoritas game yang akan hadir di 'musim gugur' sampai 'musim liburan 2017' nanti sudah memiliki tanggal peluncuran pasti, kecuali WWE 2K18 dan Rocket League di Switch, serta Minecraft di 3DS. Jadwal rilis permainan di periode itu bisa Anda simak di bawah.
Switch
Doom - 10 November
Snipperclips Plus - 10 November
L.A. Noire - 14 November
The Elder Scrolls V: Skyrim - 17 November
Xenoblade Chronicles 2 - 12 Desember
3DS
Mario Party: The Top 100 - 10 November
Pokémon Ultra Sun & Moon - 17 November
Selanjuntya, Nintendo juga menyingkap agenda peluncuran game di 2018. Kirby Battle Royale untuk 3DS akan mendarat di tanggal 18 Januari 2018, diikuti Shovel Knight di Switch dan 3DS pada kuartal pertama tahun depan. Selanjutnya, tiga judul berbeda di kedua platform akan menyusul: ada Super Meat Boy: Forever, Wolfenstein II, dan Project Octopath Traveler (Switch); serta Sushi Striker, Radiant Historia, dan Shin Megami Tensei: Strange Journey Redux (3DS).
Selain membahas game, Nintendo juga belum lama ini mendistribusikan update sistem versi 4.0 untuk Switch. Pembaruan meliputi penambahan fungsi rekam video di judul-judul tertentu, pilihan 12 icon anyar dari Super Mario Odyssey serta The Legend of Zelda: Breath of the Wild, kemampuan transfer file save ke sistem berbeda, munculnya opsi pre-purchase di Nintendo eShop, hingga perbaikan pada channel berita.
Rincian update baru Switch dapat Anda baca di laman support Nintendo.
Are you sure to continue this transaction?
processing your transaction....