Nvidia Gunakan AI Untuk Ciptakan Versi Digital dari Dunia Nyata
Teknologi baru ini punya potensi besar dalam membantu pengembangan gaming, otomotif, arsitektur, robotik sampai virtual reality.
Yoga Wisesa - 4 December 2018
Dukungan kecerdasan buatan ialah salah satu fitur yang Nvidia tawarkan di GeForce RTX. Di lini kartu grafis anyar itu, sang perusahaan memperkenalkan DLSS, yaiu sebuah fitur ala anti-aliasing yang memanfaatkan deep learning untuk 'melatih' GPU sehingga visual tampil lebih tajam serta bekerja dua kali lebih cepat dibanding produk-produk generasi sebelumnya.
Tapi jauh sebelum resmi memperkenalkan GeForce RTX, Nvidia sudah lama mengeksplorasi penerapan artificial intelligence di berbagai ranah. Dan di acara Neural Information Processing Conference di Montreal, sang produsen asal Santa Clara itu mendemonstrasikan kemampuan AI mereka dalam me-render lingkungan dan objek-objek sintetis secara realistis dan detail, cuma berbekal rekaman video.
Di presentasi, Bryan Catanzaro selaku vice president dari Nvidia Applied Deep Learning menjelaskan bahwa yang mereka perlihatkan ini adalah teknik baru rendering menggunakan neural networks (jaringan saraf). Lewat eksperimen tersebut, para peneliti Nvidia ingin mencari tahu bagaimana cara mengimplementasikan AI untuk membuat grafis komputer lebih baik, dan jalan keluarnya adalah memakai video sesungguhnya sebagai acuan.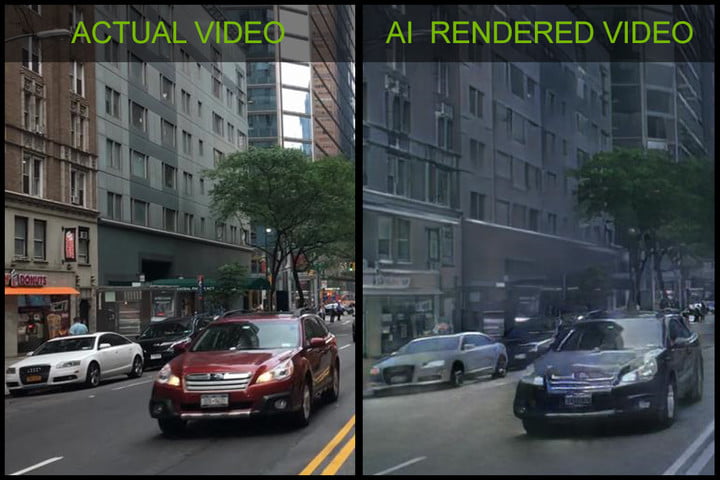 Dalam mengerjakan misi mereka, Nvidia membangun sistem yang bisa mentransformasi video menjadi 'versi render digital'. Sistem mereka itu mampu memahami rincian informasi di dunia nyata, dan dari sana, ditambahkanlah detail tekstur dan pencahayaan. Nvidia memanfaatkan machine learning untuk menganalisis video serta teknik computer vision buat melabelkan objek-objek serta karakteristiknya.
Itu berarti, kecerdasan buatan dapat mengenal tata ruang perkotaan serta memahami bahwa objek-objek di sana terdiri dari pohon, mobil, serta bangunan. Teknologi ini merupakan pengembangan lebih lanjut dari riset yang pernah dilangsungkan - misalnya oleh University of California di Berkeley.
Sebelumnya, para peneliti berhasil me-render grafis secara real-time dengan menggunakan GPU Tensor Core; namun dalam konferensi tersebut, Nvidia mencoba memperlihatkan kapabilitas dari kartu Titan V mereka.
Menurut Nvidia, metode ini berpotensi membantu pengembangan di bermacam-macam bidang, dari mulai gaming, otomotif, arsitektur, robotik sampai virtual reality. Neural network bisa menciptakan suatu pemandangan/adegan berdasarkan lokasi sesungguhnya, dan kemampuan ini dapat diterapkan di ranah hiburan ataupun produktif.
Contohnya di bidang pengembangan game. Berbekal teknologi tersebut, developer bisa mudah me-remaster pada judul-judul permainan lawas - cukup dengan melakukan rendering ulang, kemudian tinggal menambahkan tekstur high-definition. Selain itu, proses pembuatan atau penambahan level juga menjadi jauh lebih sederhana.
Via Digital Trends & Nvidia.
Are you sure to continue this transaction?
processing your transaction....