Gadget
Nvidia Pamerkan Titan X, Kartu Grafis Tercanggih di Dunia
Di awal minggu ini, pengungkapan Nvidia Shield Console boleh dibilang merupakan kabar GDC 2015 paling menarik. Melaluinya, Nvidia mencoba menembus pasar console yang dikuasai oleh Microsoft dan Sony. Meski berjalan di Android, Shield Console mampu menangani Crysis 3. Tapi Nvidia memang tidak pernah melupakan tempat asal muasal mereka terlahir.
Dalam sesi presentasi Epic Games bertajuk State of Unreal di ajang Game Developers Conference 2015, secara tak diduga-duga, Nvidia mengungkap Titan X. CEO sekaligus co-founder Jen-Hsun Huang mendeskripsikannya sebagai, "GPU paling canggih yang pernah ada di dunia." Namun komponen hardware ini bukan sekedar untuk unjuk gigi. Ia adalah salah satu bagian penting dari pengalaman virtual reality berjudul Thief in the Shadows.
Thief in the Shadows adalah proyek kolaborasi Epic Games, Nvidia, Oculus VR dan Weta Digital - para taltenta di bekalan trilogi film The Hobbit. Pengunjung diberi kesempatan untuk bertualang sebagai Bilbo Baggins di kota bawah gunung Moria dimana harta karun emas permata berserakan sejauh mata memandang, dijaga oleh Smaug sang naga - menghidupkan kembali adegan di Desolation of Smaug.
VR experience tersebut disajikan eksklusif di prototype Oculus Crescent Bay. Epic Games bertanggung jawab menyediakan Unreal Engine 4 kebanggaan mereka, kemudian diolah Weta Digital dengan apik. Nvidia Titan X sendiri ialah jantung yang mentenagai pengalaman virtual reality Thief in the Shadows, memastikannya berjalan mulus di 90 frame rate per detik.
Info menarik: Nvidia Luncurkan Shield Console di Ajang GDC 2015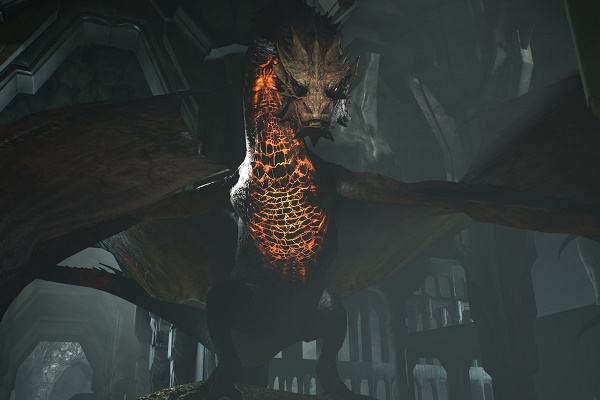 "Saat Anda berhadapan langsung dengan sang naga rakasa, pengalamannya harus benar-benar terasa nyata, mendalam dan emosional. GPU Nvidia Titan X terbaru memastikan hal tersebut bisa dicapai," tutur kepala R&D Weta Digital Alasdair Coull. Sayang sekali Thief in the Shadows baru dapat di coba di GDC 2015. Namun setidaknya Nvidia sudah mengungkap sedikit spesifikasi Titan X.
Nvidia Titan X diusung berbasis arsitektur Maxwell, menyimpan delapan miliar transistor dan 12 gigabyte VRAM, serta menuntut segenap kemampuan para teknisi ahli. Selain itu, belum ada informasi lebih terperinci mengenai Titan X. Tampaknya detail lengkap dan harga akan diumumkan dalam event GPU Technology Conference tanggal 17 sampai 20 Maret besok.
Huang sempat bercanda, "GDC kali ini benar-benar mengenai VR... ia membutuhkan GPU yang luar biasa. Problema buat saya sekarang: Jika saya luncurkan GPU next-gen kami dua minggu lagi, GDC 2015 akan jadi berantakan. Dan itu ialah masalah besar bagi kami dan seisi dunia."
Sumber: Blog Nvidia & PC Gamer.
Are you sure to continue this transaction?
processing your transaction....