Oculus Pamerkan Headset VR Purwarupa yang Lebih Canggih dari Rift
Headset mengusung teknologi varifocal dan lensa yang lebih lebar.
Yoga Wisesa - 7 May 2018
Sejak mulai bermain di ranah VR selama empat tahun dan menggelontorkan modal sebesar US$ 3 miliar, Facebook akhirnya mempersilakan publik memesan produk yang selama ini menjadi visi perusahaan dalam meramu headset virtual reality portable ideal: Oculus Go. Begitu ditunggunya perangkat itu, stok di Amazon segera ludes hanya beberapa jam setelah tersedia.
Alasan laris manisnya Oculus Go tak sulit ditebak. Head-mounted display ini bisa bekerja mandiri tanpa dukungan perangkat lain, menyimpan hardware  bertenaga untuk menghidangkan kualitas visual yang lebih baik dibandingkan headset berbasis smartphone, serta dijajakan di harga kompetitif. Namun bahkan sebelum Oculus Go benar-benar sampai di tangan konsumen, Facebook sudah memamerkan model purwarupa yang lebih canggih dari Oculus Rift.
Dalam konferensi F8 yang dilangsungkan hari Rabu silam, Facebook menyingkap HMD prototype 'Half Dome'. Desain headset ini hampir identik dengan varian Oculus Rift standar, tetapi mempunyai sejumlah bundaran (benjolan) kecil di sisi depan - mengingatkan saya pada cekungan-cekungan bundar di HTC Vive. Facebook dan Oculus belum memberi tahu apa gunanya. Saya pribadi menerka, bagian tersebut berhubungan dengan fungsi pelacakan posisi.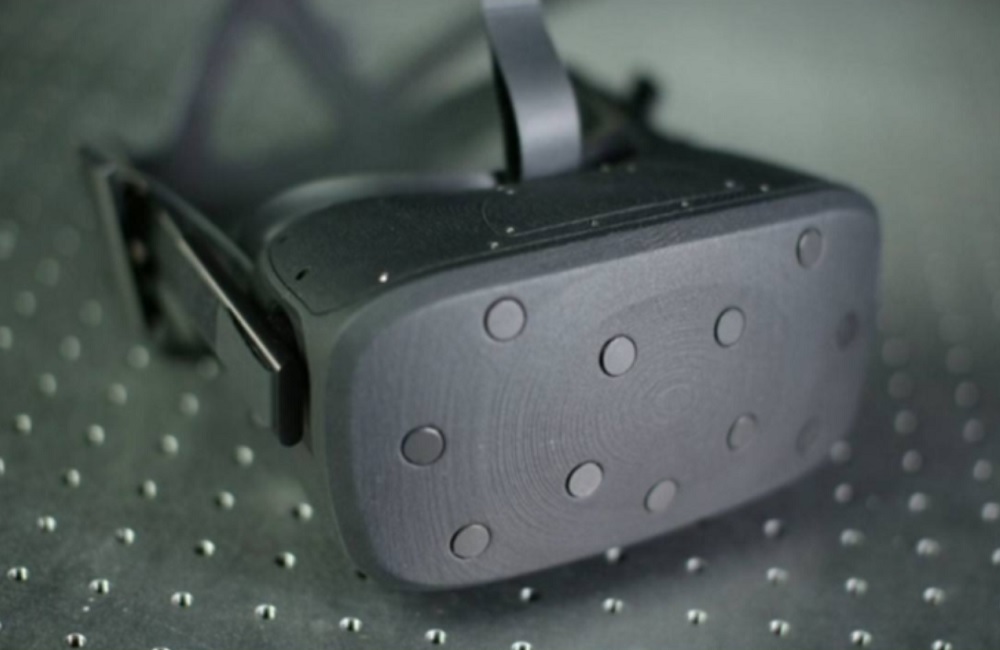 Aspek paling unik di Half Dome terletak di dalam, dan belum pernah dimanfaatkan oleh HMD komersial lain. Headset tersebut menyimpan mekanisme yang memungkinkan bagian lensa bergerak maju dan mundur dari mata pengguna secara cepat saat menangani aplikasi virtual reality. Maria Fernandez Guajardo selaku head of product management Oculus menamakan sistem ini sebagai display 'varifocal'.
Display varifocal dapat menyesuaikan jarak lensa ke mata dalam hitungan di bawah milimeter. Dengan kemampuan tersebut, Half Dome bisa membuat detail pada gambar lebih 'jernih', misalnya teks. Meski demikian, sejauh ini belum diketahui apakah kapabilitas itu dimungkinkan karena headset sanggup mendeteksi fokus mata kita atau memanfaatkan software untuk 'mendekatkan' konten ke mata.
Keunggulan prototype Half Dome lainnya adalah pemakaian lensa yang lebih besar. Saat Oculus Rift dan HTC Vive menyuguhkan field of view seluas 110-derajat, unit baru ini menjanjikan FoV 140 derajat. Namun buat sekarang, Oculus belum mengungkap detail Half Dome secara lebih rinci; di antaranya resolusi, jenis layar (OLED atau LED) hingga apakah headset akan kembali menggunakan desain Fresnel seperti Rift.
Oculus juga belum menginformasikan kapan rencananya teknologi-teknologi baru Half Dome akan dituangkan menjadi produk konsumen. Namun mengevaluasi dari penyajiannya, boleh jadi ia akan disiapkan sebagai penerus atau vesi lebih canggih dari Rift, seperti Vive dan Vive Pro; dan tetap memanfaatkan PC untuk mengolah konten.
Sumber: Arstechnica.
Are you sure to continue this transaction?
processing your transaction....