Oculus Umumkan Deretan Sistem Oculus Ready PC Generasi Pertama
Oculus Ready PC generasi pertama merupakan perangkat-perangkat spesialis gaming racikan Asus, Alienware serta Dell.
Yoga Wisesa - 10 February 2016
Seperti lompatan di bidang hiburan sebelumnya, kecanggihan virtual reality menuntut performa hardware yang tinggi. Dari jauh-jauh hari, Oculus VR sudah memublikasikan daftar komponen pendukung Rift. Dan berbarengan dengan pengumumanpre-order headset VR tersebut, developer juga mengungkap program Oculus Ready PC untuk menyederhanakan penyajiannya.
Oculus Ready PC merupakan program kerjasama antara tim Oculus VR dan para produsen PC untuk menyediakan sistem yang mampu menangani Rift. Dan baru saja developer mengumumkan deretan Oculus Ready PC generasi pertama secara lebih rinci, hasil racikan Asus, Alienware serta Dell. Dan sesuai janji mereka, sebentar lagi publik bisa memesan PC-PC canggih ini.
Oculus VR menyampaikan bahwa semua produk yang tersertifikasi sudah lulus uji coba; didesain dan dirakit demi menyuguhkan pengalaman virtual reality istimewa. Oculus Ready PC dibundel bersama unit head-mounted display, sensor, remote, sebuah controller Xbox One, game EVE: Valkyrie Founder's Pack dan Lucky's Tale. Jika konsumen telah pre-order Rift, Oculus Ready PC akan dikenakan potongan harga.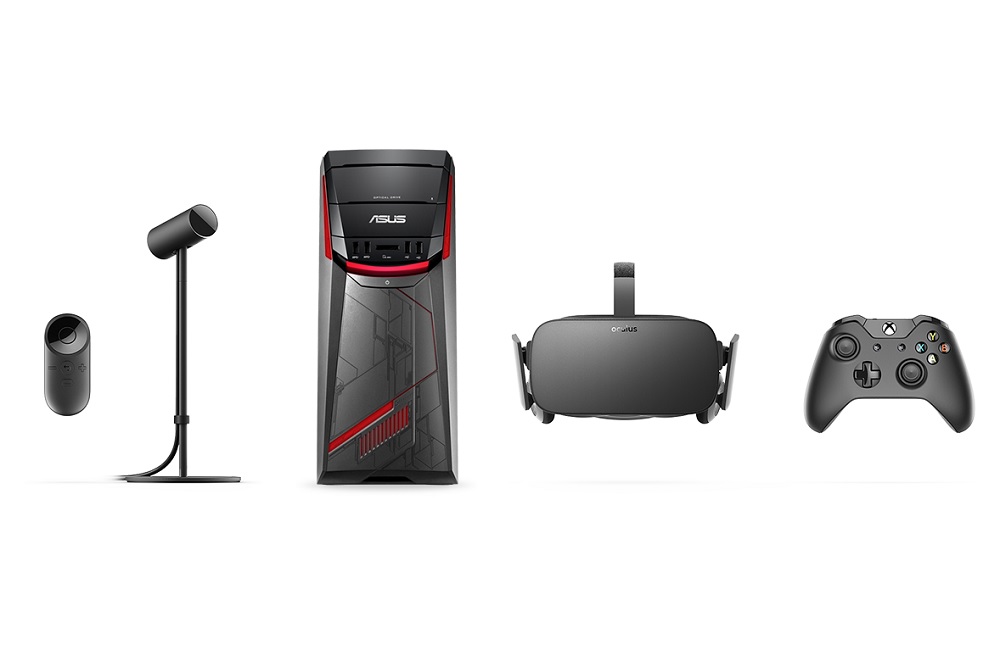 Saat ini ada lima produk yang memperkuat lini Oculus Ready PC. Mereka adalah Asus G11CD, Asus Republic of Gamers G20CB (Intel i5-6400 atau i7-6700), Alienware Area 51, Alienware X51 R3 (Nvidia GeForce GTX 980 atau 970), serta Dell XPS 8900 SE. Berdasarkan spesifikasinya, G11CD ialah tipe paling ekonomis, dapat dimiliki seharga mulai dari US$ 1.500, sedangkan Area 51 merupakan model ter-high-end. Oculus VR bilang, mereka akan terus menambah variannya.
Masa pre-order Oculus Ready PC plus bundel Rift kabarnya akan dimulai pada tanggal 16 Februari jam 8:00 pagi Waktu Pasifik (pukul 23:00 WIB) melalui Best Buy, Amazon dan Microsoft Store. Namun sepertinya baru konsumen di 20 negara ini saja yang bisa melakukan pemesanan, dan Indonesia belum ada di sana.
Solusi sederhananya, silakan manfaatkan software compatibility tool dari Oculus buat mengetahui apakah PC Anda sanggup menangani Rift, atau gunakan daftar hardware rekomendasi di bawah ini sebagai patokan:
Prosesor Intel Core i5-4590
Kartu grafis Nvidia GeForce GTX 970 atau AMD R9 290
MemoriRAM 8GB atau lebih
Output video HDMI 1.3
Port USB 3.0 sebanyak tiga buah plus satu USB 2.0
Sistem operasi Windows 7 SP1 64-bit atau yang lebih baru
Alternatif praktis lainnya juga masih ada. Belum lama MSI menyingkap deretan notebook gamingbersertifikasi Nvidia VR Ready pertama di dunia, sempurna jika Anda menginginkan perangkat penopang headset virtual reality yang lebih mobile dan ringkas.
Are you sure to continue this transaction?
processing your transaction....