Gadget
Oculus VR Siap Serbu Industri Film Dengan Oculus Story Studio
Bergabungnya John Carmack, programer game legendaris, ke dalam tim Oculus VR tak cuma berdampak pada melesatnya proses pematangan virtual reality, tapi juga meyakinkan konsumen bahwa Rift ialah device buatan gamer untuk gamer. Sayang akuisisi yang dilakukan Facebook beberapa waktu silam membuat publik mempertanyakan arah pengembangannya.
Apakah dengan begitu, Oculus Rift lebih difokuskan pada fungsi sosial? Tidak juga, dari unit prototype teranyar Cresenst Bay, tim membuktikan bahwa Oculus Rift tetaplah merupakan perangkat canggih untuk menikmati video game. Dukungan Facebook memudahkan mereka memproduksi device sebagai barang consumer electronics hiburan, serta memungkinkan developer berekspansi ke ruang lingkup baru. Industri film misalnya.
Ambil contohnya Sundance Film Festival. Tiga tahun setelah virtual reality melakukan debutnya di pergelaran film dari Sundance Institute itu, festival kini menyiapkan seksi khusus pengalaman VR. Dan baru saja, developer menyibak tirai penutup Oculus Story Studio. Apa itu? Mereka adalah sebuah tim internal yang ditugaskan buat mengeksplorasi ide virtual reality cinema. Kabar baiknya lagi, karya pertama mereka diluncurkan minggu ini.
Disutradarai oleh mantan animator Pixar, Saschka Unseld serta memanfaatkan perangkat keras prototype Crescent Bay, mereka ungkaplah Lost. Lost adalah sebuah proyek animasi computer generated melalui VR, berlangsung kurang lebih lima menit. Namun karena pemirsa-lah kini yang mengatur kecepatan narasi, bukan film, Anda bisa menikmatinya secara singkat ataupun lama.
Info menarik: Microsoft Siap Tandingi Virtual dan Augmented Reality Dengan HoloLens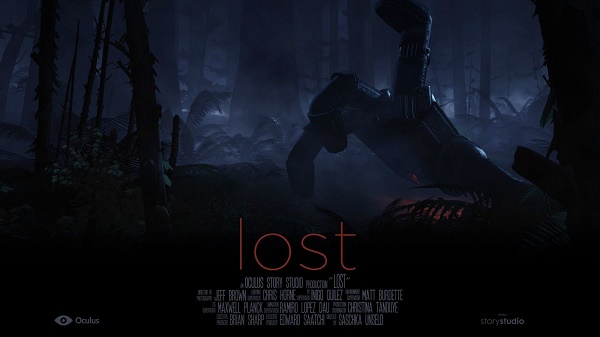 Awalnya Story Studio dibuat untuk memamerkan Oculus VR pada sineas Hollywood - waktu itu sangat bersemangat terhadap kemunculan virtual reality. Namun mereka belum tahu langkah apa lagi yang harus diambil. VR membuka cakrawala baru pada penyampaian cerita interaktif, dan Lost ialah sebuah permulaan dalam upaya menjelajahinya. Bahkan CEO Brendan Iribe sendiri mengaku timnya masih awam soal Hollywood dan dunia perfilman.
"Bagaimana cara Anda membuat konten? Apa saja perlengkapannya? Apa langkah-langkahnya? Mungkinkah menciptakan pengalaman film yang menarik serta kaya?" tutur Iribe pada The Verge. Bagi Saschka Unseld, VR dapat diibaratkan sebagai kelahiran medium baru, seperti saat animasi atau film pertama kali muncul. Dan karena itulah, ia setuju bergabung ke sana.
Tim Story Studio cuma berisi sepuluh orang. Memang tak banyak, tapi ingat, mereka berusaha mengeksplorasi potensi baru VR di area narasi, bukan menggarap film. Di lini video game, eksperimen 'penyampaian cerita' serupa juga dilakukan developer melalui judul-judul semisal Dear Esther, Gone Home hingga The Stanley Parable. Bagaimana jika mereka dikombinasikan bersama virtual reality?
Lost ditayangkan selama Sundance Film Festival 2015 berlangsung bersama Birdly, Project Syria serta Perspective; Chapter I: The Party.
Sumber: The Verge.
Are you sure to continue this transaction?
processing your transaction....