Officially Launched in Indonesia, UberX is Set at Low Rate
Amir Karimuddin - 2 February 2015
Today, Uber officially launched its latest service, UberX (UberRakyat) in Jakarta. This service is expected to be an alternative transportation to people who look for going with cheap yet convenient accommodation. Its rate is so low that it even is cheaper than taxi. Uber wishes that this service would follow the foot steps of its predecessor, Uber Black, in serving the people of Jakarta.
According to Uber Southeast Asia's General Manager Mike Brown, Uber community keeps growing from time to time. Clashes on regulation is an everyday issue to the team, thus they are used to handle such problem already. About the market of Jakarta, UberX is expected to cover every segment in the society, wider than Uber Black, since it is offered at lower rate.
Even though being offered at a lower rate, UberX doesn't break any code that Uber has set for its services. the difference lies in the type of vehicles it uses. While we get a Toyota Innova for Uber Black (the luxurious one), we'll "only" be served by a Toyota Avanza when using UberX (standard). The Split Fare feature, which enables users to split the fare with fellow passengers, also lets people paying less for UberX service.
Speaking of which, UberX is claimed to be 35% cheaper than Uber Black. While on one hand this might serve as an advantage for both Uber and the people, on the other hand, this may also turn into another controversy around Uber's relationship with DKI Jakarta Local Government. It's really interesting to hear what the government has to say regarding this newly-launched service.
Below is the table which shows about the comparison of Uber Black and UberX's tariff: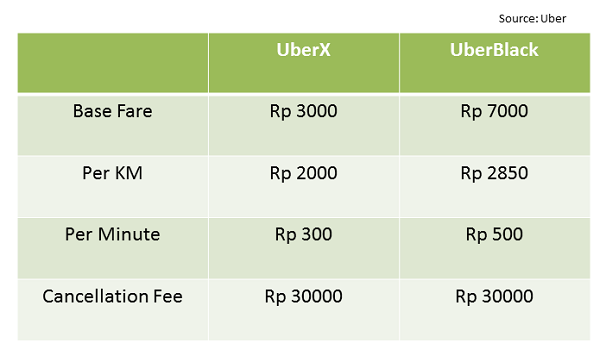 For those who want to have a taste of this new Uber's service, you may use the previous Uber app without having to update anything. Even so, the area it serves is still limited: around Senopati, Kuningan, Kemang, and Menteng. Uber expects to expand its service area along with the success of Uber in those particular areas.