Officially Licensed by OJK, Indodana Boosts up PayLater Penetration
It is said to distribute around 1 trillion Rupiah; the application has more than 3 million downloaders
Randi Eka - 8 June 2020
Last Tuesday (02/6), OJK announced 8 new licensed p2p lending platforms, one of which was Indodana (PT Artha Dana Teknologi). Indodana's President Director, Ronny Wijaya told DailySocial that the platform intends to provide solutions for Indonesian people with limited access to financial services. They have been operating since early 2018.
"We provide a loan that is accessible to all Indonesian citizens through their mobile applications. On the other hand, we also ensure expertise and leading management in big data technology, AI, and credit scoring to make credit decisions according to the principle of responsible lending," he explained.
In total, there are currently 33 p2p lending services that receive licensed status, among 161 companies registered with OJK. Therefore, service differentiation is important for each platform.
In response to that, Ronny said, "We are now focused on developing PayLater products to provide convenience for the public to shop now and pay later. In order to make this happen, Indodana has collaborated with online merchants and e-money players."
According to the company's internal statistics, the Indodana application has been downloaded by more than 3 million users throughout Indonesia. To date, they have channeled around 1 trillion Rupiah to 30 thousand customers, both for personal and SME borrowers. Indodana provides loans between 1-8 million Rupiahs with a tenor of 3-6 months.
Affiliated with Cermati
In the boards of directors listed on the company website, it was mentioned that Cermati's Co-Founder Carlo Gandasubrata took the role as the company's commissioner. In an interview, we asked about the strategic partnership between the two companies, however, Ronny was reluctant to give any statement.
The thing is if we sign up for Cermati, Indodana platform will also be recommended; for example when choosing a recommendation for a credit card product in the "No Fee" category as follows: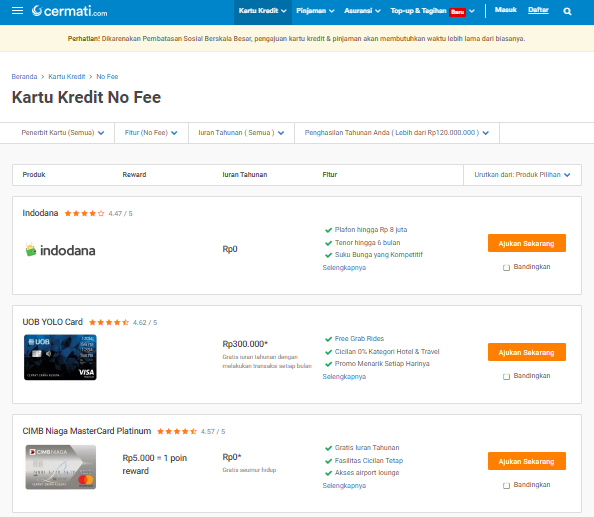 In the Cermati recruitment page, there are vacant positions specifically called for Indodana, such as "Partner Success Manager". Also, the Indodana and Cermati operational offices are located at the same address around Jl. Tomang Raya No. 38, West Jakarta.
Fintech amid pandemic
Our discussion continues, amid the Covid-19 pandemic, Ronny said that Indodana was still optimistic to continue penetrates its products into a wider market share.
"We are kind of in the right position to provide fully digital services along with our call to keep our distance amid this pandemic. In order to mitigate internal credit risk, our team is working hard to improve our AI and credit scoring to apply the precautionary principle to ensure loan performance on platform stable. "
This year, as we obtain licensed status from OJK, Indodana is still ambitious to improve services, especially for underbanked people in Indonesia. PayLater products that have been rolled to the public are expected to be optimized soon, both for payments at online and offline merchants.
"Using this PayLater, people can meet their various shopping needs up to 10 million Rupiah easily and safely. We will also continue to develop options for product loans that support SMEs and productive sectors to continue to improve financial inclusion."
The development of fintech in Indonesia
Since 2018, the DSResearch team has analyzed significant growth in the p2p lending business in Indonesia. Besides being proven with hundreds of players already registered with the authority, loan statistics also continue to increase from time to time. Summarized in the 2019 Fintech Report, until Q3 2019, total loans distributed has reached 60.4 trillion Rupiah.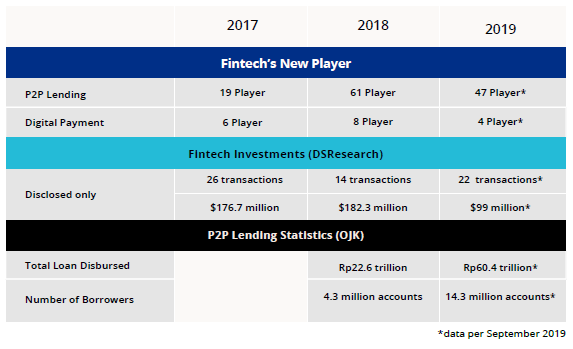 –
Original article is in Indonesian, translated by Kristin Siagian
Application Information Will Show Up Here