On the Second Year of QRIS: Revealing the Transaction Experience through "Mobile Banking" and Digital Money
Digital bank is considered to offer an added value proposition for the use of QRIS
In the first two year, QRIS feature started to show an extraordinary growth in adoption as DailySocial described in the first part of the article. This is validated by Bank Indonesia (BI) data regarding the increase in transactions over the past year.
Aside from transactions, we also saw an increasing enthusiasm from users which highlighted various issues related to QRIS adoption in the field. This issue was revealed through a mini survey we conducted with 65 respondents. Although it does not represent the majority of digital payment service users in Indonesia, this survey is in line with the main spirit, which is to highlight issues to create room for improvement for stakeholders.
In the second part, DailySocial highlights more detailed issues from the user's perspective, such as product categories that are often purchased to which payment platforms are preferred to make transactions using the QRIS method.
QRIS on the run
In a previous article, one of the challenges of adopting QRIS is the limitations of merchants that accept payments using this method. Unsurprisingly, most of the respondents admitted to make transactions more for food and beverage (95.2%). In other categories, QRIS transactions are also used to purchase basic needs (35.5%), donations (17.7%), and transportation services (11.3%).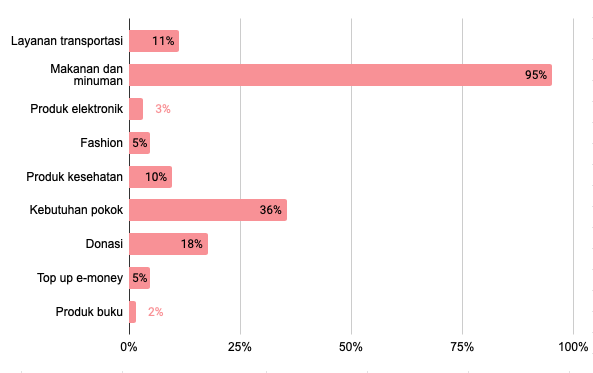 Of the 93.8% of respondents who made transaction using the QR Code method, 33.3% of them spent IDR 50,000-IDR 300,001 for transactions. Moreover, by 22.7% of respondents spent more than Rp1 million, Rp. 500,001-Rp. 1,000,000 (21.2%), Rp300,001-Rp500,000 (18.2%), and under Rp50,000 (4.5%).
Welcome to Premium Content
Become a DailySocial.id Subscription, you can get unlimited access to discover the best minds of innovation and to perceive the finest tech journalism products in Indonesia. Learn more
Single Article

Access anytime, only this article.

Starting at

Rp 7,000 /article

Subscription

Unlimited access premium content.

Starting at

Rp 150,000 /month
Login or create account to access premium content
Are you sure to continue this transaction?
processing your transaction....