OpenSignal Report: 4G Is Yet to Stable
5G is expected to solve 4G's network issue
Prayogo Ryza - 27 February 2019
OpenSignal, a company engaged in the analysis of mobile user experience, issued a report on the 4G network. It highlights the 4G network performance which are considered to be less consistent and talks about 5G network to be the solution.
From 77 countries observed, the download speed ranged from 31.2 Mbps and 5.8 Mbps. As the best / fastest time is at night. The jammed 4G network makes 5G network increasingly on demand.
Indonesia, listed at the bottom of the average internet speed through 4G. At busy hours (18.00-21.00), Indonesia's 4G internet speed is at 5.7 Mbps. While the fastest is at (00.00 - 04.00) the speed is 18.5 Mbps.
In OpenSignal report, this number is only one level up from Thailand with 6 Mbps at busy hours and the fastest is at 11.7 Mbps; India with 3.7 Mbps at busy hours and the fastest is at 14.6 Mbps; and Algeria with 2.6 Mbps at busy hours and the fastest 16.4 Mbps.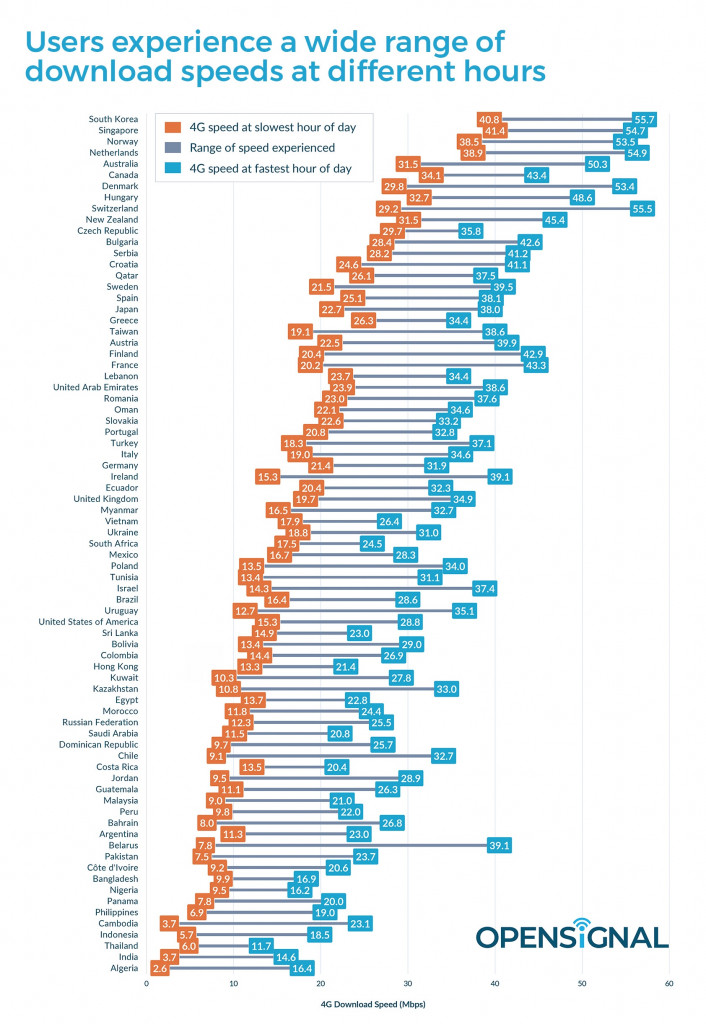 In the top three, there are South Korea, Singapore, and Norway, with the average of 40 Mbps at busy hours and 54 Mbps the fastest.
OpenSignal highlighted the speed difference phenomenon between busy / peak hours and off-peak hours
The use of 5G is not only expected to provide speed to 4G, but also a strong foundation for capacity and solving consistency problem.
OpenSignal will also underlined the speed inconsistency of 4G to have impact on the future app innovation, such as augmented reality and so on.
The 5G network is said to be able to increase network capabilities to support more users and simultaneus (streaming) data at high speed. For example, using high-definition quality streaming.
– Original article is in Indonesian, translated by Kristin Siagian