Berkolaborasi dengan Disney, OPPO Luncurkan TWS Enco W11 Disney and Pixar's Toy Story Edition
OPPO Enco W11 punya daya tahan baterai 20 jam dan dilengkapi sertifikasi IP55 untuk ketahanan terhadap air dan debu
Lukman Azis - 11 June 2020
OPPO mengumumkan true wireless stereo (TWS) Enco W11 dan kolaborasinya dengan Disney, tepatnya dengan Disney and Pixar. Pixar sendiri merupakan studio animasi komputer Amerika Serikat yang berpusat di Emeryville, California, yang juga dikenal memproduksi film animasi Toy Story.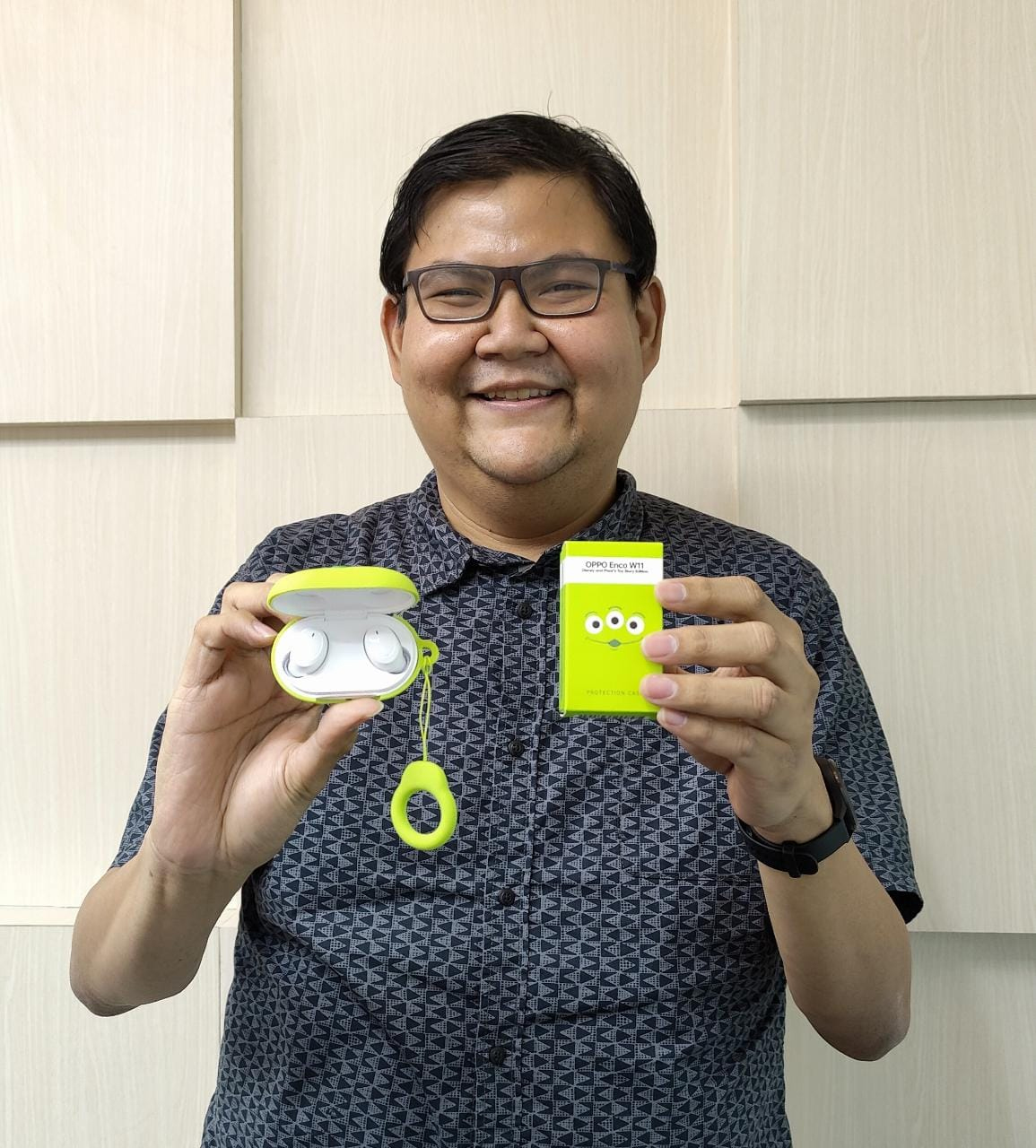 "Ini adalah kali ke empat kami berkolaborasi dengan Disney. Tahun sebelumnya kami meluncurkan perangkat Reno2 F Nebula Green Disney Special Edition, A9 2020 Disney Special Bundling dan juga pada awal tahun dengan perangkat Reno2 Year of The Mouse Limited Edition," ujar Aryo Meidianto A, PR Manager OPPO Indonesia.
"Pada kemitraan terdahulu, kami mengangkat tema tahun 2020 sebagai tahun tikus logam, maka dari itu kolaborasi tersebut kami mengambil karakter Mickey Mouse. Kini kami kembali melanjutkan kemitraan dengan mengambil tema besar "Be A Greater You" yang sekaligus menandai 25 tahun perjalanan Disney and Pixar melalui salah satu kisah paling ikonik, Toy Story," tambah Aryo.
Kolaborasi OPPO Indonesia dengan Disney and Pixar's Toy Story ini hanya berlaku khusus untuk pasar Indonesia. Dengan menghadirkan perangkat OPPO Enco W11 Disney and Pixar's Toy Story Edition.
Beberapa keunggulan TWS terbaru OPPO ini antara lain memiliki daya tahan baterai selama 20 jam. Dengan perhitungan earbud-nya sanggup bertahan 5 jam dalam sekali charge dan case-nya bisa mengisi daya earbud hingga 15 jam sekali charge. Bila baterai case-nya habis, bisa diisi lewat port USB Type-C.
Jadi nggak perlu khawatir kehabisan daya, karena begitu TWS ini disimpan ke dalam case akan otomatis mengisi daya. Bila baterai earbud benar-benar habis, cukup charging 15 menit akan memberikan waktu satu jam untuk mendengarkan musik.
Enco W11 juga sudah dilengkapi dengan sertifikasi rating IP55 untuk ketahanan terhadap air dan debu. Koneksinya menggunakan Bluetooth versi 5.0 dan mendukung codec AAC/SBC. Proses pairing-nya mudah, saat pertama kali menghubungkan - cari OPPO Enco W11 di pengaturan Bluetooth. Setelah itu, TWS akan otomatis terhubung tiap kali perangkat diambil dari case.
Selain itu, Enco W11 mendukung touch control. Di mana cukup tap untuk play/pause musik yang sedang kita mainkan. Double tap untuk menjawab panggilan telepon, touch dan hold sisi kiri untuk mengurangi volume dan sisi kanan untuk menambah volume suara.
Kemudian double-tap earbud sisi kiri untuk beralih ke lagu sebelumnya dan sisi kanan untuk mengganti ke lagu berikutnya. Serta, triple-tap untuk mengaktifkan voice assistant. Soal kualitas, dengan speaker 8mm titanium-plated dynamic driver maka suaranya seharusnya cukup baik, OPPO bilang Enco W11 punya bass yang powerful.
Hal yang mengejutkan saya adalah harganya, OPPO menjual TWS Enco W11 Disney and Pixar's Toy Story Edition ini dengan harga Rp599.000. Tak sampai disitu, OPPO memberikan kesempatan kepada konsumen yang melakukan pembelian perangkat A series mulai dari A12, A31, A52 dan A92 untuk mendapatkan Enco W11 Disney and Pixar's Toy Story Edition secara cuma-cuma.
Setiap pembelian perangkat OPPO A12, A31, A52 dan A92 baik secara daring maupun luring, konsumen dapat mengisi data diri dan IMEI perangkat A-series yang dibeli melalui tautan oppomobile.id. Setiap minggunya, selama periode 10-30 Juni 2020, OPPO akan melakukan pengundian untuk memilih 30 konsumen beruntung yang akan mendapatkan edisi spesial Enco W11 Disney and Pixar's Toy Story Edition. Selain itu, dalam beberapa pekan mendatang, OPPO juga akan mengumumkan kehadiran kolaborasi edisi terbatas OPPO A92 Disney and Pixar's Toy Story Special Bundling.