Sekitar bulan Agustus lalu para blogger di seluruh dunia harus mengucapkan salam perpisahan kepada Google Keyword Tool atau biasa disingkat GKT yang bertahun-tahun menemani mereka untuk menyeleksi kata kunci dan menyusun strategi marketing via mesin pencari.
Tapi, kesedihan blogger tak harus berlama-lama sebab Google ternyata sudah mempersiapkan reinkarnasi GKT dengan tool baru yang diberi nama Google Keyword Planner (sejauh ini belum diberi gelar kehormatan GKP layaknya Google Keyword Tool).
Google Keyword Planner punya fungsi yang sama dengan GKT, hanya saja tampilannya sangat berbeda, tapi secara pribadi saya lebih suka. Nah, karena tool ini masih tergolong baru tentu ada sebagian blogger atau internet marketer yang kebingungan cara pakainya maka saya akan mengangkat topik ini untuk memberikan informasi bagi Anda Bagi Anda yang sudah paham, tentunya kolom komentar terbuka untuk saling berdiskusi.
Pertama buka halaman Google Adword, kemudian klik menu dropdown Tools and Analysis – Keyword Planner. Untuk dapat mengakses halaman ini Anda harus mempunyai akun Google, jika tidak punya silahkan buat di tautan ini dan ikuti prosedurnya. Yang sudah punya akun, yuk dilanjutkan!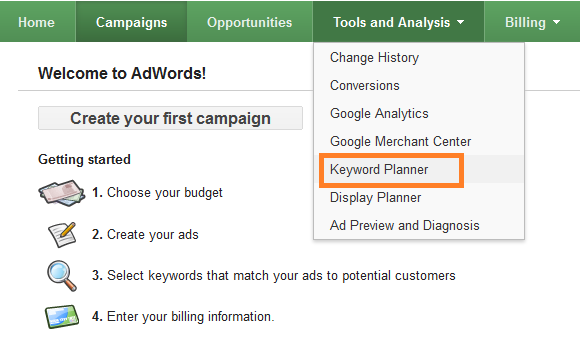 Tunggu loading halaman selesai dengan sempurna dan klik opsi Search for new keyword and ad group ideas. Anda akan menemukan tampilan halaman seperti ini, di kotak Enter one of more of the following: isi dengan keyword atau kata kunci yang ingin Anda gunakan, boleh lebih dari satu (kotak warna kuning), di kasus ini saya pakai keyword pernak pernik unik tapi Anda boleh menggunakan keyword yang lain. Yang lain biarkan seperti itu adanya, beralih ke sub heading Targeting. Secara default, kolom ini berisi United State, English, Google dan Negative Keywords. Tugas Anda mengganti United State dengan Indonesia atau negara lain sesuai target pasar Anda kemudian English menjadi Indonesia atau bahasa lain. Selebihnya biarkan apa adanya (kotak warna merah). Geser ke keyword options, silahkan posisikan menu Only shows ideas closely related to my search terms jika Anda ingin sistem hanya menampilkan keyword yang berhubungan dengan pernak pernik unik, jika tidak biarkan dalam posisi off. Selanjutnya klik tombol Get Ideas.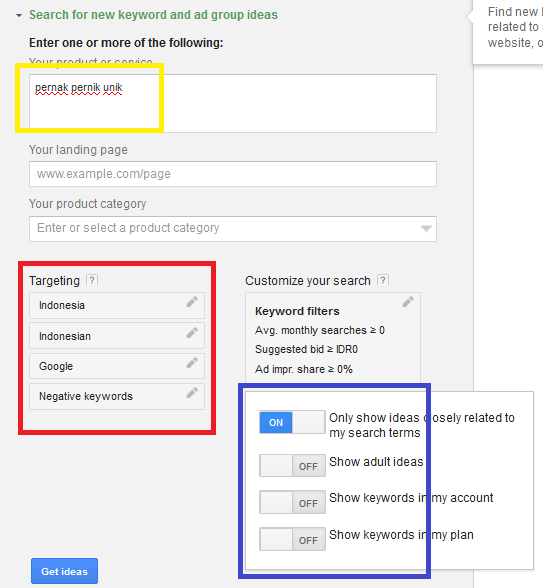 Sampai di sini ada masalah? Lancar ya? Oke, lanjut. Nah, di halaman ini klik menu tab Keyword Ideas untuk melihat ide-ide kata kunci yang disarankan oleh sistem. Ada dua tabel dengan kolom-kolom yang dikelompokkan dalam beberapa kategori. Tabel pertama berjudul Search Terms yang biasanya berisi data dari keyword yang Anda ketikkan tadi, di kasus ini adalah pernak pernik unik. Sedangkan Keyword (by relevance) berisi data kata kunci yang berkaitan dengan kata kunci pernak pernik unik.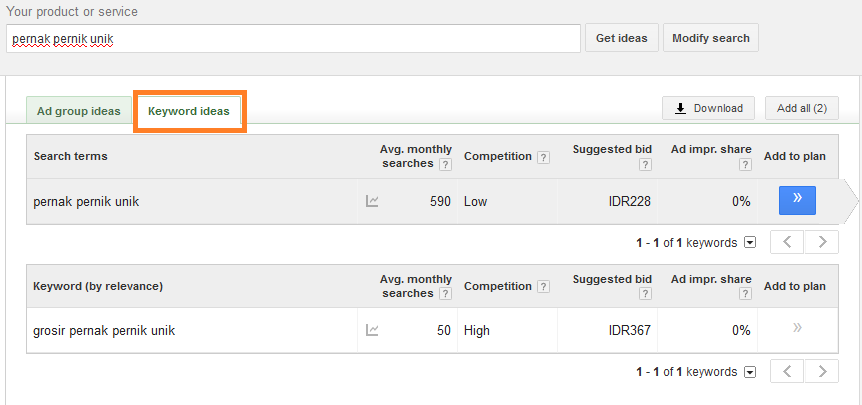 Ternyata kata kunci pernak pernik unik terlalu dangkal sehingga pilihan ide tak mencukupi untuk dianalisis, kita bisa ganti kata kunci yang lain misalnya pernak pernik, dan it works! Sekarang kita punya pilihan kata kunci yang lebih baik. Perhatikan tabel Search terms yang menunjukkan hasil pencarian rata-rata bulanan kata kunci pernak pernik ada 1.600 sedangkan pernak pernik unik hanya 590.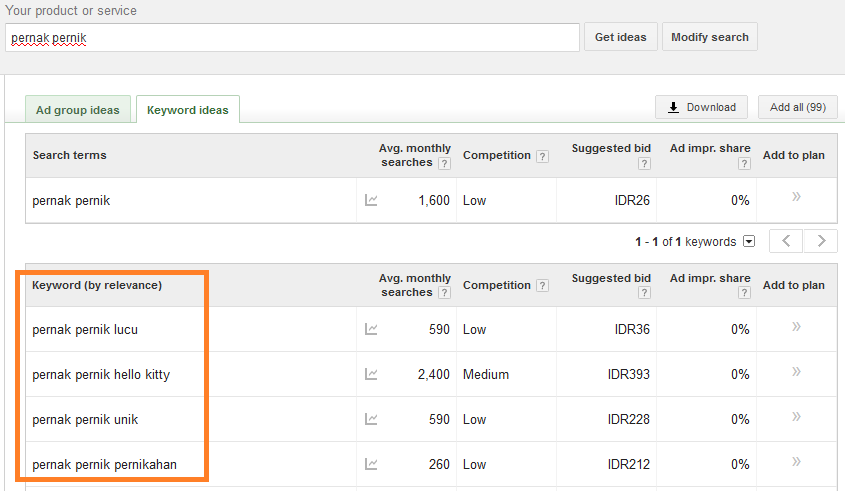 Indikator pertama yang wajib dan yang paling penting adalah pencarian rata-rata bulanan, jadi klik kolom Avr. montly searches untuk mengurutkan data dari yang paling banyak ke paling sedikit. Nah, dari data dalam gambar ini kita bisa tahu kata kunci mana yang paling banyak dicari oleh pengguna mesin pencari Google. Kata kunci pernak pernik 'hello kitty' dicari sebanyak 2.400 kali dalam sebulan, kata kunci ini sangat potensial. Tapi jika kita lihat level kompetisinya – di kolom Competition- medium menandakan ada banyak persaingan di kata kunci ini, secara pribadi saya tidak mengindahkan level kompetisi sebab mesin pencari punya logaritma yang liar dan sulit ditebak. Tapi, kembali ke Anda masing-masing.
Bagi pemasar, level kompetisi menentukan seberapa seberapa besar peluang iklan kita muncul di situs yang berkaitan, secara sederhana ada banyak pemasar yang juga menggunakan keyword ini untuk dijadikan target konsumen. Jadi, mau ambil atau tidak itu tergantung analisis SWOT Anda. Yang paling baik indikatornya jumlah pencarian bulanan besar tapi level kompetisi rendah atau menengah sekalipun masih memungkinkan untuk mendapatkan pengunjung.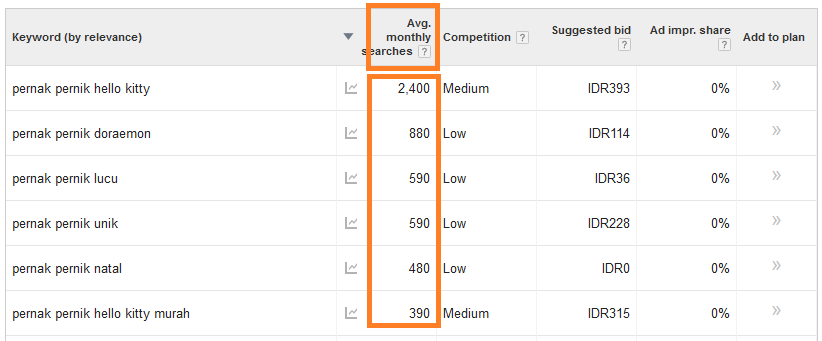 Indikator selanjutnya adalah tren, sekarang coba kita lihat tren kata kunci pernak pernik 'hello kitty' dengan cara mengarahkan kursor mouse ke ikon grafik. Hasilnya cukup baik, sepanjang tahun kata kunci ini sepertinya punya trend yang relatif stabil.

Sebagai perbandingan coba Anda lihat tren kata kunci 'pernak pernik Natal', trennya cenderung tinggi di bulan Desember dan jatuh di bulan Januari hingga Juli. Itu disebabkan karena Natal hanya dirayakan setahun sekali di bulan Desember. Kata kunci ini hanya cocok untuk produk tren tahunan.

Jika kata kunci yang Anda bidik sudah didapatkan, klik ikon panah ganda di kolom add to plan dan download ke komputer Anda agar nanti mudah untuk dilihat kembali.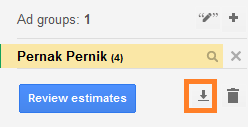 Beri tanda di pilihan historical statistics dan pilih jenis file Excel CSV agar lebih mudah dibuka kemudian klik tombol Download.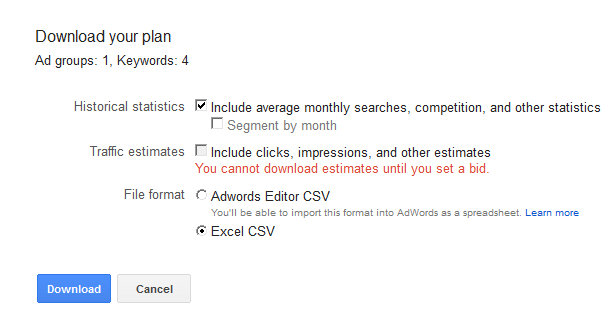 Sampai di sini Anda sudah berhasil memiliki data berupa kata kunci potensial. Tips di artikel ini masih jauh dari lengkap apalagi sempurna, tapi semakin sering Anda menggunakan tool ini maka keahlian Anda akan semakin baik. Semoga bermanfaat dan sampai jumpa.
Sumber gambar header search influence/Flickr.
DailySocial.id adalah portal berita startup dan inovasi teknologi. Kamu bisa menjadi member komunitas startup dan inovasi DailySocial.id, mengunduh laporan riset dan statistik seputar teknologi secara cuma-cuma, dan mengikuti berita startup Indonesia dan gadget terbaru.