Gadget
Parrot Zik 3 Hadir Membawa Wireless Charging dan Adaptive Noise Cancelling
Parrot mungkin lebih dikenal sebagai produsen drone. Akan tetapi brand asal Perancis ini juga mempunyai headphone yang banyak menuai pujian di kalangan penggemar perangkat audio, yaitu Parrot Zik. Headphone wireless ini tak cuma keren dan nyaman dipakai, tetapi juga menawarkan kontrol sentuh kapasitif yang begitu unik pada masa itu.
Cukup sukses dengan Zik, Parrot pun menghadirkan penerusnya yang berukuran lebih ringkas, Zik 2.0, di bulan September 2014. Kini, hanya terpaut sekitar satu tahun, Parrot memperkenalkan generasi ketiga headphone andalannya, Zik 3, di hadapan pengunjung IFA 2015.
Parrot Zik 3 kembali membawa revisi desain. Meski secara garis besar bentuknya tidak banyak berubah dari Zik 2.0, headband Zik 3 kini lebih gendut guna memberikan kenyamanan yang lebih lagi. Tampangnya kini juga lebih trendi berkat pilihan tiga tekstur permukaan, termasuk salah satunya yang bermotif kulit buaya.
Info menarik: Sony Perkaya Lini Portable Audio-nya dengan Dua Headphone dan Dua Walkman Baru
Zik 3 pun masih mempertahankan segala kebaikan pendahulunya, seperti panel kapasitif pada earpad sebelah kanan, dimana pengguna bisa mengatur jalannya musik maupun volume dengan mengusapkan jarinya. Ia juga tetap dilengkapi accelerometer sehingga musik akan di-pause secara otomatis saat Anda melepaskannya dari kepala; pasangkan kembali ke kepala maka musik akan berlanjut seketika.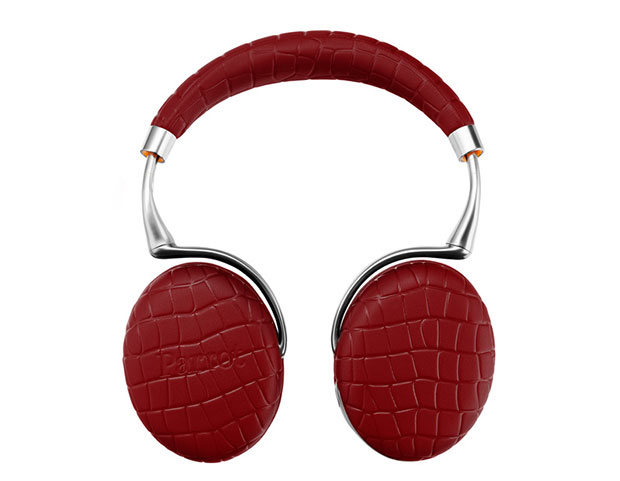 Konektivitasnya masih mengandalkan Bluetooth, tapi Parrot kini telah menambahkan chip NFC. Di saat yang sama, Zik 3 juga telah mendukung teknologi Qi wireless charging, menjadikannya benar-benar nirkabel di segala aspek. Baterainya sendiri bisa bertahan hingga 18 jam nonstop dan bisa dilepas-pasang.
Di saat yang sama, Zik 3 kini bisa memutar musik via USB, sehingga Anda tetap bisa menikmati musik selagi headphone tengah di-charge. Parrot turut menyempurnakan teknologi noise cancelling-nya, dimana Zik 3 kini bisa beradaptasi dengan suara di sekitar secara otomatis.
Info menarik: Samsung Ajak Desainer Ternama untuk 'Mendandani' Gear S2
Terakhir, guna mengikuti perkembangan zaman sekaligus memberikan solusi buat pengguna yang kurang suka dengan kontrol sentuh kapasitif, Parrot menghadirkan kompatibilitas smartwatch ke headphone besutannya. Dengan kata lain, pengguna kini bisa mengontrol Zik 3 dari smartwatch masing-masing, baik Android Wear maupun Apple Watch.
Parrot berencana memasarkan Zik 3 mendekati akhir tahun 2015. Belum ada informasi soal banderol harganya, tapi saya menduga tidak akan jauh berbeda dari Zik 2.0, yaitu $399 – atau bisa sedikit lebih mahal kalau di-bundle bersama wireless charger.
Sumber: Parrot Blog dan The Verge.
Are you sure to continue this transaction?
processing your transaction....