Tambahan Rp150 Miliar Genapkan Pendanaan Seri A untuk Waresix
Total pendanaan seri A yang diperoleh Waresix mencapai Rp348,7 miliar
Startup logistik Waresix melengkapi pendanaan seri A mereka di angka US$25,5 juta atau sekitar Rp348,7 miliar. EV Growth dan Jungle Ventures menjadi entitas penting dalam putaran ini.
Nominal tersebut merupakan akumulasi babak pendanaan yang sudah dimulai sejak Juli 2019 lalu. Saat itu, startup yang dipimpin CEO Andree Susanto ini, mendapatkan kucuran dana US$14,5 juta dari para investor yang dipimpin oleh EV Growth. Tambahan US$11 juta dari EV Growth dan Jungle Ventures menggenapkan putaran pendanaan seri A ini.
"Dana tambahan ini semakin mempertegas kepercayaan para investor utama dan akan membantu kami memperkuat dominasi pasar sambil mempersiapkan putaran pendanaan seri B pada 2020," ucap Andree dalam rilis resmi mereka.
Waresix adalah startup bidang logistik yang berfokus menghubungkan layanan pengiriman dengan jasa pengangkutan termasuk truk pengangkut dan gudang penyimpanannya. Platform mereka kini tercatat sudah beroperasi dengan 30.000 truk dan 300 operator gudang di seluruh Indonesia.
Semenjak beroperasi pada kuartal IV 2018, Waresix diklaim mengalami pertumbuhan cepat. Salah satu indikatornya adalah mereka berhasil membukukan EBITDA (earnings before interest, tax, depreciation, and amortization) positif.
"Waresix dengan jelas merupakan pemenang di segmen first dan middle-mile dalam bidang logistik. Kami fokus kepada laju pertumbuhan perusahaan yang pesat dan keberhasilannya mengakhiri 2019 dengan profit. Ini merupakan bonus kecil bagi kami sebagai growth-stage investor," ujar Co-Founder East Ventures & Managing Partner EV Growth Willson Cuaca.
Kabar tambahan pendanaan untuk Waresix ini menandakan geliat industri logistik di Indonesia akan kembali cemerlang tahun ini. Pasalnya sepanjang 2019 kemarin, industri ini diwarnai dengan kemunculan pemain baru dan pendanaan yang jumlahnya cukup banyak.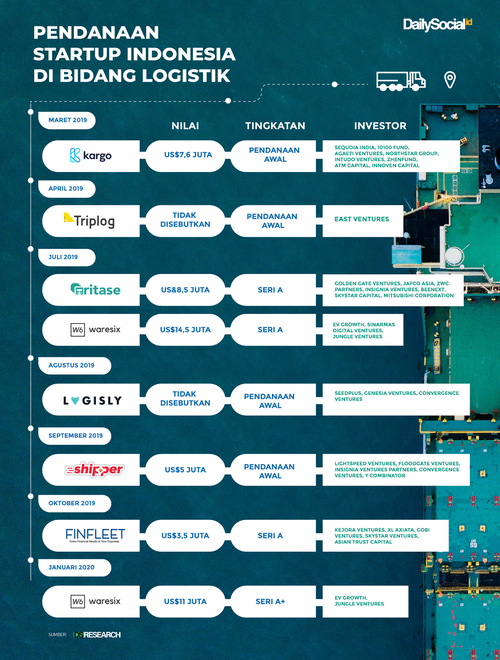 Platform logistik B2B Ritase memperoleh pendanaan seri A senilai US$8,5 juta pada Juli. Ada juga Kargo Tecnlogies yang mendapat kucuran pendanaan awal US$7,6 juta dari Sequoia Capital India. Lalu ada SiCepat Express, Triplogic, Logisly, Shipper, dan Crewdible yang mengalami hal serupa. Pendanaan yang diterima oleh perusahaan rintisan tersebut rata-rata di level seed dan seri A.
Kian membesarnya pasar e-commerce (juga social commerce) di Indonesia tak bisa dipungkiri menjadi angin segar industri logistik. Laporan McKinsey pada 2018 lalu memproyeksikan nilai pasar e-commerce di Tanah Air akan menyentuh US$65 miliar atau Rp910 triliun pada 2022. Tak heran jika pelaku industri logistik percaya diri bisnis ini dapat tumbuh lebih dari 30% pada tahun ini.
Are you sure to continue this transaction?
processing your transaction....