Perluas Area Layanan, HappyFresh Ekspansi ke Bali
Menjalin kemitraan dengan supermarket dan tempat belanja setempat, targetkan pengguna "digital savvy"
Platform belanja kebutuhan rumah tangga online HappyFresh mengumumkan ekspansi area layanan ke bulan November ini. Kepada DailySocial Managing Director HappyFresh Indonesia Filippo Candrini mengungkapkan, pulau Bali menjadi penting bagi HappyFresh untuk meng-cater ukuran pasar yang luas, sarat dengan populasi yang digital savvy dan memiliki pilihan supermarket yang beragam.
"Terlebih lagi, waktu tempuh rata-rata dari rumah ke supermarket lebih tinggi dibandingkan dengan kota lain, karena jalan yang lebih kecil, jarak yang lebih jauh dan peningkatan lalu lintas dalam beberapa tahun terakhir. Saat ini kami melayani wilayah Kuta, Seminyak, Kerobokan, Canggu, dan kami berharap dapat memperluas ke lebih banyak wilayah dalam beberapa bulan mendatang," kata Filippo.
Di Bali, HappyFresh menggandeng beberapa mitra supermarket dan toko-toko khusus seperti Grand Lucky, Papaya Fresh Gallery, The FoodHall, Giant Ekspres, Frestive, Vines, Re.juve, Natural Farm, dan Red & White. Ke depannya perusahaan juga akan menambah beberapa mitra dalam beberapa bulan mendatang.
Sebelumnya, HappyFresh sudah beroperasi di beberapa wilayah di Indonesia seperti Jakarta, Depok, Tangerang, Bekasi, Bandung, Surabaya, dan Malang. Ekspansi ke Bali merupakan langkah strategis yang dilakukan HappyFresh tahun ini.
Disinggung seperti apa strategi HappyFresh untuk bersaing dengan platform serupa lainnya yang juga telah hadir di Bali, Filippo menegaskan, aplikasi HappyFresh dikembangkan untuk memenuhi kebutuhan pelanggan belanja bahan makanan online, mulai dari berbagai macam kategori produk hingga berbagai macam supermarket dan tempat berbelanja.
"Didukung dengan personal shopper dan mitra pengemudi kami yang terlatih dalam menangani bahan makanan dan semua pesanan yang dikirim dalam kotak berinsulasi termal untuk menjaga produk tetap segar atau beku," kata Filippo.
Rencana dan target HappyFresh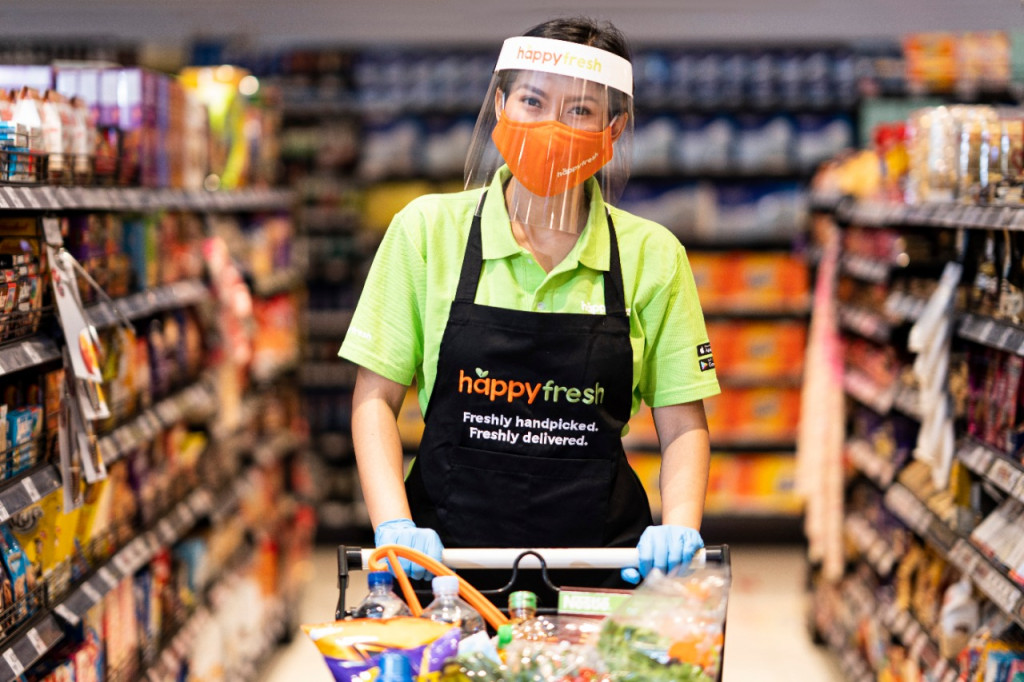 Selama pandemi permintaan dari pengguna akan layanan HappyFresh cukup tinggi, seiring dengan aturan PSBB dari pemerintah dan WFH. Sejumlah kemitraan juga telah dilancarkan oleh perusahaan, seperti dengan Bukalapak. Sementara itu kerja sama strategis dengan Grab melalui GrabFresh juga masih berjalan.
Dari sisi jumlah pengguna HappyFresh juga mengalami pertumbuhan positif, meskipun enggan disebutkan lebih lanjut berapa jumlah pengguna HappyFresh hingga saat ini.
"Saya tidak dapat mengungkapkan jumlahnya, tetapi yang dapat saya informasikan adalah bahwa kami telah menyaksikan peningkatan permintaan secara organik. Mayoritas pelanggan yang memesan di Bali beberapa hari terakhir ini adalah pelanggan baru, tetapi kami juga melihat pesanan dari pelanggan HappyFresh lama yang dulunya sudah berbelanja di kota lain, seperti Jakarta dan Surabaya," kata Filippo.
Tahun depan HappyFresh memiliki rencana dan target yang ingin dicapai, di antaranya adalah mempercepat pertumbuhan dan memberikan kepuasan pelanggan, baik di kota yang sudah ada maupun kota yang baru. Perusahaan juga ingin berfokus pada kualitas layanan, menambahkan fitur baru yang menarik, mitra supermarket, opsi pembayaran, dan penawaran eksklusif.
Application Information Will Show Up Here
Are you sure to continue this transaction?
processing your transaction....