Pesan WhatsApp di iOS Kini Bisa Dihapus 1 Jam Setelah Terkirim
Pembaruan ini disebut baru digulirkan untuk perangkat platform iOS
Bambang Winarso - 13 March 2018
WhatsApp diam-diam mengubah bagaimana cara fitur penghapusan pesannya bekerja. Diperkenalkan pertama kali pada bulan Oktober, fitur "hapus untuk semua orang" kini telah diperpanjang hingga satu jam, delapan menit, dan 16 detik. Sebelumnya, fitur ini memungkinkan pengguna menghapus pesan hanya tujuh menit setelah terkirim.
Pertama kali ditemukan oleh WABetaInfo dan dilaporkan oleh Ubergizmo, perubahan di WhatsApp versi 2.18.31 disebut sudah tersedia di App Store untuk pengguna perangkat iOS terdukung. Sepertinya tak ada pembaruan lain yang digulirkan di versi tersebut, di mana hampir sebagian besar pengguna iOS justru tak menyadarinya.
A new WhatsApp for iOS update (2.18.31) is available on AppStore. It is a bug fixes update, but it has the new "Delete for everyone" limit, that's 1 hour, 8 minutes and 16 seconds.

— WABetaInfo (@WABetaInfo) March 8, 2018
Tidak jelas apa yang mendorong perubahan batas waktu tersebut, dan halaman support resmi WhatsApp juga tidak memberikan keterangan lebih jauh menyangkut pembaruan ini. Namun demikian, pengguna sekarang sudah bisa merasakan manfaatnya, menggunakan fitur "hapus untuk semua orang" dengan jangka waktu yang lebih lama saat diperlukan.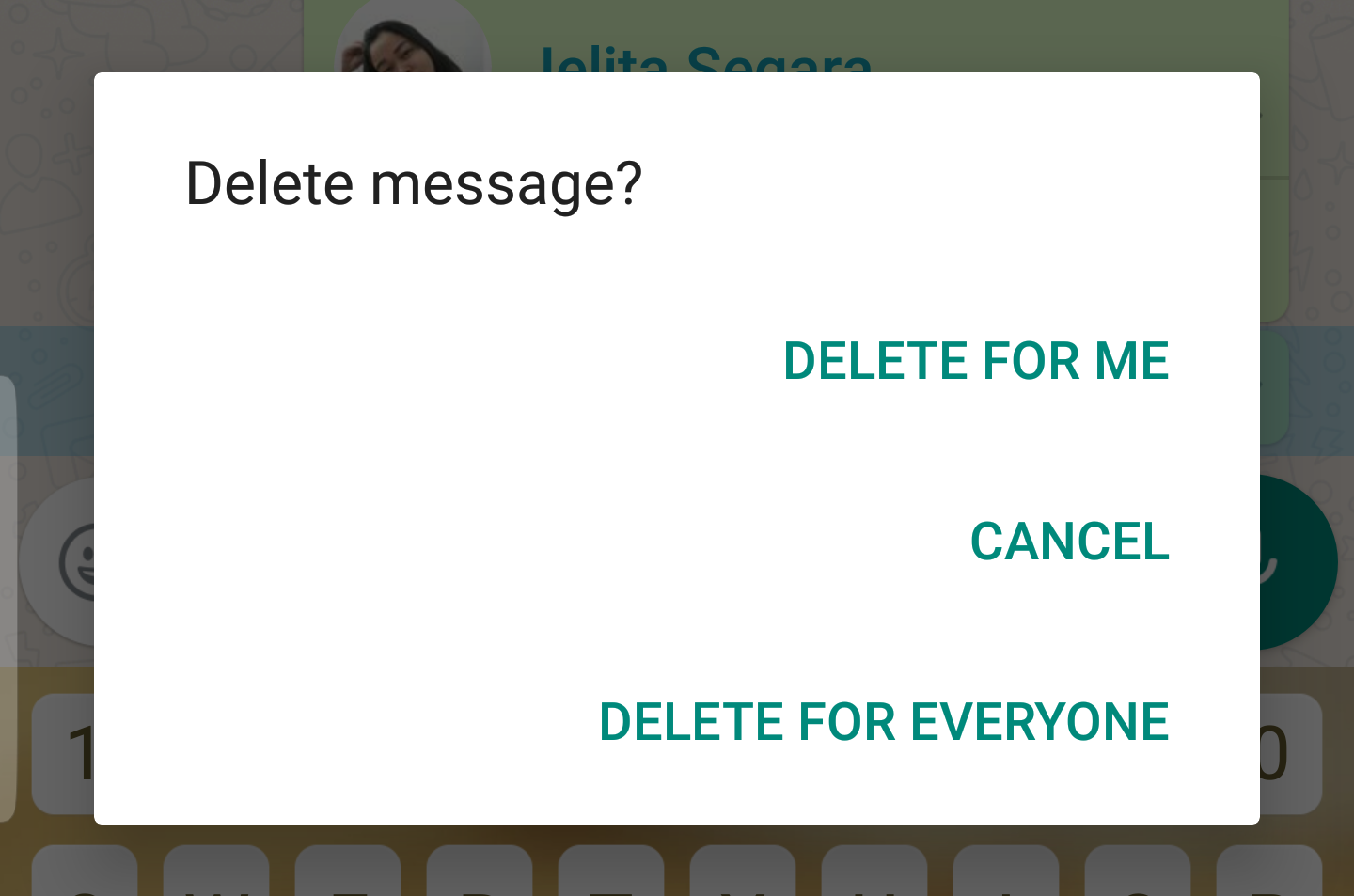 Jangka waktu yang lebih ini juga memberikan opsi yang lebih fleksibel kepada pengguna setia WhatsApp, mengingat aplikasi kepunyaan Facebook itu tidak menawarkan fitur percakapan rahasia seperti halnya Allo. Fitur percakapan rahasia biasanya menerapkan motode penghapusan pesan secara otomatis dalam rentang waktu yang telah ditentukan oleh pengguna. Dengan demikian, tak ada satu orang pun yang tahu apa isi pesan yang Anda obrolkan bersama teman tersebut. Semoga dalam waktu dekat, WhatsApp segera menawarkan fitur semacam itu.
Sumber gambar header Pixabay.