[Pic of the Day] Grafik Pertumbuhan Pengguna WhatsApp
wiku - 3 March 2014
Kabar pembelian WhatsApp oleh Facebook memang cukup menggemparkan dunia teknologi, salah satunya adalah karena banderol jual yang menyertainya.
Pembelian ini tentunya juga membawa babak baru pada dunia persaingan antar layanan pesan. Meski WhatsApp bukan yang pertama dibeli oleh perusahaan besar, sebelumnya Viber telah mengumumkan dibeli Rakuten, namun angka $16 miliar merupakan harga yang cukup fantastis untuk pembelian WhatsApp oleh Facebook.
Pertumbuhan yang meningkat pesat bisa jadi adalah salah satu pertimbangan yang dilakukan Facebook untuk akhirnya membeli layanan pesan ini. Dalam grafik berikut ini bisa dilihat pertumbuhan pengguna aktif perbulan dari WhatsApp dalam 4 tahun sejak mereka diperkenalkan.
Untuk bisa melihat besarnya pertumbuhan pengguna aktif perbulan WhatsApp, grafik dilengkapi dengan perbandingan dengan layanan pesan lain termasuk dua jejaring sosial terbesar Facebook dan Twitter, serta layanan Gmail.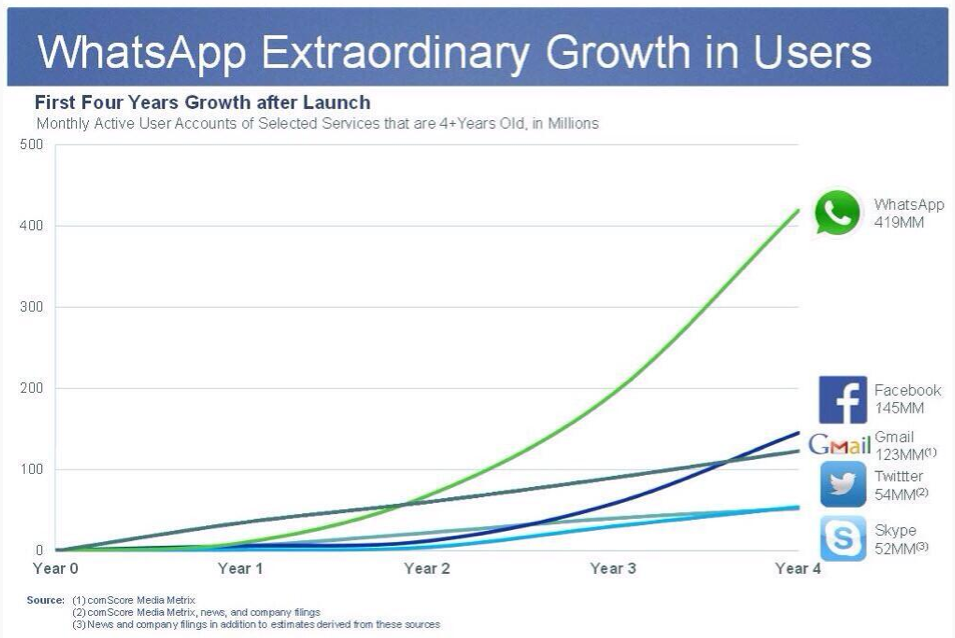 Sumber: Imago. 
---
Kolom Pic of the Day (PoD) adalah kolom yang menghadirkan gambar pilihan yang dikutip dari situs Imago. Gambar berupa tabel, infografis atau yang lainnya ini akan berkisar seputar dunia digital. Diharapkan pilihan informasi ini bisa memberi manfaat, ide atau informasi berguna bagi pembaca TRL.
Are you sure to continue this transaction?
processing your transaction....