Internet
[Pic of The Day] Perbandingan Kecepatan Internet di ASEAN
Internet telah menjadi bagian penting kehidupan sehari-hari, bahkan mungkin sudah tidak bisa dilepaskan. Perbandingan kecepatan internet juga menjadi bahasan yang menarik untuk dicermati.
Kali ini kolom Pic of The Day akan menampilkan sebuah infografis yang memperlihatkan perbandingan kecepatan internet dari negara-negara di ASEAN.
Indonesia sayangnya masih berada di papan bawah untuk kecepatan internet jika dibandingkan dengan negara-negara ASEAN lainnya. Kita ada di tiga terbawah, hanya berada di atas Filipina dan Laos dengan kecepatan rata-rata 4.1 Mbps.
Sedangkan paling tinggi adalah Singapura dengan 61.0 Mbps. Rata-rata kecepatan internet di ASEAN adalah 12.4 Mbps, sedangkan rata-rata kecepatan internet global adalah 17.5 Mbps.
Lebih lengkap, berikut infografisnya.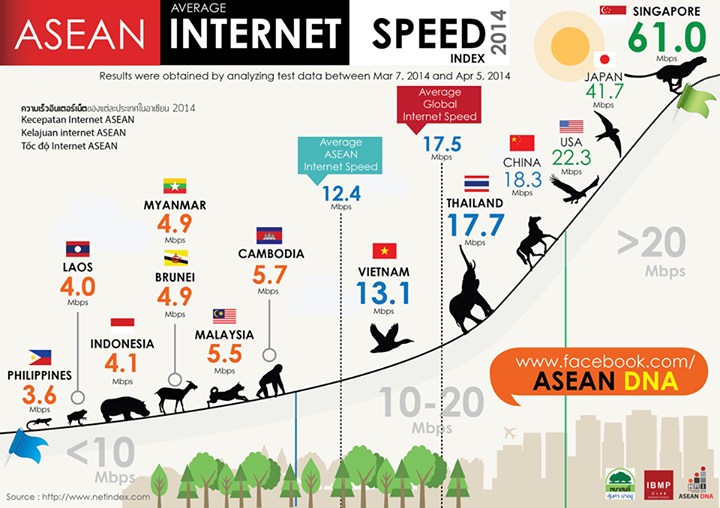 Sumber: ASEAN DNA dan Imago. Gambar header: celebrate via Shutterstock. 
---
Kolom Pic of the Day (PoD) adalah kolom yang menghadirkan gambar pilihan yang dikutip dari situs Imago. Gambar berupa tabel, infografis atau yang lainnya ini akan berkisar seputar dunia digital. Diharapkan pilihan informasi ini bisa memberi manfaat, ide atau informasi berguna bagi pembaca TRL.
Are you sure to continue this transaction?
processing your transaction....