[Pic of The Day] Perbandingan Koneksi Internet di Asia Pasifik
wiku - 5 May 2014
Selain perbandingan kecepatan rata-rata internet di ASEAN, TRL punya data untuk perbandingan kecepatan internet untuk Asia Pasisik kuarter 4 tahun 2013 kemarin.
Data yang disusun oleh Akamai ini memperlihatkan kecepatan rata-rata internet di berbagai negara Asia Pasifik untuk kuarter 4 tahun lalu. Indonesia ternyata ada di posisi kedua paling buncit, hanya berada di atas India. Sedangkan paling cepat adalah Korea Selatan.
Info menarik: [Pic of The Day] Perbandingan Kecepatan Internet di ASEAN
Di posisi kedua ada Jepang dan ketiga HongKong. Rata-rata kecepatan internet di Korea Selatan adalah 21.9 Mbps dengan kecepatan tertinggi rata-rata adalah 68 Mbps sedangkan Indonesia 1.6 Mbps untuk koneksi rata-rata dan paling cepat rata-rata sebesar 12.5 Mbps.
Lebih lengkap, berikut tabelnya.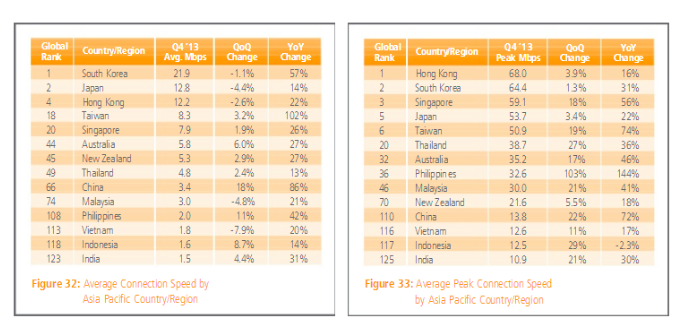 Sumber: Akamai dan Imago. Gambar header: Celebrate via Shutterstock. Klik gambar infografis untuk memperbesar.
—
Kolom Pic of the Day (PoD) adalah kolom yang menghadirkan gambar pilihan yang dikutip dari situs Imago. Gambar berupa tabel, infografis atau yang lainnya ini akan berkisar seputar dunia digital. Diharapkan pilihan informasi ini bisa memberi manfaat, ide atau informasi berguna bagi pembaca TRL.
Are you sure to continue this transaction?
processing your transaction....