Social Media
[Pic of The Day] Telkomsel Paling Responsif dan Lazada Paling Banyak Dimention
Jejaring sosial dewasa ini tidak lagi hanya menjadi tempat untuk berinteraksi, tetapi lebih dari itu jejaring sosial juga mampu menjadi sumber rujukan tentang banyak hal. Jejaring sosial juga mengubah banyak aspek dalam kehidupan, termasuk mengubah cara orang membangun interaksi bisnis.
Dalam infografis ini kita bisa amati bagaimana tren yang terjadi sepanjang bulan Oktober 2014 di dua jejaring sosial raksasa Facebook dan Twitter. Menggambarkan bagaimana tren terkini dan interaksi brand-brand lokal dengan para audiensnya.
Dalam infografis tren Fanpage Facebook ini memuat sejumlah elemen sebagai indikator, misalnya Top engagement, Top growth, Top response percent dan Top response time.
Info Menarik: [Rumor] Dua Game Xbox One Ini Mungkin Akan Segera Kehilangan Status Eksklusifnya
Dari dua indikator terakhir, Telkomsel dan Acer menjadi dua brand yang selalu muncul dalam dua indikator berbeda. Pertanda bahwa fanpage Telkomsel dan Acer adalah yang paling banyak mendapatkan tanggapan dan juga cepat memberikan respon terhadap interaksi fansnya.
Sedangkan untuk top engagement dicapai oleh Garnier Indonesia dan top growth oleh OLX Indonesia. Lebih lengkap cek infografis berikut:
Sementara indikator yang hampir serupa juga menjadi tolak ukur tren di jejaring sosial Twitter, brand Telkomsel lagi-lagi muncul dalam dua indikator berbeda yakni di Top retweets and replies dan Top tweeting. Kemudian brand Lazada didapuk sebagai brand yang paling sering di-mention oleh pengguna Twitter.
Sedangkan untuk top engagement dicapai oleh Yamaha Indonesia dan Top Growth oleh XL Axiata. Lebih lengkap cek infografis berikut: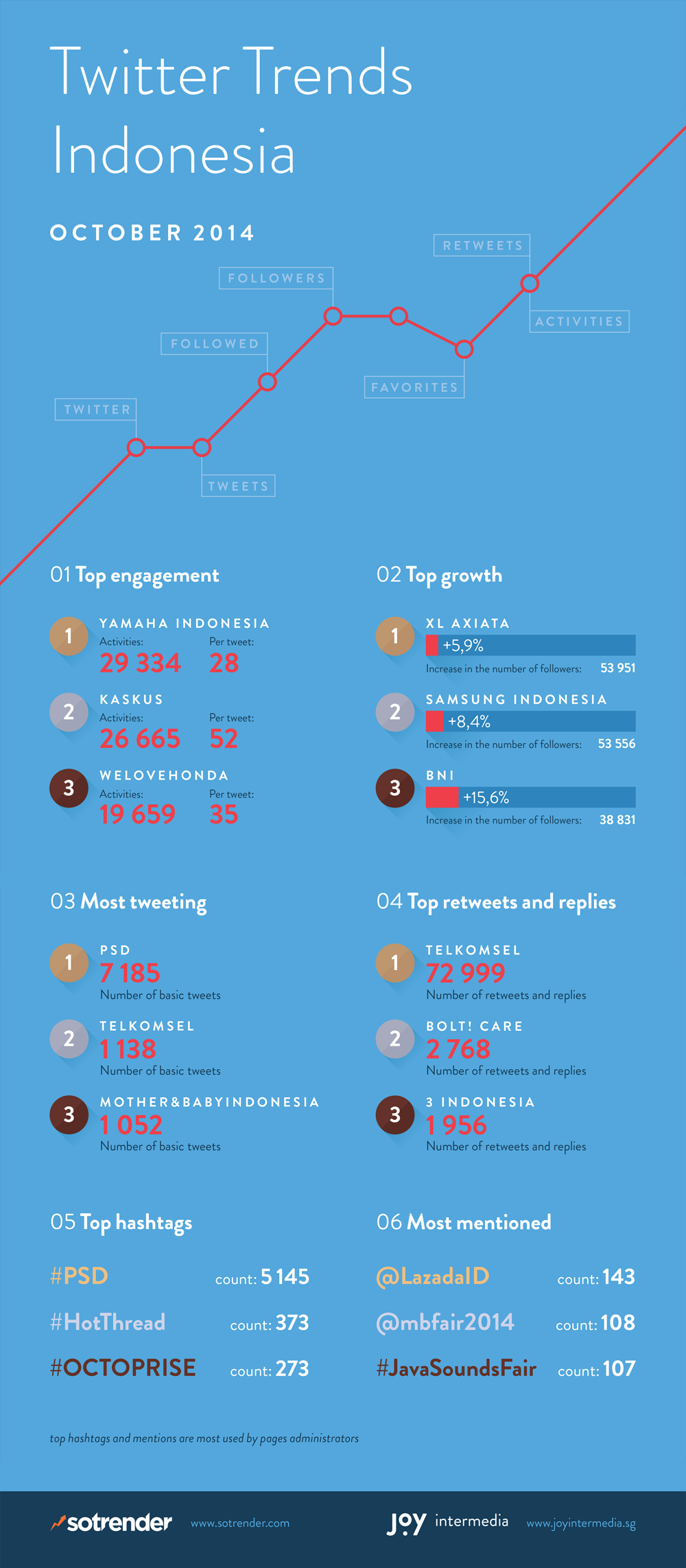 Sumber: Sotrender dan Imago. Gambar header: Celebrate via Shutterstock.
---
Kolom Pic of the Day (PoD) adalah kolom yang menghadirkan gambar pilihan yang dikutip dari situs Imago. Gambar berupa tabel, infografis atau yang lainnya ini akan berkisar seputar dunia digital. Diharapkan pilihan informasi ini bisa memberi manfaat, ide atau informasi berguna bagi pembaca TRL.
Are you sure to continue this transaction?
processing your transaction....