Berita
Platform Podcast Inspigo Dapat Investasi dari Telkomsel Mitra Inovasi
Setelah EVOS, Telkomsel dikabarkan kembali berinvestasi ke Inspigo lewat induk usahanya Significa Digital Asia
Platform podcast Inspigo dikabarkan mendapat investasi tahap awal dari Telkomsel Mitra Inovasi (TMI). Dari sumber yang kami peroleh, ini merupakan bagian dari putaran pendanaan awal. Unit CVC yang dinakhodai Andi Kristianto tersebut masuk lewat Signific Digital Asia Pte Ltd.
Pada April 2021, sebagaimana diberitakan Bisnis.com, perusahaan berbasis di Singapura, Signific Digital Asia Pte Ltd mencaplok saham Inspigo. Namun, Inspigo tidak menyebutkan besaran nilai yang dibayarkan Signific Digital Asia atas pengalihan saham tersebut.
DailySocial telah mengonfirmasi hal ini ke Founder Inspigo dan perwakilan TMI, namun berita ini diterbitkan belum ada pernyataan resmi dari keduanya. Kendati demikian, Inspigo justru sudah muncul di jajaran portofolio TMI pada website resminya.
Inspigo atau "Inspiration on the Go" merupakan platform podcast on-demand yang didirikan oleh Tyo Guritno, Yoris Sebastian, dan Eva Ditasari. Platform ini menghadirkan konten podcast dengan ragam topik dan speaker, mulai dari kesehatan, keuangan, musik, hingga gaya hidup. Konten-konten ini dapat dinikmati secara gratis maupun berbayar.
Perkembangan konten podcast Indonesia
Diberitakan juga baru-baru ini, TMI dikabarkan terlibat dalam pendanaan awal team esports lokal EVOS Esports. Masuknya TMI ke vertikal bisnis baru, yakni esports dan podcast, memperkuat anggapan bahwa Telkomsel tengah memperluas cakupan portofolionya.
Sejak awal berdiri di 2019, TMI telah memfokuskan investasinya pada vertikal big data, IoT, dan hiburan (musik, game, dan video). Investasi ini diharapkan dapat meningkatkan ekosistem bisnis digital, terutama yang dapat disinergikan ke bisnis utamanya di telekomunikasi.
Di sisi lain, industri konten berbasis suara memang tengah berkembang pesat di Indonesia. Karena hanya berbasis suara, ini menjadi salah satu faktor podcast mudah diterima di berbagai lanskap media di dunia. Terlebih, masa pandemi Covid-19 mendorong peningkatan konsumsi konten podcast di sejumlah platform digital, misalnya Spotify dan Google Podcast.
Podcast User Research in Indonesia di 2018 menyebutkan Spotify (52,02%) sebagai platform terpopuler untuk mendengarkan konten podcast. Namun, rupanya ada Inspigo yang masuk sebagai satu-satunya pemain lokal di jajaran 10 besar. Ini menandakan awareness terhadap platform podcast lokal sudah mulai terbangun.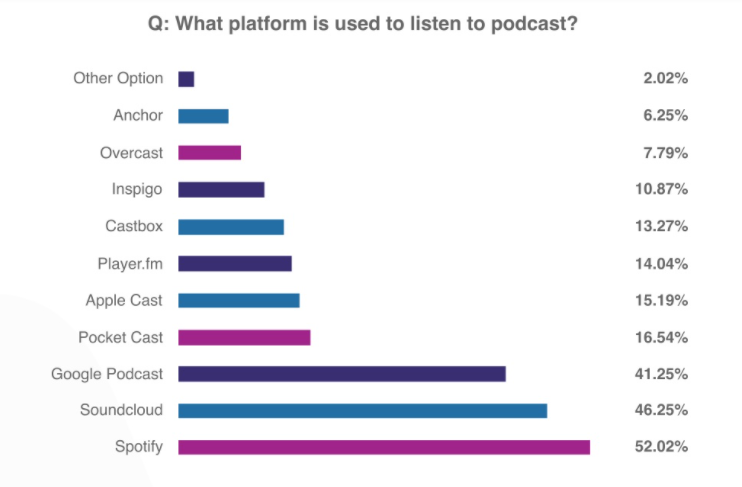 Di 2020, Indonesia mendominasi konsumsi podcast terbanyak se-Asia Tenggara menurut data Spotify. Sebanyak 20% dari total pengguna Spotify di Indonesia mendengarkan podcast setiap bulan, dan jumlah tersebut lebih tinggi dari persentase rata-rata global.
Application Information Will Show Up Here
Are you sure to continue this transaction?
processing your transaction....