Podo Akan Hilangkan Ketergantungan Kita Pada Tongkat Selfie
Kehadiran Polaroid Cube membuktikan bahwa action camera tak harus selalu berpenampilan kaku dan cuma bisa dipakai oleh pengguna savvy. Tapi bagi konsumen mainstream, bahkan produk paling sederhanapun masih kurang bersahabat. Dan mereka tetap memakai cara lama yang sudah jadi tradisi: selfie dengan smartphone dan bantuan monopod alias 'tongkat narsis'.
Namun tiga orang lulusan University of California punya alternatif yang mampu membuat tongsis jadi ketinggalan zaman. Bersama-sama mereka dirikan Podo Labs dan mengungkap Podo, sebuah kamera wireless stick-and-shoot pertama di dunia. Apa maksudnya? Tersambung ke handset Anda, Podo dapat ditempelkan ke permukaan apapun. Kita tak lagi perlu merentangkan tangan sejauh-jauhnya atau 'mempertaruhkan' kualitas foto karena memanfaatkan kamera depan.
Tanpa keruwetan memasang monopod dan men-setting timer, Anda bisa beraksi serta berkreasi lebih leluasa. Cara pengoperasiannya sangat mudah, tinggal unduh companion app gratis ke device Android atau iOS. Ia menambahkan fungsi pemicu shutter, sekaligus medium pengaturan kamera. Podo terkoneksi ke smartphone via Bluetooth, dan cuma memakan waktu beberapa detik saja untuk transfer foto.
Dalam aplikasi Podo, Anda dapat menambahkan caption dan menggunggah foto langsung ke Instagram, Facebook, serta Tumblr. Fitur paling berguna bagi penggemar selfie terletak pada live preview, memungkinkan Anda mencari sudut pengambilan foto terbaik. Podo mempunyai tiga mode berbeda: foto (standar, double exposure, burst), video ditambah dukungan GIF, dan auto.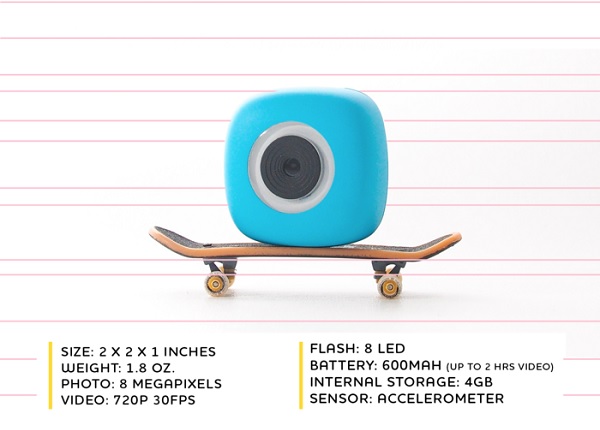 Info menarik: Siap Saingi GoPro, Xiaomi Rilis Yi Action Camera
Melalui mode terakhir itu, Podo akan merekam secara otomatis dalam jarak waktu tertentu. Contohnya, ia bisa dikustomisasi agar mengambil foto setiap 10 menit sekali untuk dokumentasi atau ketika ingin menciptakan video time-lapse. Uniknya lagi, Podo 'tertidur' di rentang waktu tersebut, sehinga ia mampu menjepret ratusan kali selama lebih dari seminggu.
Dan jangan lupakan fitur utamanya: menempel ke semua material - kayu, kaca, semen dan lain-lain. Caranya, Podo Labs memanfaatkan microsuction pad yang dapat dicuci dan ditempel kembali - strukturnya mirip telapak cicak. Mereka juga membubuhkan magnet kuat di sana. Untuk mengaktifkan Podo, cukup tap dua kali.
Podo memiliki dimensi 2x2x1-inci berbobot 51 gram. Ia dibekali sensor 8-Mp, baterai 600mAh, 8 LED flash, penyimpanan internal 4GB, dan kemampuan video 720p di 30fps. Terdapat accelerometer internal demi memastikan hasil gambar tidak miring.
Sayang sekali saat ini Podo baru dijadwalkan hadir di Amerika, Kanada, Eropa, Australia, Selandia Baru, Jepang, Taiwan, Korea Selatan, Hong Kong, Singapura dan Israel, diluncurkan bulan Agustus nanti. Belum ada kabar soal di luar wilayah tersebut. Di situs crowdfundingKickstarter, satu unit Podo dibanderol mulai dari US$ 90.
Are you sure to continue this transaction?
processing your transaction....