Power Commerce Asia Receives Series A Funding, Expanding Business to Malaysia
The ERP solution provider startup, Power Commerce Asia, announced series A funding with an undisclosed amount from PT Interport Mandiri Utama, a subsidiary of PT Indika Energy, and a logistics and courier company, PT SAP Express. The fresh money will be used to expand to Malaysia to serve global brand partners in serving its customers in the country.
After this investment, Interport's directors, including Yukki Nugrahawan Hanafi and Alif Sasetyo with SAP Express' President Director, Budiyanto Darmastono, are now part of the Board of Commissioners at Power Commerce Asia.
On this occasion, he officially announced the launching of Power Commerce after running in stealth mode since its operations began three years ago. Starting this year, the company will significantly scale its business using the latest investment round.
The Power Commerce Asia's Founder & CEO, Hadi Kuncoro said that the team is now focused on building the company's fundamentals in the form of omni-channel ERP and supply chain solutions for the business ecosystem. Thus, Power Commerce Asia can become a sustainable company.
"We did not build an app, but a tech company that is building a digital ecosystem for industry. We have B2B users, from brands, manufacturers, brand owners, global brands and SMEs. Conceptually, we want to build an omni-channel e-commerce and supply chain solution, therefore, brands can sell through any platform and integrated in real-time," Hadi explained at a press conference yesterday (1/6).
The investment, he continued, was not solely for the money but also strategic partnerships with investors. It is known that Interport has an extensive network in handling cross-border transactions, while SAP Express has a warehousing and procurement network throughout Indonesia.
Power Commerce will optimally utilized these assets to expand its business, targeting growth up to seven times this year. "Our vision is not only applicable in Indonesia, we are trying to build something to solve problems in the global market. Therefore, we will enter the regional market in the near future."
The company will explore the SME segment in order to experience omni-channel and supply chain solutions. The solution is planned to be available in the middle of this year as an SaaS concept with a subscription model. Hadi said, the subscription model is considered more effective to capture the SME market as it doesn't require them to pay for long term.
Solutions
Power Commerce Asia provides an end-to-end solution that includes e-commerce marketplace enabler, technology development, warehouse management, shipping management & delivery service, digital marketing, payment management, and omni-channel ERP system management. Power Commerce Asia's omni-channel technology ensures all brands to take advantage of all existing sales channels, both offline and online.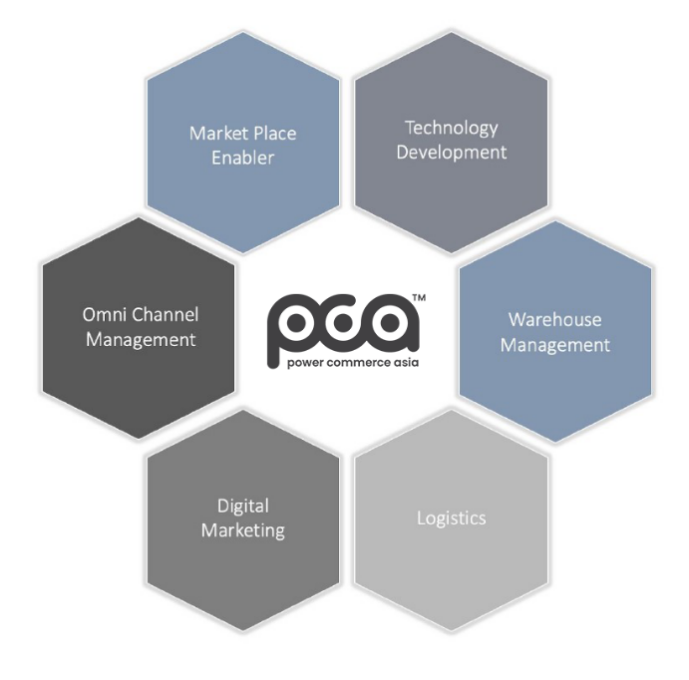 Within three years of operation, Power Commerce Asia claims to have grown significantly up to 132 times. It began with the start-up phase, smart-up company, and has now turned into a scale-up company. The positive growth in late  2021 is indicated by some metrics, including the total transaction that increased by 28 times, the average monthly transaction grew by 28 times, the Net Revenue (NMV) increased by 22 times, and the average monthly sales grew by 12 times. The previous percentages aren't followed with detailed numbers.
The company has collaborated with several local and global brands from various industries in managing e-commerce sales channels. The partners include Soho Global (Imboost, Curcuma, Diapet), Menarini (Dermatix, Transpulmin), Kino Indonesia, Galeri24, Mamasuka, Combiphar, Twinings, Ovaltine, Probalance, Prodiet, Evalube, Dompet Dhuafa and many others.
In the future, the company will expand ERP solutions not only for finished products, but also for raw materials that can be integrated in a real-time system from upstream to downstream. This will certainly make it easier for manufacturers to monitor the work flow to be more efficient.
Hadi is optimistic with the well-developed business fundamentals to lead the company achieving sustainability and accelerate the IPO in 2025. "In 2025 our mission is to enter the ASEAN market, and conduct an IPO for the exit plan," he said.
–Original article is in Indonesian, translated by Kristin Siagian
Are you sure to continue this transaction?
processing your transaction....