Printyuk Jadi Pengejawantahan Digital Perusahaan Percetakan
Menjadi marketplace percetakan, dengan harapan dapat menjangkau pangsa pasar yang lebih luas
Randi Eka - 28 November 2017
Printyuk merupakan layanan berbasis web dan mobile yang diperuntukkan untuk menyederhanakan proses pencetakan. Layanan ini dikembangkan PT Ikrar Mandiriabadi, yang telah berpengalaman sekurangnya 30 tahun di bisnis percetakan. Platform Printyuk memungkinkan pengguna untuk memilih jenis cetakan yang akan dibuat, dan mengunggah desain sesuai dengan kebutuhannya.
Pengembangan Printyuk merupakan bagian dari transformasi digital yang dilakukan perusahaan, dengan harapan mampu membawa perusahaan bisa menjangkau pangsa pasar yang lebih luas. Selama ini Mandiriabadi baru bisa menjangkau konsumen di seputar Jabodetabek, harapannya Printyuk dapat menjangkau konsumen di seluruh Indonesia. Hal ini direalisasikan dengan menggandeng perusahaan logistik.
"Printyuk menyediakan layanan digital printing customized sesuai keinginan pembeli. Kami adalah satu-satunya di Indonesia yang menyajikan feature customized yang bisa di-view di apps dan web secara real-time. Layanan same-day services juga kami bubuhkan untuk memfasilitasi pengguna dengan kebutuhan cetak cepat," ujar Rudy Swandana, Head of Sales Printyuk.
Selain mencetak, Printyuk juga menyediakan layanan desain. Sehingga pengguna yang dapat belum membawa desain, bisa melakukan permintaan langsung ke sistem aplikasi. Saat ini sudah ada setidaknya 300 varian produk yang dapat dicetak, mulai dari T-Shirt, Mug, Kartu Ucapan, Kartu Nama, Payung, Tas, Package, dan sebagainya.
Selain ditangani sendiri oleh Mandiriabadi, Printyuk juga menggandeng mitra bisnis pemilik percetakan untuk mengakomodasi pesanan yang masuk. Kemitraan yang telah dibangun masih di seputar Jabodetabek.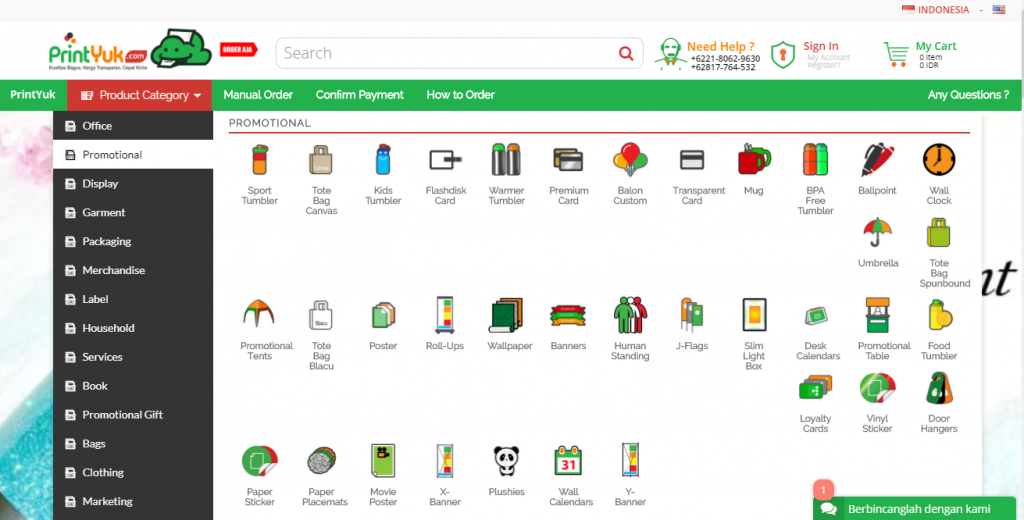 Memberikan keleluasaan desain oleh pengguna
Berdasarkan survei yang dilakukan Mindspace Research Agency, di tahun 2017 ini masih banyak kalangan yang butuh layanan percetakan, menepis pangsa pasar yang mulai meredup karena digitalisasi dan kepedulian terhadap hijaunya lingkungan. Mayoritas perkantoran masih membutuhkan produk cetak, ini menjadi pangsa pasar utama. Pasar kedua ialah kalangan di bidang pendidikan, seperti mahasiswa atau pelajar.
"Perbedaan kami dengan yang lain adalah dari segi service customized. Jika di tempat lain untuk desain dan penyesuaian harus mengandalkan komunikasi seperti email, telepon dan lain-lain. Sedangkan di Printyuk cukup dengan klik dan ikuti petunjuknya maka detail dan spesifikasi pemesanan dikelola. Dan satu lagi hanya kita yang bisa menyediakan layanan selesai dalam 3 jam," ujar Rudy.
Printyuk didirikan Iwan Mulyana (CEO Ikrar Mandiriabadi), Bobby Gandasaputra, dan Irawan Kardarman selaku angel investor. Terkait fundraising, Printyuk sudah mendapatkan pendanaan awal dari angel investor, namun saat ini pihaknya tengah mencari pendanaan lanjutan untuk pengembangan dan ekspansi Printyuk di kota-kota besar lainnya di Indonesia.
Application Information Will Show Up Here
Are you sure to continue this transaction?
processing your transaction....