Pros and Cons of Indonesia's Ban on Netflix
OTT Regualation should be urged, synergy between institutions is necessary to develop potential
Randi Eka - 27 January 2020
Since the original content from Netflix in 2015, the video streaming platform keeps improving in quality. One of its validation comes from the Oscars 2020 where its original content successfully took 24 nominations. Two of those, The Irishman and Marriage Story managed to be in the list of Best Movies of the year.
Apparently, the public company that used to be a Silicon Valley startup now aligns with Hollywood's giant, such as Warner Bros, Universal Pictures and many more. The high-quality content has encouraged users to pay more (compared to similar apps), including in Indonesia.
Entering the middle of last decade, around 2014-2016, Netflix's business model has been replicated around Southeast Asia. There's iflix (2014), Hooq (2015), and Viu (2015). They offer identical services with coverage reached up to Indonesia. Not only purchasing the airing license, but they also create original series.
Absolute rejection since its debut
In January 7th, 2016, Netflix announced to expand globally, coverage in 130 countries, including Indonesia. The plan raised various reactions of some parties. As the regulator, Kominfo listed some administrative requirements for OTT (Over The Top) players. Two of which to be highlighted are permanent business establishment and censorship commitment.
In addition, OTT involves content, such as data, information, and multimedia which is running and accessible through internet media. In terms of regulation, those content are considered "depending" on the telco's network.
"Netflix will be assisted in terms of regulation because of some concerns in the community that must be protected, particularly for content," Rudiantara said as the current Kominfo Minister then.
Aside from the government, associations also signaling rejection to the NFLX-code company. Indonesia's Telematics Communities (Mastel) said some missed regulations, the Presidential Regulation No. 39 of 2014 on questioning the provisions of the organizers of film and TV subscription services. In addition, Law No. 32 of 2002 and Law No. 33 of 2009 concerning the formation of legal entities.
On January 27th, 2019 at 12 am, Netflix is no longer accessible from any kind of Telkom's internet network.
Remain to be the first alternative
As quoted from Statista, Netflix has a total active user of 418 thousand per 2019 in Indonesia, it's projected to increase to 906 thousand this year. From different research, as quoted from AppAnnie's report titled "State of Mobile 2020", Netflix still managed to be in the top 5 streaming apps of smartphone users in Indonesia.
Outside Telkom's internet coverage, Netflix is still accessible. In general, non-red plate operators will prohibit only the site or application that is already listed in TrustPositif - a channel for the list of officially banned websites by the Ministry of Communication and Information.
In Indonesia, there are also some similar services, such as iflix, Viu, Hooq, Genflix, even local players like Vidio and Go-Play.
Some global platforms like Netflix are starting to penetrate the market, such as HBO Go and Amazon Prime, even the specific content services such as beIN Sports and NBA League Pass in the sports category.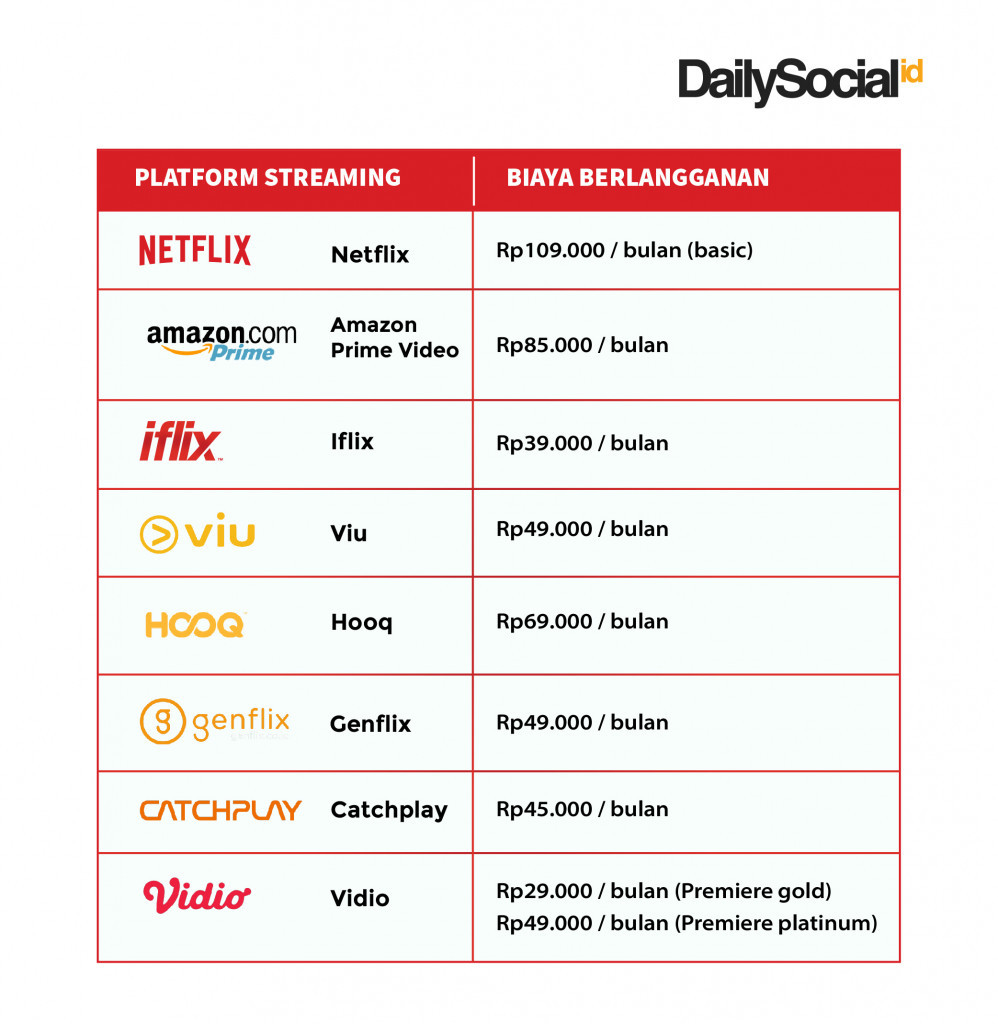 Quoted from Tirto's, Telkom's Consumer Director, Dian Rachmawan said, "OTT players are considered a latent danger for operators because without spending large investments, they make profits on operators' networks."
In fact, other foreign on-demand video services, such as Hooq, Iflix and Viu, has established B2B collaboration with local operators to provide business benefits to each other. Some are also coping with media owners, for example iflix with MNC Group.
However, Telkom has another argument related to this ban, it's related to pornographic content, especially the Law on Pornography and the ITE Law.
Potential advantages from taxes
In recent years, the Ministry of Finance has been actively pursuing tax from foreign OTTs operating in Indonesia. Not only video streaming services, but they began to "hunt" big companies like Google, Facebook and others.
The lack of regulations concerning OTT corporation tax makes the mechanism is yet to be detailed. At the Omnibus Law, there will be a regulation draft by the Indonesian Parliament that should accommodate these conditions.
Quoted from Kompas, DPR RI's Commission I member Bobby Rizaldi exemplifies that regulations in Singapore can be applied here. Digital companies are not required to make an office, but they are still subject to tax from subscription fees from Indonesian consumers.
Similar thought comes from Hestu Yoga Saksama as the Director of Information, Services and Public Relations of the Directorate General of Taxes, "Therefore, at the Omnibus Law, the regulation will be no need for physical presence, but a substantial or significant economic presence."
Generally, for companies domiciled in Indonesia, the government requires to pay tax, either in the form of Value Added Tax (PPn) of products sold, or Income Tax (PPh) from labor.
Potential disadvantages from the creative sector
The Night Comes for Us became Indonesia's first original content published by Netflix in 2018. In order to increase the number of local films, in mid-2019, the company began to collaborate with Indonesian content creators and film activists to create local content specifically aired on Netflix.
Netflix's Director of Product Innovation, Ajay Arora said the investment become Netflix's focus in Indonesia to present content that can be appreciated in this country.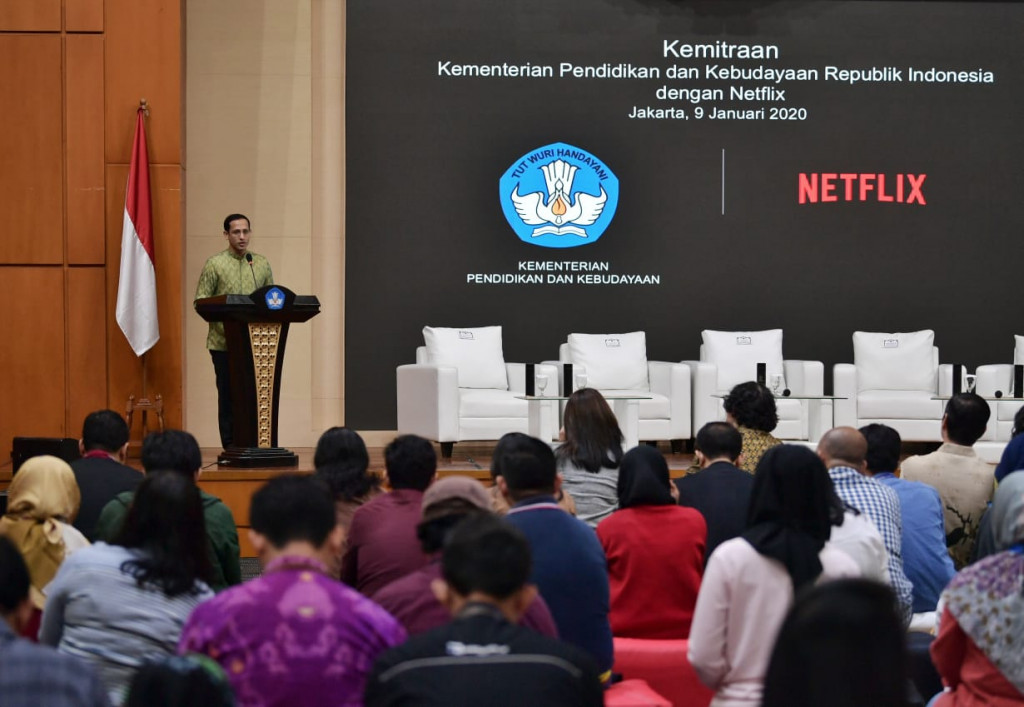 On January 9, 2020, Netflix launched a strategic partnership with the Ministry of Education and Culture to support the Indonesian film industry.
Specifically, it is to focus on developing creative writing skills, post-production training, and short film competitions. In addition, there will be training in online security and governance to deal with the dynamic growth of creative industries. In this partnership, Netflix pours up to $1 million funds or equivalent to 14 billion Rupiah.
In fact, this kind of synergy should be excellent channel for Indonesia's creative industries to develop as rapidly. In addition to global knowledge - in this case, insights from Hollywood films - the role of OTT can also be used as a channel for creative actors to embrace the international market. Moreover, Netflix has become a standard for movies. In addition to movies, a platform like Spotify, even TikTok has allowed digital creativity to be widely marketed.
Therefore, the partnership with OTT is ideally not only viewed in terms of financial regulation but should be able to discuss with other ministries, in this case, the Ministry of Tourism and Creative Economy.
Aim to have freedom of access
Head of the Indonesian Consumers Foundation Daily, Sudaryatmo, said that the public could question the ban of certain OTT services when it's considered detrimental. People basically have the right to access information and the right to vote.
"First, the right to access information, the right to know. Whether the ban is preventing consumers to access information, it should be open to question," he said as quoted on CNN Indonesia.
The thing is, this kind of ban has been running for generations. In fact, to encourage the process, Kominfo has allocated 211 billion Rupiah in 2017 to buy an internet censor machine. Although, it's no longer a secret that the banned websites still accessible through certain mechanisms.
We aim for the internet to provide high-quality content, both for entertainment and education. Aside from ban, one thing we always highlight to the government, for the public's digital literation. Some of the real activities to do, such as:
Actively socialize to use the government institution's network (reach the villages) to assist them with digital literacy. The taught materials should encourage them to understand the boundaries of relevant content accessible.
Provide access and support to the digital creative industry players to stuff the nation's internet ecosystem with high-quality content, in various formats.
With the global reach, it's possible to have the internet free from negative content. By sharing insights on the negative content, it can be a visioner act to build a better personality. Without prohibition, the public will be aware of the negative content that should not be accessed.
– Original article is in Indonesian, translated by Kristin Siagian