Masih ingat dengan Puzzlephone, smartphone modular yang siap dirilis tahun 2015 ini? Circular Devices, perusahaan pengembangnya, rupanya tidak berhenti memikirkan bagaimana cara memaksimalkan efisiensi dari konsep modular.
Seperti yang kita ketahui, baik Google Project Ara maupun Puzzlephone memiliki misi yang sama, yakni memperpanjang umur perangkat melalui 
upgrade
 komponen secara terpisah. Dengan demikian, Anda bisa mengganti, misalnya, komponen kamera 
smartphone
 tanpa harus membeli 
handset
 baru. Banyak aspek menarik yang terkandung dalam konsep modular ini, namun masih ada pertanyaan yang belum terjawab: bagaimana nasib komponen-komponen lawas yang telah diganti dengan yang baru? Inilah yang sedang diwacanakan oleh Circular Devices. Dinamai Puzzlecluster, perangkat ini merupakan sebuah komputer bertubuh mungil yang ditenagai oleh modul Brain milik Puzzlephone. Bagi yang sudah lupa, modul Brain ini berisikan prosesor yang menjadi otak dari Puzzlephone. Teorinya sangat sederhana: saat Anda melakukan 
upgrade
 terhadap modul Brain milik Puzzlephone, modul lamanya dapat 'dihidupkan' kembali dalam wujud yang berbeda, yakni komputer bernama Puzzlecluster tersebut. 'Reinkarnasi' mungkin adalah kata yang tepat untuk menggambarkan teori ini, tetapi saya lebih senang dengan 'daur ulang komponen'.
Info menarik: Google Pamerkan Inkarnasi Terkini Project Ara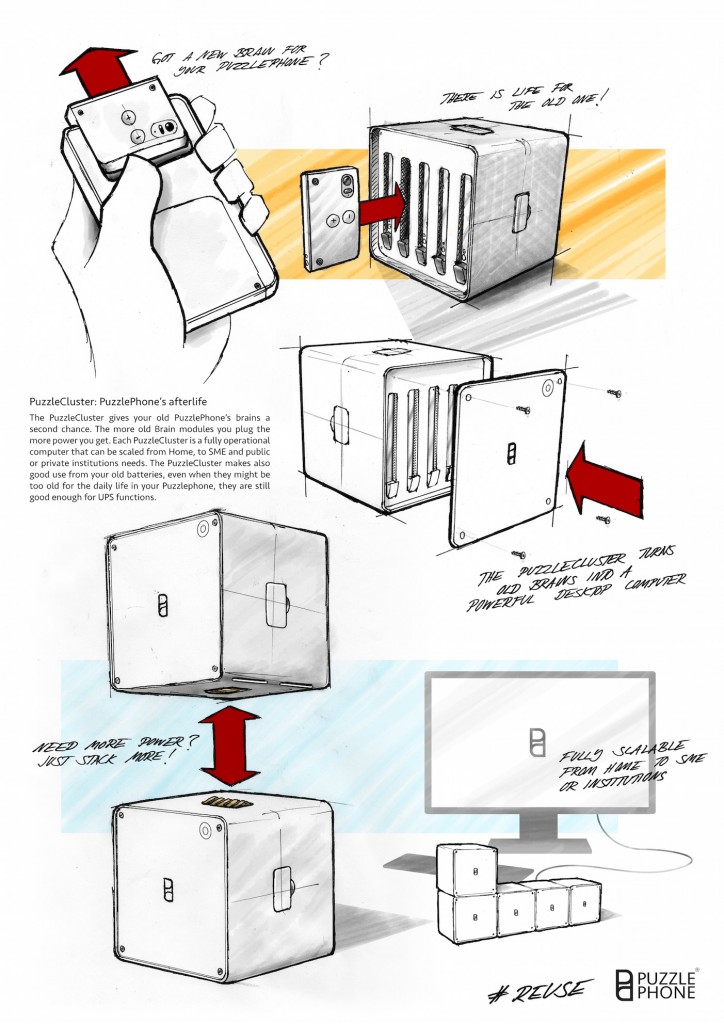 Puzzlecluster sendiri dapat menjadi 
cluster
 (rumah) bagi sejumlah modul Brain milik Puzzlephone. Artinya, sejumlah prosesor tersebut dapat diintegrasikan menjadi komputer 'super' yang memiliki bermacam fungsi, mulai dari menjadi sistem hiburan rumahan hingga 
cloud server
. Selain menyediakan ruang untuk modul Brain lawas, Puzzlecluster juga didesain agar dapat mengakomodasi sejumlah modul Battery milik Puzzlephone yang sudah tidak terpakai. Tujuannya adalah menjadi sumber energi cadangan agar Puzzlecluster masih dapat beroperasi selama sejumlah waktu saat listrik sedang mati. Soal energi, Puzzlecluster akan dilengkapi dengan unit 
power supply
-nya sendiri. Selain itu, Puzzlecluster juga akan mengusung komponen-komponen konektivitas untuk mengintegrasikan modul Brain serta periferal seperti 
mouse
 dan 
keyboard
. Sejauh ini Puzzlecluster memang masiih berupa konsep – Puzzlephone sendiri rencananya baru akan dirilis tahun ini. Meski demikian, konsep ini tidak hanya menarik dari sisi teknisnya saja, tetapi juga manfaatnya untuk lingkungan, dimana sisa pembuangan perangkat elektronik paling tidak dapat dikurangi berkat penerapan 'daur ulang komponen' ini.
Sumber: Puzzlephone via The Verge.
Are you sure to continue this transaction?
processing your transaction....