Qeon Interactive Luncurkan Portal Mobile Game QBig Games
Yoga Wisesa - 2 September 2014
Didirikan di tahun 2011, Qeon Interactive resmi berkiprah sebagai publisher game di Indonesia dengan meluncurkan Shadow Company. Berbeda dari kompetitornya, Qeon lebih berani mengambil resiko. Beberapa judul mereka seperti Heva Online dan Clash of Gods merupakan permainan online yang cukup menuntut performa hardware.
Walaupun artinya game mereka terasa eksklusif bagi sejumlah orang, pendekatan non-mainstream ini membuat Qeon mampu menghimpun komunitas gamer yang loyal. Dengan mengusung visi untuk menjadi perusahaan gaming dan hiburan digital terbesar di Indonesia, Qeon tentu memiliki niatan agar layanan mereka dapat merangkul khalayak casual. Agar hal itu tercapai, mereka telah menyiapkan sebuah produk baru.
Di awal bulan September ini, Qeon mengumumkan QBig Games, sebuah portal dimana penggemar game Android dan iOS Indonesia dapat mencari dan mengunduh permainan-permainan mobile terbaru. Di momen peluncurannya tersebut, Qeon telah menyiapkan tiga buah game: Otak Atik Uang, KesuruFun dan Finger Football. Lalu rencananya Gun Fire Girls, Ozstone serta Lari Pang akan segera menyusul.
Info menarik: WALi Games Luncurkan Permainan Faith Runner di Windows Phone
Saat ini, Finger Football adalah judul game Android andalan Qeon. Di dalamnya, Anda ditantang untuk menjadi pemain sekaligus manager tim sepak bola. Pemain dituntut mencetak goal terbaik sembari menentukan strategi jitu demi memastikan tim memperoleh kemenangan. Finger Football juga mendaptasi elemen role-playing seperti levelling dan upgrade skill.
Finger Football menyajikan 20 emblem dan seragam klub-klub sepak bola bergengsi dan berbagai opsi formasi. Untuk mengoper dan menendang bola, yang perlu Anda lakukan ialah dengan men-tap layar ketika panah mengarah ke pemain di satu tim. Ulangi hal ini hingga Anda mencetak goal. Game berakhir jika bola keluar dari zona permainan atau direbut lawan.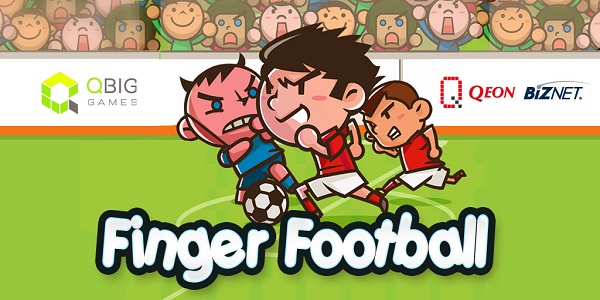 Info menarik: Game Android Pilihan 25 – 31 Agustus 2014
Otak Atik Uang sendiri merupakan game sederhana dimana pemain hanya tinggal 'membenturkan' dua mata uang dengan nominal sama hingga melebur menjadi satu mata uang berjumlah lebih besar. Semakin besar nominal, semakin tinggi pula skor Anda. Seluruh permainan bisa dinikmati secara cuma-cuma dengan sistem monetisasi in-app purchase.
Qeon berjanji bahwa QBig akan terus menghadirkan judul permainan lebih banyak. Silakan instal Qeon Launcher di gadget Anda agar akses lebih mudah. Alternatifnya, Anda juga bisa langsung mengunjungi situs QBig Games.
Di waktu dekat, Qeon memiliki rencana untuk menghadirkan versi lokal Weapons of Mythology dan Kingdom Under Fire II. Judul terakhir ini sangat menarik karena ia sebenarnya sudah diumumkan enam tahun lalu, kemudian ditunda dan ditunda. Akhirnya sang developer mengumumkan bahwa Kingdom Under Fire II siap diluncurkan secara global di tahun ini di platform Windows PC dan PlayStation 4.
Are you sure to continue this transaction?
processing your transaction....