Qualcomm Ungkap Reference Design Kacamata Augmented Reality, XR1 AR Smart Viewer
Sangat cocok dipakai bekerja karena bisa menggantikan peran banyak monitor sekaligus
Glenn Kaonang - 25 February 2021
Kacamata augmented reality (AR) di titik ini mungkin masih terdengar terlalu gimmicky buat sebagian besar orang. Apakah fungsinya hanya untuk hiburan? Adakah nilai ekstra yang diberikan ketimbang mengonsumsi konten AR lewat smartphone? Kalau menurut Qualcomm, AR glasses malah sebenarnya cocok untuk dipakai bekerja.
Mereka baru saja merilis reference design dari XR1 AR Smart Viewer. Wujudnya sepintas kelihatan seperti kacamata hitam dengan frame yang agak lebih tebal dari biasanya, dan ia mengemas sepasang display OLED yang mempunyai resolusi 1080p dan refresh rate 90 Hz, dengan field of view seluas 45 derajat. Memang tergolong sempit, tapi ini memang merupakan salah satu kelemahan kacamata AR sejauh ini.
XR1 juga dilengkapi sejumlah kamera yang mendukung teknologi hand tracking sekaligus 6DoF head tracking. Menariknya, ketimbang merancang XR1 sebagai perangkat yang dapat beroperasi secara mandiri, Qualcomm justru memosisikannya sebagai aksesori untuk smartphone dan PC. Dengan bantuan sebuah kabel, XR1 bisa menjadi semacam layar tambahan untuk masing-masing perangkat.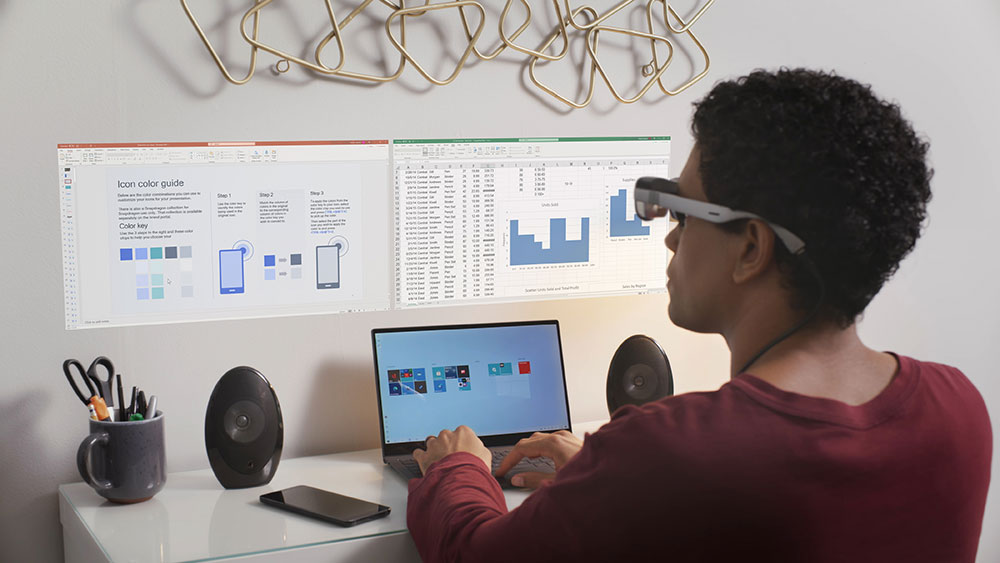 Ketika dihubungkan ke PC misalnya, XR1 dapat menggantikan peran beberapa monitor sekaligus, dan ini tentu saja merupakan cara yang ideal untuk meningkatkan produktivitas. Ketika sudah selesai bekerja, tinggal lepas kacamatanya dan kembali ke aktivitas lain tanpa harus diganggu oleh kacamata aneh yang berbingkai tebal.
Saya membayangkan skenario multiple display ini juga berguna dalam konteks hiburan. Anggap Anda sedang menonton menggunakan smartphone. Kacamata XR1 yang tersambung dapat dipakai untuk, misalnya, membuka timeline Twitter. Kalau mau dibalik pun juga bisa; jadi kacamata dipakai untuk menonton, lalu smartphone untuk sesekali mengecek media sosial.
Sejauh ini sudah ada satu produk yang menggunakan XR1 sebagai basisnya: Lenovo ThinkReality A3. Perangkat tersebut sudah Lenovo perkenalkan pada ajang CES 2021 di bulan Januari kemarin, akan tetapi perilisannya diperkirakan baru akan berlangsung di pertengahan tahun.
Sumber: The Verge.
Are you sure to continue this transaction?
processing your transaction....