Gadget
Reflex 1 Meluncur di Kickstarter, Kamera SLR 35mm Untuk Pecinta Fotografi
Menjual nostalgia, diciptakan untuk Anda pecinta fotografi yang sesungguhnya
Kemunculan kamera digital membuat popularitas kamera film lambat laun semakin menurun. Namun, bukan berarti 'mati'.
Sebuah perusahaan bernama Reflex telah mengumumkan proyek kamera analog SLR jenis 35mm bernama Reflex 1 yang dirancang lebih dari 25 tahun. Idenya adalah mengawinkan kemudahan fotografi digital dengan film yang dibuat untuk fotografer modern.
Menjual Nostalgia
Perusahaan ini menghadirkan nuansa nostalgia untuk Anda pecinta kamera analog atau film 35mm. Mereka yang tetap memilih menggunakan kamera film dengan keterbatasannya. Sampai sekarang kamera SLR 35mm memang masih cukup diminati karena keserbagunaan dan kecepatannya saat memotret, ukuran tidak terlalu bsar, kompak, dan tidak mencolok. Pun demikian yang ditawarkan oleh Reflex 1.
Reflex 1 punya tampilan klasik, dengan lensa yang dapat dipertukarkan. Ya, Reflex punya sistem modular plate, sehingga Anda tetap dapat menggunakan lensa Nikon F, Olympus OM, Canon FD, dan lensa universal M42. Kamera ini mendukung eksposur manual dan pengaturan prioritas aperture, dan memiliki pengaturan ISO mulai 25-6400.
Harga dan Spesifikasi Reflex
Reflex telah memulai kampanye di Kickstarter dengan 'gol' di angka £100.000 sampai 7 Desember 2017. Jika berhasil, rencananya barang akan mulai dikirim mulai pada bulan Agustus 2018.
Harga Reflex 1 body only dijual £ 350 atau Rp6,1 jutaan. Sementara, harga eceran normalnya adalah £ 399 atau Rp7 juta. Untuk starter kit yang meliputi kamera dan lensa prime, harganya £ 439 (Rp7,7 juta).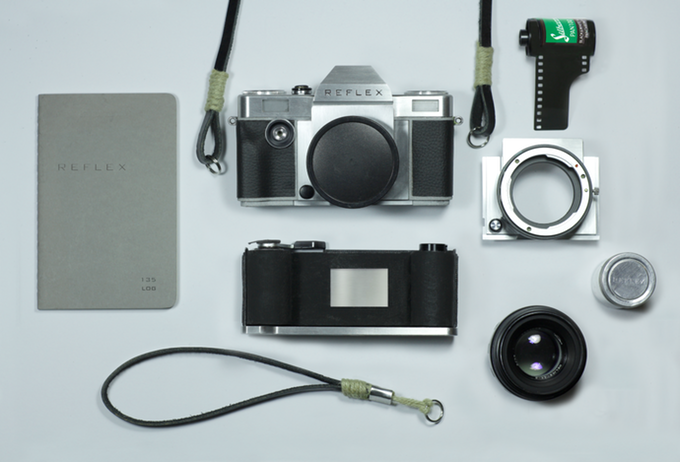 Kickstarter memang penuh proyek ambisius, inovatif, dan terkadang imajinatif yang akan menjadi kenyataan melalui dukungan langsung dari orang lain (pemberi dana). Jika Anda tertarik, sebaiknya memantau terlebih dahulu dan pastikan pendaan tersebut akan berhasil melampaui target.
Berikut Spesifikasi Reflex 1: • Format: 135 film, 35mm/FF • System: Reflex RM • Lens Mount: Reflex I-Plate (in M42, Nikon F, Canon FD, Olympus OM, Pentax PK) • Focus: Manual • Film Loading: Reflex I-Back • Film Advance/Rewind: Manual • Exposure: Manual – Aperture Priority (+ 4 stops EV) • DOF inverted preview • Shutter Speeds: 1s – 1/4000th, Time and Bulb, Flash sync: 1/125th • Metering: AV + Spot + 4 stops EV (LED readout) • ISO: 25-6400 • Controller: Arduino based modular design • Connectivity: Bluetooth (BLE) enabled • Body: Magnesium Alloy • Weight: 490g • Dimensions: 134mm x 74.5mm x 34mm • Electronic system: 5v Ion Lithium rechargeable via USB-C • Resolution: Zero Megapixels
Sumber: Theverge, Kickstarter.
Are you sure to continue this transaction?
processing your transaction....