Interview
Rencana Ekspansi iSeller Usai Rampungkan Pendanaan "Strategic Round" Seri A
Pendanaan dipimpin oleh Mandiri Capital Indonesia, turut bergabung Openspace Ventures
Startup pengembang layanan point of sales berbasis omni-channel iSeller telah merampungkan penggalangan dana perpanjangan putaran seri A+ atau strategic round. Pendanaan tersebut dipimpin oleh Mandiri Capital Indonesia (MCI), Openspace Ventures turut bergabung dalam putaran pendaan kali ini.
Kepada DailySocial Founder & CEO iSeller Jimmy Petrus mengungkapkan, untuk jangka pendek perusahaan akan melakukan key hiring terutama untuk tim acquisition dan business development, yang bertujuan untuk semakin memperluas jangkauan iSeller terhadap bisnis UKM di Indonesia. Selain itu perusahaan juga akan terus mengembangkan inovasi baru yang akan mempermudah UKM untuk mengakses layanan finansial.
"Saat ini selain Jabodetabek kami baru menjangkau 5 kota terbesar di Indonesia. Awal tahun depan, ekspansi ke top 25 kota sudah ada dalam roadmap kami," kata Jimmy.
Disinggung seperti apa integrasi dan kolaborasi iSeller dengan Bank Mandiri, Jimmy menyebutkan akan ada banyak integrasi finansial dan layanan perbankan dalam platform iSeller, yang diharapkan dapat membantu UKM Indonesia untuk terus berkembang dalam kondisi pandemi ini.
Pandemi yang mengganggu pertumbuhan bisnis sebagian besar startup di Indonesia, ternyata tidak memberikan pengaruh yang cukup besar kepada iSeller. Saat pandemi justru bisnis iSeller bisa terus berkembang.
"Salah satu faktor kontribusi terbesar adalah dengan semakin meningkatnya kesadaran para pelaku usaha untuk 'go online' dan beralih ke sistem digital, di mana keunggulan iSeller memang terletak pada kapabilitas omni-channel dan O2O yang memungkinkan UKM berjualan di toko fisik, online, dan marketplace dengan mudah di dalam satu platform," kata Jimmy.
Kerja sama strategis dengan GrabFood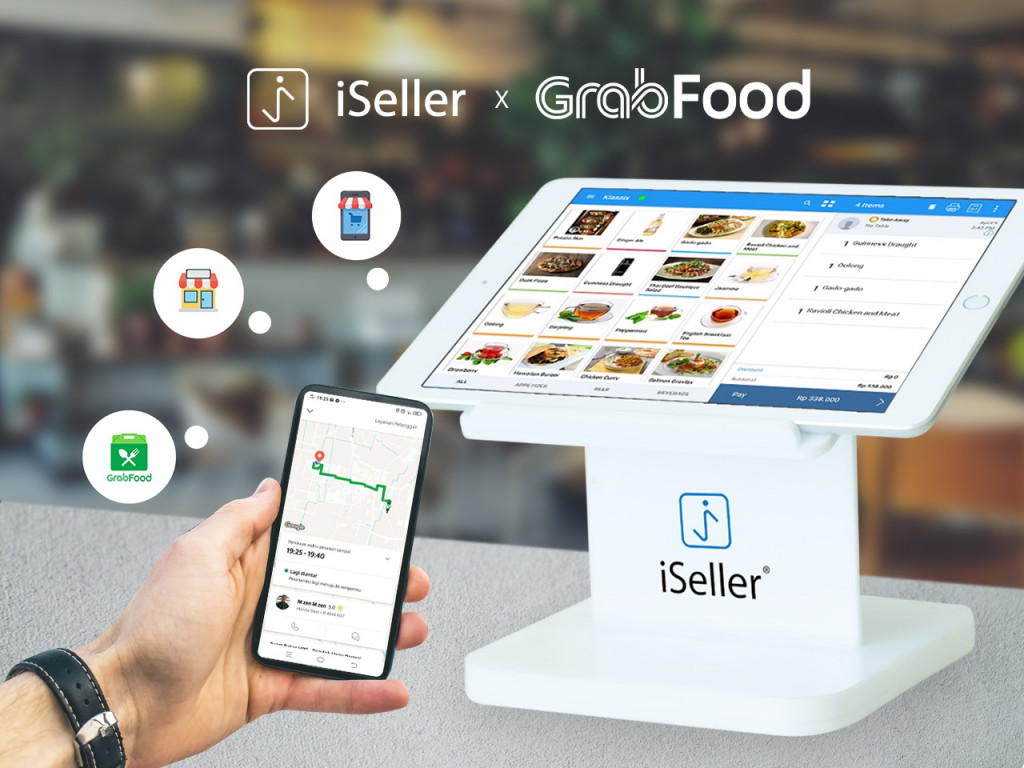 Bertujuan untuk memudahkan pelaku bisnis F&B di Indonesia untuk menerapkan sistem pemesanan online yang sudah terintegrasi dengan aplikasi kasir, iSeller menjalin kerja sama strategis dengan GrabFood. Untuk mengakali jumlah penurunan trafik saat PSBB, melalui inisiatif ini diharapkan dapat memitigasi dampak pandemi terhadap industri F&B.
Bentuk kerja sama iSeller dengan GrabFood adalah integrasi sistem pemesanan GrabFood dengan aplikasi kasir iSeller, pesanan dari GrabFood akan otomatis masuk ke aplikasi secara real time, sehingga mempermudah kasir untuk dapat memproses pesanan dengan lebih cepat dan efisien. Selain itu, pemilik usaha F&B juga dapat mengakses seluruh transaksi penjualan dan laporan keuangan dengan mudah melalui dasbor iSeller, baik penjualan dari outlet maupun GrabFood.
"Go online dengan GrabFood menjadi simpel, mulai dari pembaruan menu dan harga GrabFood, pembaruan stok otomatis, hingga laporan keuangan dari berbagai channel penjualan, semuanya bisa dikelola dari satu platform iSeller. Kami percaya solusi integrasi ini akan memberikan dampak positif bagi seluruh pelaku usaha F&B di Indonesia," kata Jimmy.
Hingga kini iSeller telah digunakan oleh ribuan merchant mulai dari bisnis UKM hingga berskala korporasi seperti Geprek Bensu, Mama Roz, Sour Sally, HopHop, Okirobox, Yogurtland, dan masih banyak lagi. Mengedepankan fitur terlengkap seperti manajemen penjualan, produk dan inventaris, serta fleksibilitas channel penjualan yang didasarkan pada konsep omni-channel, iSeller mengklaim sebagai super merchant platform terunggul di Indonesia.
Application Information Will Show Up Here
Are you sure to continue this transaction?
processing your transaction....