Resmi "Rebranding", Aplikasi Gojek Kini Bisa Digunakan di Vietnam
Thailand akan menyusul dalam waktu dekat
Marsya Nabila - 6 August 2020
Aplikasi Gojek akhirnya mendarat ke Vietnam, menyusul pengumuman penggunaan brand tunggal Gojek untuk operasional di luar Indonesia. Dalam waktu dekat, Thailand (GET) akan menyusul.
Dalam keterangan resmi perusahaan yang dikutip dari media setempat, disebutkan para pengguna di seluruh kawasan Vietnam dapat menggunakan aplikasi Gojek untuk memanfaatkan layanan transportasi GoBike, logistik GoSend, dan pesan antar makanan GoFood.
Saat ini Gojek Vietnam memiliki 150 ribu mitra pengemudi dan 80 ribu merchant di Hanoi dan Ho Chi Minh City.
General Director of Gojek Vietnam Phung Tuan Duc mengumumkan sejumlah peningkatan fitur, seperti tampilan utama yang lebih simpel, opsi buat pengguna untuk menyematkan hidangan favoritnya di GoFood, berbagi gambar dengan pengemudi, dan dukungan pesanan lebih dari satu di seluruh layanan. Seluruh fitur tersebut sudah bisa dirasakan sepenuhnya oleh Gojek Indonesia.
"Hari ini menandai momen penting dalam perjalanan Gojek, dan dalam komitmen jangka panjang kami ke Vietnam. Kami terus melihat potensi besar untuk pertumbuhan dan dampak buat negara ini, kami bangga dan bersemangat untuk memperkenalkan pengalaman super-app Gojek untuk pengguna," ucap Co-CEO Gojek Kevin Aluwi.
Milestone ini tidak hanya untuk pengguna Gojek Vietnam saja, tapi juga tiga negara di mana perusahaan beroperasi, yakni Thailand, Singapura, dan Indonesia. Dengan aplikasi tunggal, pengguna yang melancong ke salah satu negara tersebut tidak perlu mengunduh aplikasi lain saat ingin bepergian. Pengalaman tersebut sudah dijalankan oleh Grab.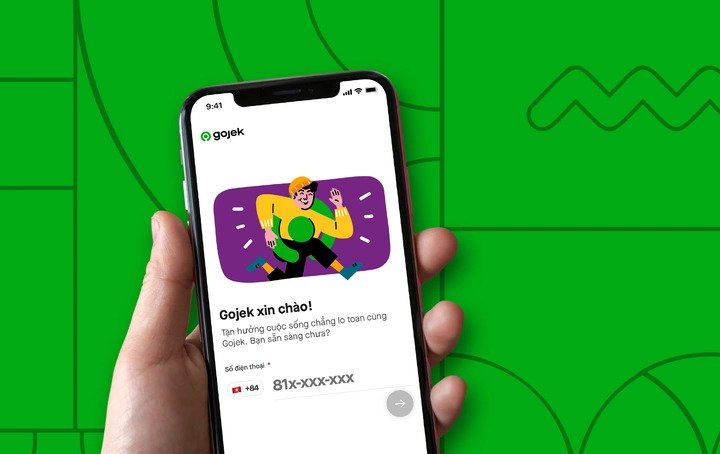 Perkembangan bisnis di regional
Dalam wawancara bersama DailySocial sebelumnya, manajemen Gojek menerangkan model bisnis GEt, GoViet, dan Gojek cenderung bisa beradaptasi dengan kondisi selama pandemi. Beberapa layanan justru memberikan dampak baik di masyarakat. Layanan pesan-antar makanan dan dompet digital juga sudah digulirkan Gojek di mancanegara, seperti GET Food di Thailand atau Go Food di Vietnam.
"Karena orang-orang lebih sering tinggal di rumah dan melakukan pemesanan lebih banyak selama beberapa bulan terakhir, kami melihat ketahanan berkelanjutan dalam bisnis perdagangan online (pengiriman makanan dan paket), pembayaran non-tunai, dan konten digital. Konsumen makin tertarik pada kebiasaan digital ini, bahkan sebelum Covid-19. Kini layanan online seperti itu benar-benar menjadi kebutuhan sehari-hari."
Sama seperti di Indonesia, mitra Gojek di luar negeri juga terus berkembang. Tak hanya sebatas pengemudi. Di sana mereka juga merangkul pedagang untuk meramaikan loka pasar yang sediakan di aplikasi. Pandemi justru dilihat sebagai kesempatan untuk lebih giat membawa pedagang masuk ke platformnya demi membuat bisnis tetap berjalan. Berbagai program dijalankan untuk mendorong digitalisasi tersebut, termasuk sistem pembayaran digital.
"Kami juga melakukan penyesuaian dan memperkenalkan layanan baru, seperti GET Pay di Thailand untuk pengiriman makanan, pengiriman tanpa kontak langsung, [dan] untuk memastikan kebutuhan konsumen dipenuhi dengan aman."
Sejauh ini Gojek baru mengaplikasikan layanan pembayaran digital di Thailand (GetPay). Rencana peluasan layanan fintech Gojek juga sudah diagendakan, termasuk di negara persinggahan selanjutnya, seperti Filipina. Di sana Gojek sudah mengakuisisi perusahaan lokal Coins.ph.
Application Information Will Show Up Here
Are you sure to continue this transaction?
processing your transaction....