Lahir di konferensi MWC 2018, Asus Zenfone 5 memang cukup menyita perhatian pecinta gadget. Smartphone ini sangat prima dalam beragam aspek, mulai dari desain kekinian dengan notch, lebih kaya fitur dengan ZenUI versi 5, kemampuan dual-camera didukung artificial intelligence (AI), hingga performa powerful berkat penggunaan chipset Snapdragon 636.
Nah yang lebih menggiurkan lagi adalah harganya yang terbilang sangat kompetitif. Di Indonesia, Asus Zenfone 5 (ZE620KL) varian RAM 4GB dan ruang simpan 64GB dibanderol Rp4,3 juta. Sangat menggoda bukan?
Menurut Asus, sematan AI menjadikannya tidak hanya sekedar smartphone, tetapi juga pendamping Anda yang lebih pintar. Smartphone atau ponsel pintar yang lebih cerdas, mari kita ulas bersama, inilah review Asus Zenfone 5.
Unboxing Asus Zenfone 5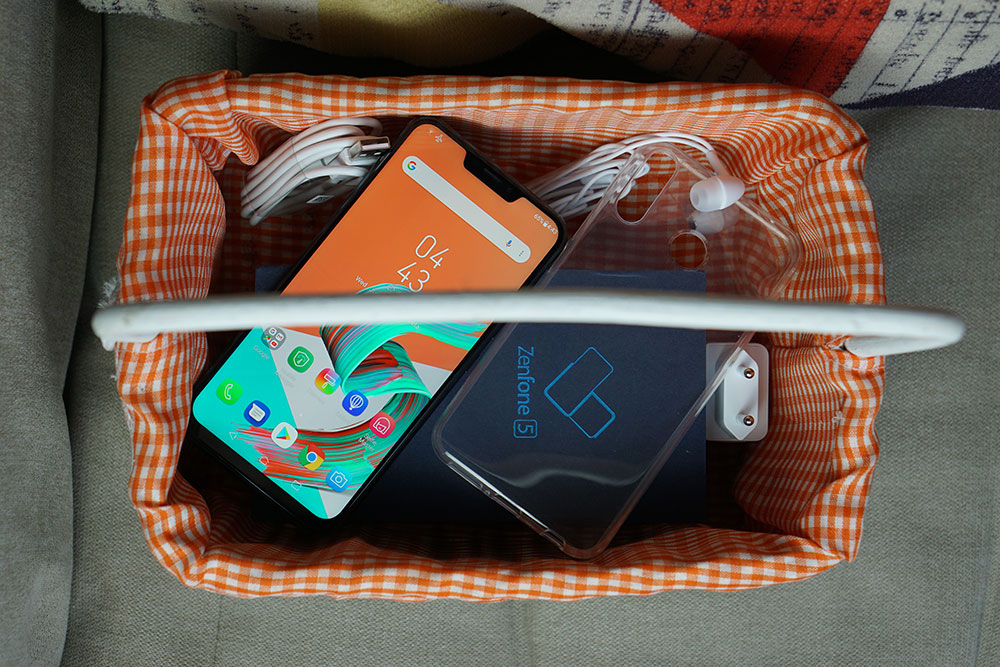 Kemasan Asus Zenfone 5 (ZE620KL) tampil dalam dominan warna biru tua dan membawa dengan tagline 'we love photo'. Unit yang saya review berwarna midnight blue. Isi kotak penjualan perangkat ini sangat lengkap, meliputi:
Unit Asus Zenfone 5
Adapter charger 2A
Kabel data USB Type-C
Headset
Silicon case
SIM ejector
Buku panduan dan garansi
Desain Glass-like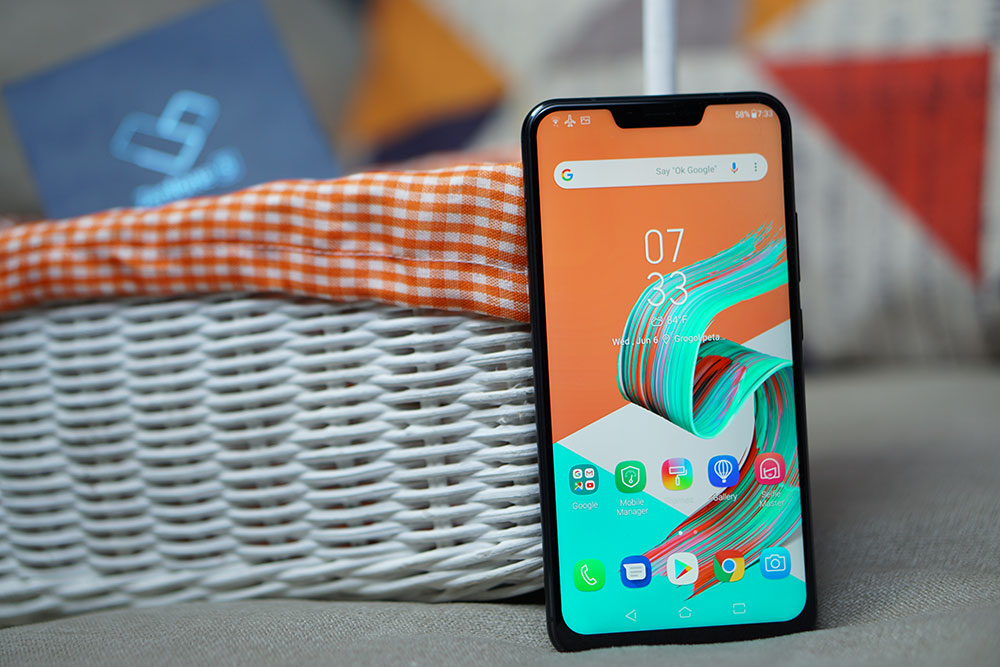 Harus diakui, Zenfone 5 punya tampang yang kece. Ada tiga hal yang mendukung tampilan visualnya. Pertama ialah berkat kehadiran notch di pucuk layar dan yang kedua – bezel samping yang tipis, di mana sekitar 83,6 persen bagian muka dihuni oleh layar.
Nah yang ketiga body Zenfone 5 dibuat dari perpaduan kerangka aluminium dan berlapis kaca 2.5D curve glass di sisi depan dan belakang.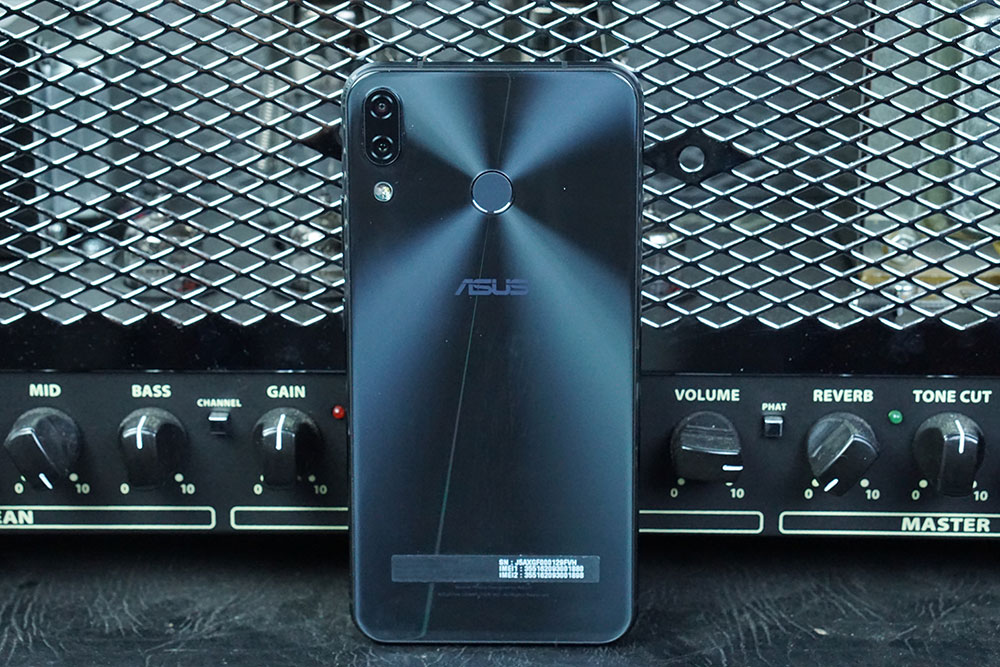 Bagian punggungnya sendiri menggunakan material Thermoplastic Polyurethane (TPU) dengan sentuhan akhir meniru kaca atau glass-like. Jadi, tetap menyuguhkan kesan premium sekaligus punya ketahanan yang baik.
Secuail bezel di pucuk layar merupakan rumah bagi kamera depan 8-megapixel dan sejumlah sensor. Berbalik ke belakang, kamera ganda 12-megapixel + 8-megapixel diposisikan secara horizontal, sensor sidik jari juga tersemat di belakang.
Sementara, atribut seperti tombol power dan volume berada di sebelah kanan. Sedangkan tray kartu seluler dan microSD bersifat hybrid ada di sebelah kiri.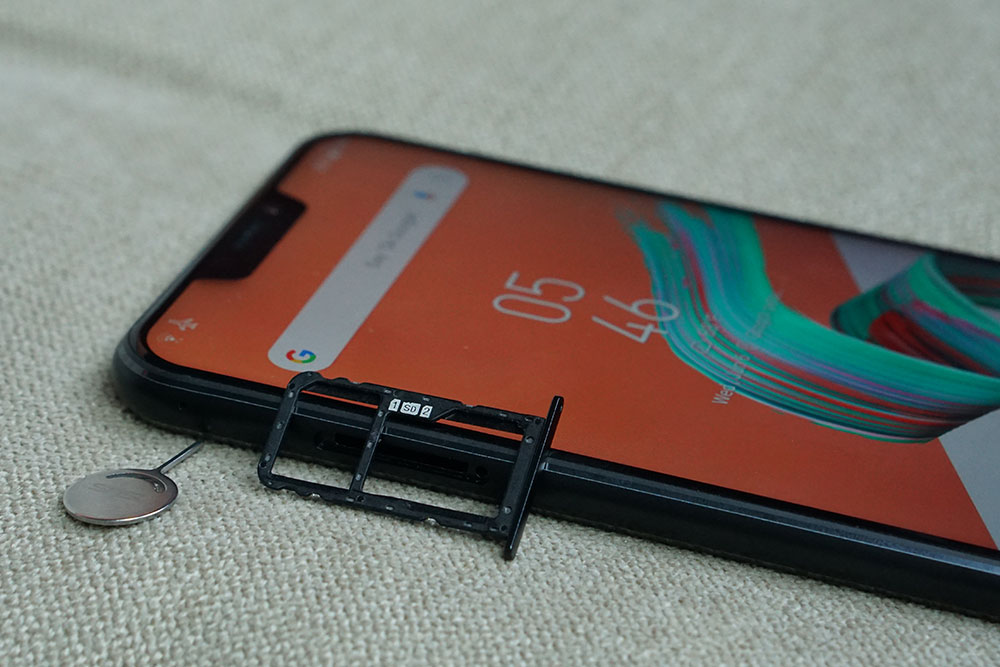 Bergerak ke sisi bawah, di sana ada jack audio 3.5mm, port USB Type C, microphone utama, dan speaker. Sedangkan di sisi atas hanya terdapat microphone sekunder.
Layar All-Screen 6,2 Inci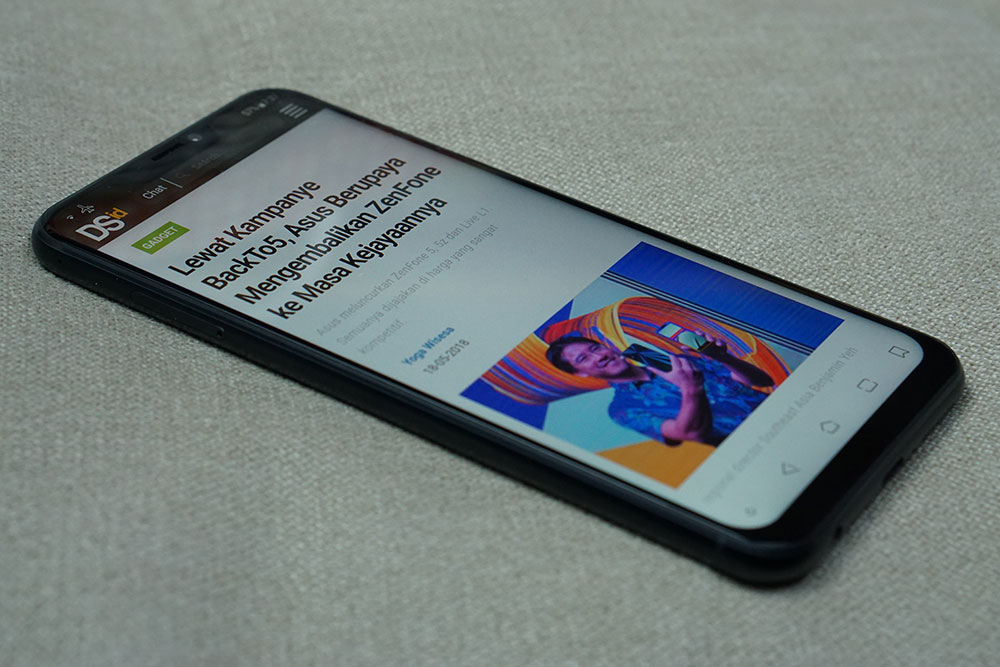 Zenfone 5 mengusung all-screen display 6,2 inci dengan resolusi Full HD+ 1080×2246 piksel (402 ppi). Aspek rasio 19:9 yang dikenakan memuatnya mampu menampilkan lebih banyak informasi tapi dalam ukuran yang tetap nyaman untuk dipegang.
Layar IPS-nya mendukung warna DCI-P3, membuat tampilan foto, video, film, dan game terlihat lebih menarik. Kita juga bisa mengatur warna tampilan layar lebih lanjut dengan fitur Splendid.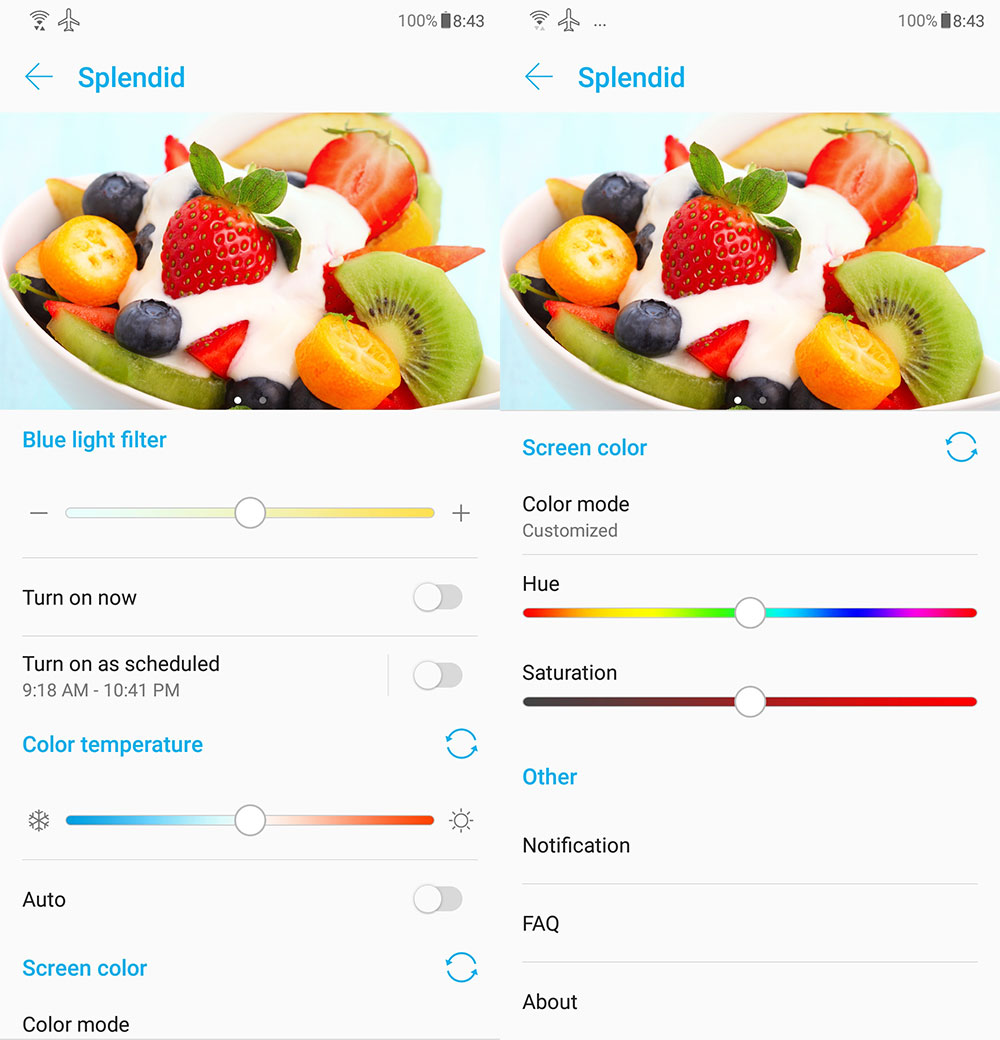 Dengannya, kita mengurangi tingkat cahaya biru agar lebih nyaman dalam melihat di malam hari, menyesuaikan pengaturan tampilan untuk membuat warna lebih hidup, dan mengatur suhu warna sesuai dengan kebutuhan dan preferensi sendiri.
Kemudian ada fitur berbasis AI yang disebut 'smart screen on', di mana layar smartphone tidak akan mati dengan sendirinya pada saat Anda sedang menatapnya.
Bagi Anda yang menggunakan 'face unlock' untuk membuka kunci layar, fitur 'lift to check phone' bisa Anda aktifkan – cukup angkat smartphone dan senyum kearahnya maka smartphone bisa langsung terbuka.
Satu lagi, ada fitur 'navigation bar'. Dengannya kita bisa mengatur layout tombol navigasi dan menyembunyikannya sehingga seluruh layar smartphone ini didedikasi untuk konten.
ZenUI 5.0
Zenfone 5 berjalan pada OS Android 8.0 Oreo dengan sentuhan ZenUI versi 5.0, user interface-nya dirancang lebih simpel dan mudah digunakan. Beragam cara disediakan Asus untuk mengoperasikan Zenfone 5.
Pada homescreen misalnya, cara dasarnya adalah cukup usap dari bawah ke atas untuk menampilkan menu utama dan usap dari atas ke bawah untuk membuka jendela notifikasi.
Bisa juga pakai 'fingerprint gesture', usap sensor pemindai sidik jari di belakang untuk mengakses notifikasi dengan cepat.
Cara lebih keren, aktifkan 'ZenMotion'. Di mana bila kita melakukan double tap pada layar akan mematikan dan menyalakan layar, atau usap dari bawah ke atas untuk menyalakan layar.
Ada juga fitur 'gestures on dark screen', shortcut untuk membuka aplikasi tertentu dengan gerakan. Ada enam shortcut yang disediakan dan bisa diubah target aplikasinya, cukup tuliskan w, s, e, c, z, dan v.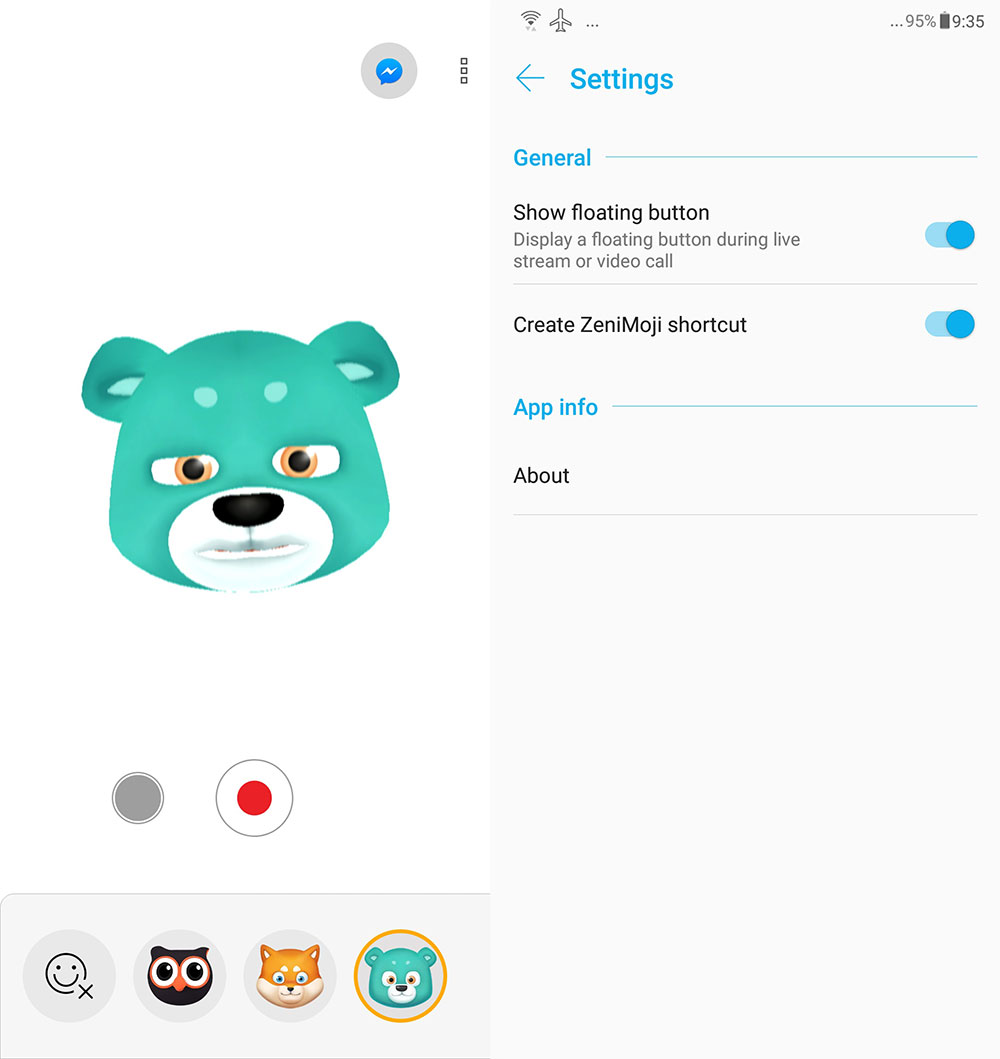 Asus telah melakukan bersih-bersih, ZenUI 5.0 minim bloatware tetapi tetap kaya akan fitur. Yang baru dari Asus ada ZenMoji seperti Animoji di iPhone X.
Dengan ZenMoji kita bisa menggunakan wajah avatar yang lucu tetapi menggunakan suara sendiri, ekspresi yang lucu, dan pergerakan kepala. Namun saat ini hanya tersedia tiga avatar saja dan hasilnya bisa bagikan langsung ke Facebook, Instagram, YouTube, dan lainnya.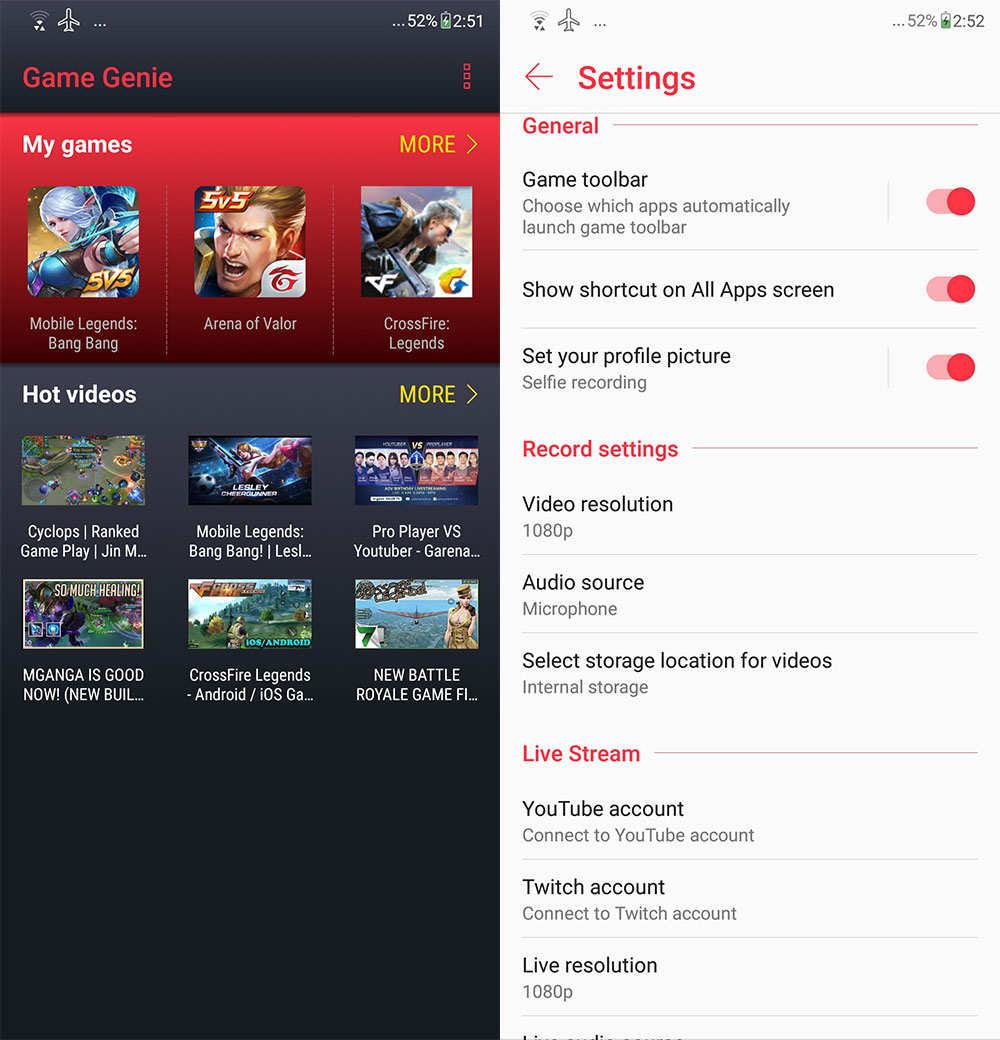 Buat yang doyan gaming, fitur 'game genie' memudahkan Anda merekam gameplay atau live streaming dari game yang dimainkan hingga 1080p. Audio-nya bisa dipilih dari game atau microphone.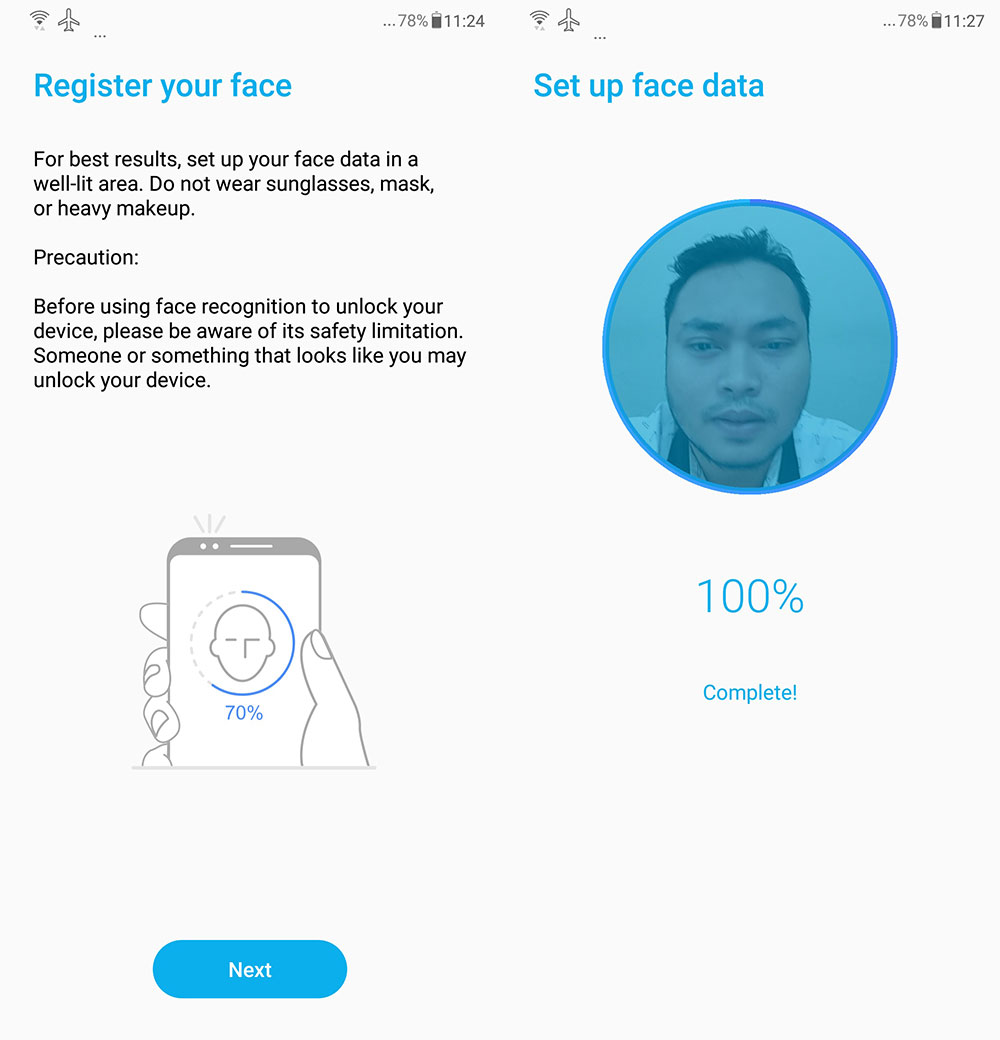 Tak ketinggalan, ada fitur face unlock atau face recognition yang memungkinkan Anda untuk membuka Zenfone 5 dengan hanya melihatnya saja.
Dual Camera dengan AI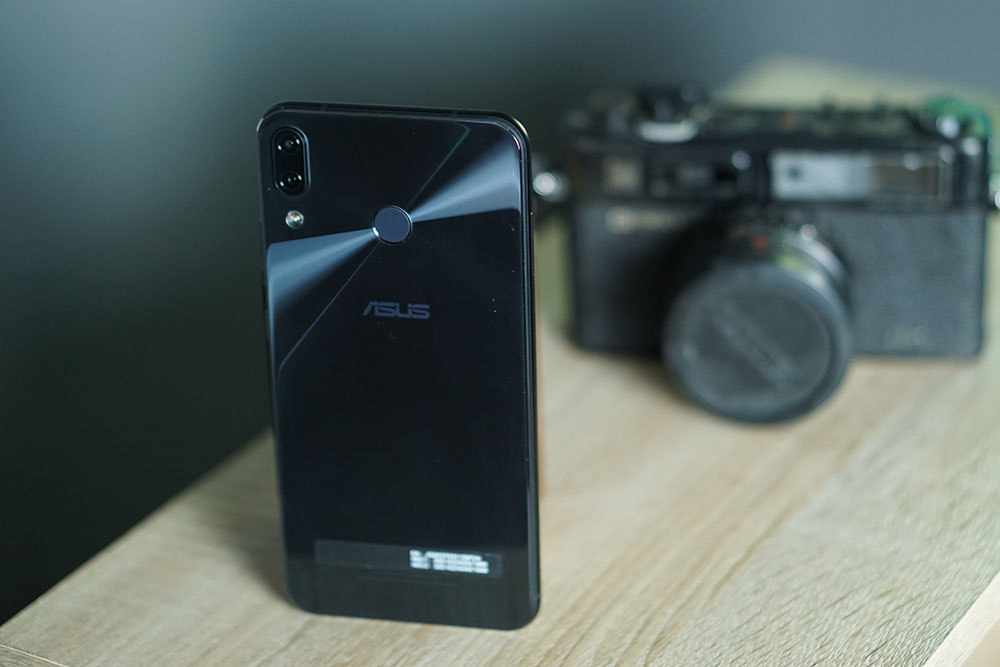 ZenFone 5 dibekali sistem dual-camera dengan fitur-fitur bebasis AI. Lensa utamanya 12-megapixel dengan sensor Sony IMX363 (f/1.8, 24mm, 1/2.55″, 1.4µm, PDAF) dan juga lensa wide-angle 120 derajat pada kamera kedua 8-megapixel (f/2.0, 12mm, 1/4″, 1.12µm). Proses jepretannya didukung oleh teknologi phase detection autofocus, gyro EIS, dan dual LED flash.
User interface aplikasi kamera Zenfone 5 juga tak luput dari penyederhanaan, kita bisa beralih dengan mudah ke mode standar dan mode wide-angle yang optimal untuk menjepret pemandangan alam, suasana perkotaan, pantai, dan foto keluarga beramai-ramai.
Pada posisi landscape, di sebelah kanan dari atas ada preview foto, beralih ke kamera depan maupun belakang, tombol shutter foto, shutter video, dan beralih cepat ke mode pro maupun auto.
Kemudian di sebelah kiri dari atas ada akses untuk mengaktifkan LED flash, timer, mode portrait untuk membubuhi depth effect, aspek rasio foto dengan pilihan 1:1, 4:3, 16:9, atau 18:9, mode HDR, dan pengaturan kamera.
Pada pengaturan kamera, kita bisa mengatur resolusi (tergantung dari rasio foto yang dipilih), hasil foto bisa disimpan dalam format RAW, kemudian kita bisa memilih focus mode ke smart auto-focus, continuous auto-focus, atau infinity. Serta, memilih metering mode ke center-weighted atau average.
Salah satu fitur yang sangat diunggulkan adalah AI Scene Detection, kamera Zenfone 5 menggunakan teknologi AI untuk menganalisis subjek dan mencocokannya dengan 16 scene detection. Setelah itu, kamera akan memberikan pengaturan yang sesuai.
Kembali ke UI kamera, pada mode auto – usap dari atas ke bawah untuk memberi filter efek dan usap dari bawah ke atas untuk menampilkan beragam mode lain yang tersedia. Mulai dari beauty, super resolution, panorama, time lapse, auto, pro, GIF animation, dan slow motion.
Di mode pro, kita bisa dengan leluasa mengatur white balance dari 4500K – 7500K, exposure dari -2 sampai +2, rentang ISO 25 – 3200, shutter speed dari 1/50 – 32s, AF atau MF.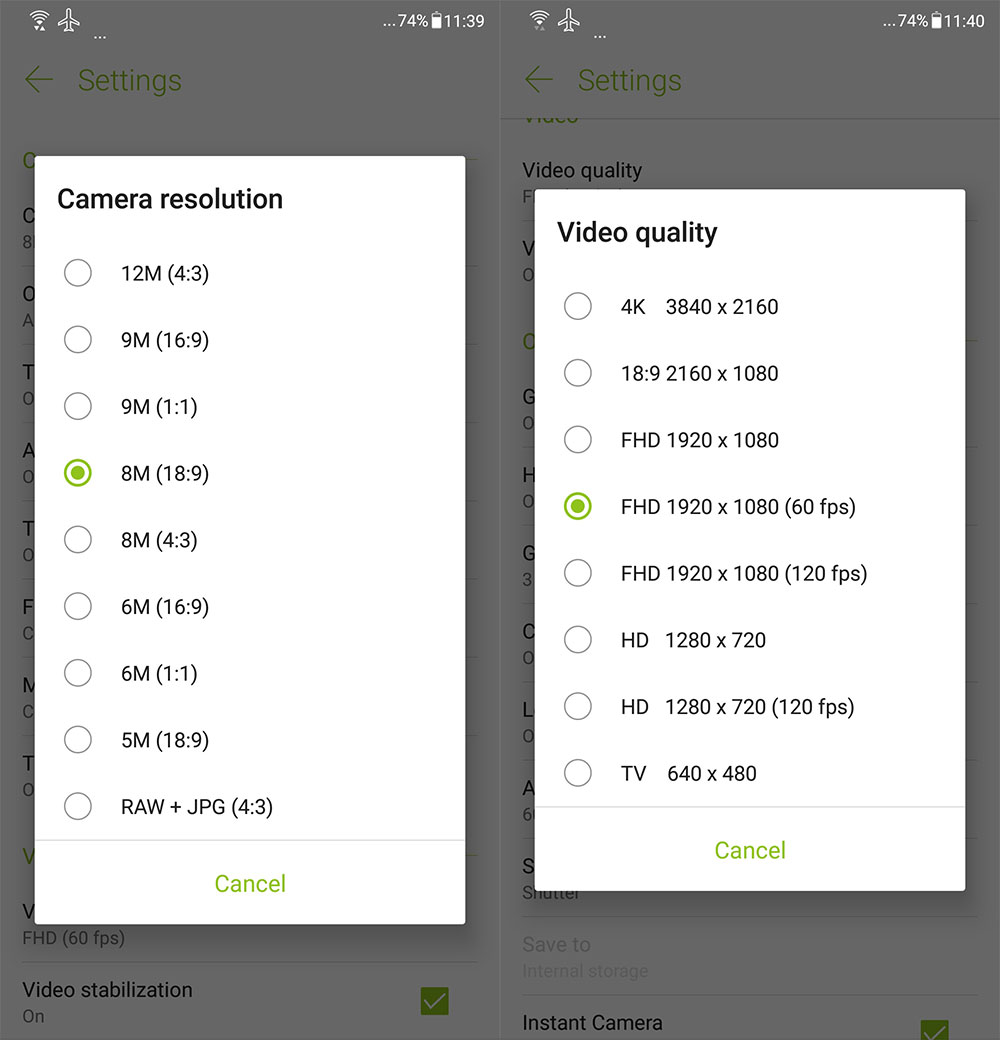 Nah yang paling membuat saya terkesan adalah kemampuan perekam videonya. Bisa rekam video dalam format 4K, video 18:9, Full HD 60fps dan 120fps.
Berikut beberapa hasil bidikan Asus Zenfone 5:
Performa – Semi Flagship
Zenfone 5 adalah smartphone semi flagship yang diperkuat chipset high-tier Snapdragon 600 series terbaru yakni mobile platform Snapdragon 636. Berikut susunan hardware Zenfone 5:
Sytem-on-chip Qualcomm SDM636 Snapdragon 636
CPU Octa-core Kryo 260
GPU Adreno 509
RAM 4GB
ROM 64GB
Baterai Li-Ion 3300 mAh
Di Antutu, Zenfone 5 meraih skor 138.699 poin, di PCMark Work 2.0 sebesar 6.241 poin, di 3DMark Sling Shot mencetak 1.487 poin, serta di Geekbench 4 single-core 1.509 poin dan multi-core 5.372 poin.
Kinerja Zenfone 5 juga turut dibantu teknologi AI. Bila membutuhkan tenaga lebih, kita bisa mengaktifkan fitur AI Boost yang akan mengoptimalkan seluruh sumber daya yang ada untuk memastikan ZenFone 5 dapat menjalankan aplikasi ataupun game yang berat sekalipun dengan lancar.
Selain itu, ZenFone 5 mengadopsi AI learning yang akan mempelajari kebiasaan kita sehingga sistem akan memprediksi aplikasi yang akan Anda gunakan berikutnya. Sehingga aplikasi dapat dibuka dengan cepat dan perpindahan dari satu aplikasi ke yang lain bisa dilakukan dengan smooth.
Untuk bermain game PUBG Mobile, Zenfone 5 mampu menyuguhkan grafik HD dan frame rate high. Sementara, game Arena of Valor tak hanya menyajikan  kualitas tampilan max, kualitas partikel max, dan resolusi HD, tapi juga high frame rate mode.
Verdict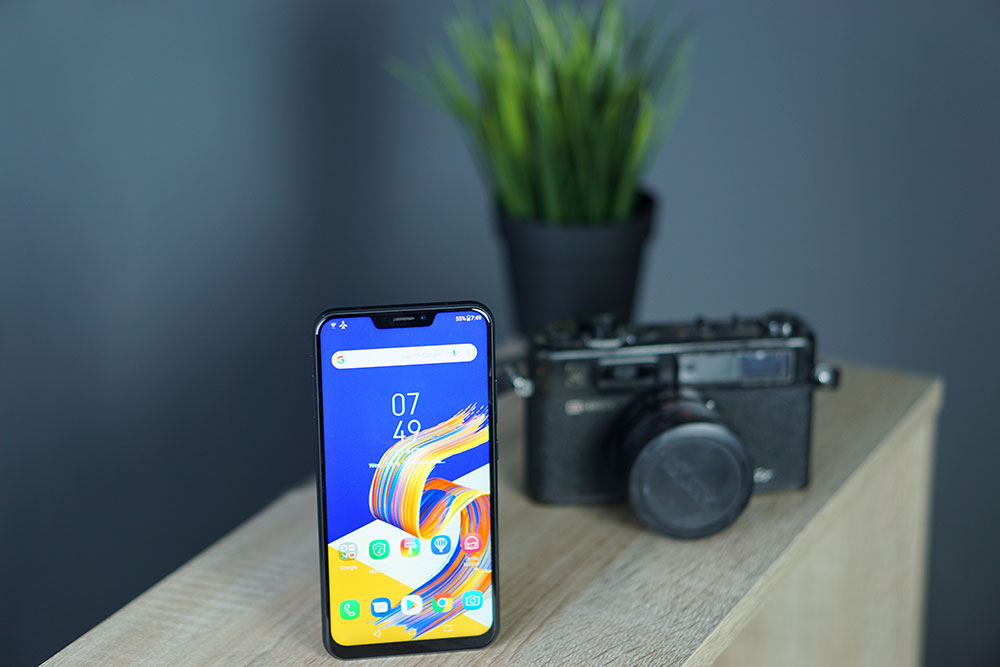 Menimbang apa yang ditawarkannya dengan harga Rp4,3 juta, saya yakin Asus Zenfone 5 merupakan salah satu smartphone kelas menengah terbaik.
Statusnya sebagai smartphone semi flagship memang terkesan 'kentang', karena bila Anda sediakan uang Rp6,5 juta – Anda bisa berinvestasi lebih baik dengan smartphone flagship sesungguhnya yakni Asus Zenfone 5Z yang berdapur pacu Snapdragon 845 atau Nokia 8 dengan Snapdragon 835.
Selain itu, di rentang harganya – Asus juga tak sendirian. Di sana Zenfone 5 harus melawan ketat dengan Oppo F7, Vivo V9, serta Samsung Galaxy A6 dan A6+.
Sparks
Desain kekinian 
Dual camera dengan AI, mode portrait, dan wide-angle
Performa apik dengan Snapdragon 636
Slacks
Layar notch tiru iPhone X?
Punggung bukan sepenuhnya kaca tapi campuran plastik (TPU)
DailySocial.id adalah portal berita startup dan inovasi teknologi. Kamu bisa menjadi member komunitas startup dan inovasi DailySocial.id, mengunduh laporan riset dan statistik seputar teknologi secara cuma-cuma, dan mengikuti berita startup Indonesia dan gadget terbaru.